Free Digital Temperature
Universal App – Optimized for iPhone and iPad.
Published by: Purple Innovation, LLC
Price: Free

Current Version

1.9.8

Size

7.33 MB

Released

Jul 2, 2010

Age

4+

Category

Weather

User Ratings

2.50 (5 votes)
App Description
Know the temperature wherever you are by looking at this quick and simple digital temperature app.

Main Features:

* Outdoor temperature quickly determined by your location (by using location based services/GPS)
* Celsius and Fahrenheit supported
* Refresh at any time for the latest data

Great for hiking, camping, outdoor activities, day at the beach, or just general curiosity

Note: you will need a data/internet connection.
What's new in version 1.9.8
* Fixes issue with ads reappearing after relaunch
Latest App Activity
Free Digital Temperature
View All Activity »
Free Digital Temperature is a universal app, and is available on the iTunes App Store for free with in-app purchases. The app is compatible with all devices running iOS or later, including the new iPhone 5 and iPad Mini. To download the Free Digital Temperature app, just scan the QR code with your device or click the button below to go to the app's download page.
Free Digital Temperature Support.
---
If you've enjoyed this app, rate and review it on the App store and in the comments section below.
iPhone/iPad Screenshots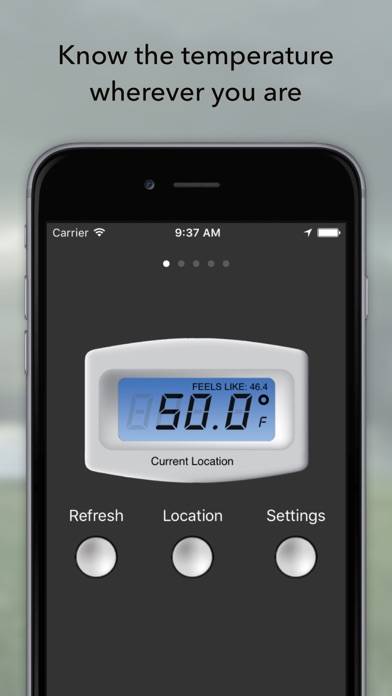 Screenshot #1
Screenshot #2
Screenshot #3
Customer Reviews
Nice App. Nice and convenient outside temperature app!
free digital temperature. Just wanted a simple app to see the temperature indoors, or outdoors. Just had our roof painted with Elastomeric and was
interested in the indoor/outdoor temperature difference. If this app does that I haven't figured it out. ;-(
Nice, Simple App. Very easy to use. Helpful for us farmers in gauging when to test soil temp for planting. Also helpful here in the Mid-South: if
temp is 95+ F, stay in the house LOL!
Awesome. Awesome and pops a lot of boo bas
---
Share this Review
This review of Free Digital Temperature was written by Carol Swift
To find and download the latest version of Free Digital Temperature, click on the Download button.
You can get it directly to your device, or you can download it to your computer (PC or Mac) and then transfer it to your device.