Free Digital Temperature
Genres: [Weather | Utilities]
Developer:
Purple Innovation, LLC
✿
Release Date:
Jul 02, 2010
✿
Version:
1.9.4
✿
Size:
5.13 MB
QR Code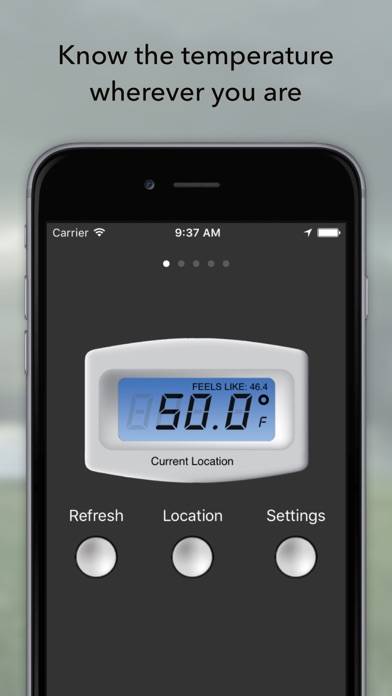 This iOS application is compatible with iPhone 3GS/4, iPad 1/2, iPod Touch 3rd/4th.
The review includes the developer's description, customer ratings, user reviews and screenshots for iPhone, iPad, and iPod touch.

if you like this mobile application, please share It with others (click on the social media icon links).
Know the temperature wherever you are by looking at this quick and simple digital temperature app.
Main Features:
* Outdoor temperature quickly determined by your location (by using location based services/GPS)
* Celsius and Fahrenheit supported
* Refresh at any time for the latest data
Great for hiking, camping, outdoor activities, day at the beach, or just general curiosity
Note: you will need a data/internet connection.
Get now this application with your unique ID and secured password.
Application Screenshots
How to download the App
Download Free Digital Temperature app for free for iPhone, iPod Touch, iPad and iPad mini.
Download Free Digital Temperature on PC or Mac:
1. Go to the Free Digital Temperature application page in your iTunes.
2. Click the button to download the App.
3. Sync your iPhone, iPod Touch, iPad or iPad mini with iTunes to install the Free Digital Temperature app.
Download the App With iOS App Store:
1. Open the App Store on your iDevice.
2. Search for Free Digital Temperature.
3. Click the button to download and install it on your device.
4. Enjoy.



You can securely create an apple profile with your information, but you have to be registered to iTunes in order to get the Free Digital Temperature app to your device.
If you don't have an active account, please register to iTunes store with a credit card number. In case you are not interested to open an account with your credit card, you can select the option 'None' during the secured registration.
*This Free Digital Temperature application may be available in some countries.


Video Play Review
User Ratings
Jun 15
(5★)
Easy to use
Very easy to use. Does what it says it does. Quick way to know the temperature where you are.
Jun 11
(5★)
Mick
Works really well… Have always wanted a app that tells me the temperature wherever I'm at all of it world. This is it!
Jun 07
(5★)
Oldguygeo
Works very well, accurate and easy to use. Get the temperature at glance for your location.
May 28
(4★)
Good App
Does what it's supposed to do and easy to read.
Mar 21
(5★)
Tex
Perfect. The App does just what it is suppose to do. Easy to read.
Feb 20
(3★)
Chief US Navy
A very handy app. Should have a wind chill button as well.
Feb 18
(5★)
Easy to view
This app is very easy to view and is very accurate. I love it!
Feb 04
(5★)
Great Temp App
I use it all the time. It is simple and straight forward and easy to use.
Jan 29
(5★)
Mr. Jimmy
I Love it, I use it all the time. My Wife & I are full time MotorHome traveling. This app is perfect for our traveling. Thank you
very much.
Dec 31, 2014
(3★)
Crashes a lot
Not bad for quick checks when it works right.
Feb 24, 2014
(4★)
User
Works well but is usually about 2* higher or lower than my home weather station.
Jul 30, 2013
(5★)
Temp App
Like it---flash light is Great---
Jul 20, 2013
(5★)
Mr
Quick and accurate temperature readings
Jun 23, 2013
(5★)
Great!
Love it. Quick, convenient and accurate. Can't ask for more.
Mar 05, 2012
(5★)
Worth the time
No problems for me
Jan 23, 2012
(5★)
Boss
Great app
Mar 26, 2011
(5★)
Great App
It works really great for me!!!!!!!!!!
Feb 04, 2011
(5★)
Great
Love it
Oct 16, 2010
(5★)
Gives exact weather
Good app
Oct 07, 2010
(2★)
The Weather Channel is a better app
THE IPOD DOES NOT HAVE A BUILT IN THERMOMETER it just tells u the outdoor temp at your local airport or whether station. As for
the app I just downloaded the app so I could tell you this. I much prefe
Jul 08, 2010
(5★)
Temp
Works great for outside temp
Total
21
reviews with ratings for this app.