Free Digital Temperature
Universal App – Optimized for iPhone and iPad.
Published by: Purple Innovation, LLC
Price: Free

Current Version

1.9.5

Size

7.31 MB

Released

Jul 2, 2010

Age

4+

Category

Weather

User Ratings

2.50 (5 votes)
App Description
Know the temperature wherever you are by looking at this quick and simple digital temperature app.

Main Features:

* Outdoor temperature quickly determined by your location (by using location based services/GPS)
* Celsius and Fahrenheit supported
* Refresh at any time for the latest data

Great for hiking, camping, outdoor activities, day at the beach, or just general curiosity

Note: you will need a data/internet connection.
What's new in version 1.9.5
* Fixes issue with ads reappearing after relaunch
Latest App Activity
Free Digital Temperature
All App Activity and Price Drops »
Free Digital Temperature is a universal app, and is available on the iTunes App Store for free with in-app purchases. The app is compatible with all devices running iOS or later, including the new iPhone 5 and iPad Mini. To download the Free Digital Temperature app, just scan the QR code with your device or click the button below to go to the app's download page.
Free Digital Temperature Support.
Customer Reviews
Like it. Very convenient. Works great and quick.
First thing in the morning. This app is great. Knowing the outside temp tells me what to wear to take our pups outside. For those not liking the app, would
suggest reloading it. It IS reliable.
Here's the Temp!. Want to know quickly and are you to lazy or impatient to look outside or on a weather app? Well here you go. However it won't
tell you the temp inside your home so don't let the "indoor" thermostat fool you!
Read. Seahawks will win it all! Again
Reliable, Accurate. This is my go to temperature app. Always gives me accurate current readings
If you've enjoyed this app, rate and review it on the App store and in the comments section below.
iPhone/iPad Screenshots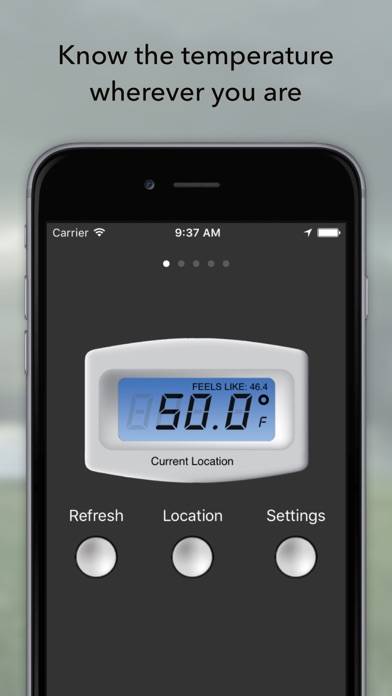 Screenshot #1 (iPhone)
Screenshot #2 (iPhone)
Screenshot #3 (iPhone)
The Verdict: Average!
---
Share this Review
This review of Free Digital Temperature was written by Carol Swift
To find and download the latest version of Free Digital Temperature, click on the Download button. You can get it directly to your device, or you can download it to your computer (PC or Mac) and then transfer it to your device.