WWE
Universal App – Optimized for iPhone and iPad.
Published by: World Wrestling Entertainment, Inc
Current Version

3.12.3

Size

54.62 MB

Released

Aug 17, 2012

Age

12+

Category

Sports

User Ratings

4.00 (5 votes)
App Description
Take WWE with you wherever you go – any time, day or night – with the official WWE app for your iPhone, iPod, or iPad.

Now, in addition to the latest WWE videos, news and thousands of photos, you can use the WWE App as your exclusive portal to WWE Network – a 24/7 streaming service with both scheduled programming and a massive, on-demand library.

Only on WWE Network, you'll see every WWE live pay-per-view event, including WrestleMania, groundbreaking original series, reality shows and documentaries. You'll also be able to explore sports-entertainment's most comprehensive video-on-demand library, featuring every WWE, WCW and ECW pay-per-view ever – uncut and uncensored – plus, classic matches and replays of Raw and SmackDown episodes.

Join your fellow WWE Universe members at the next WWE Live Event near you – for which you can find complete details within the WWE App. Explore our full schedule of events around the globe, find out which Superstars will be in action, set reminders and order your tickets for the experience of a lifetime.

The WWE App provides instant access to your favorite WWE Superstars, Divas and Legends. View Superstar profiles for a quick look at extensive career milestones, biographies, video highlights and Twitter feeds.

If you want to outfit yourself like your favorite Superstar, enjoy the brand-new WWE Shop experience right from your device, where official WWE Shop merchandise is available at the swipe of your fingertip.

The WWE App is your key to unlocking a revolution!
What's new in version 3.12.3
- Misc bug fixes and performance enhancements
App rank history
Latest App Activity
Version 3.6.1

Aug 23, 2015

Version 3.3.0

Aug 19, 2014

Version 1.0

Aug 17, 2012
View All Activity »
WWE is a universal app, and is available on the iTunes App Store for free with in-app purchases. The app is compatible with all devices running iOS 7.1 or later, including the new iPhone 6 and iPad Mini. To download the WWE app click the button below to go to the app's download page.
---
If you've enjoyed this app, rate and review it on the App store and in the comments section below.
iPhone/iPad Screenshots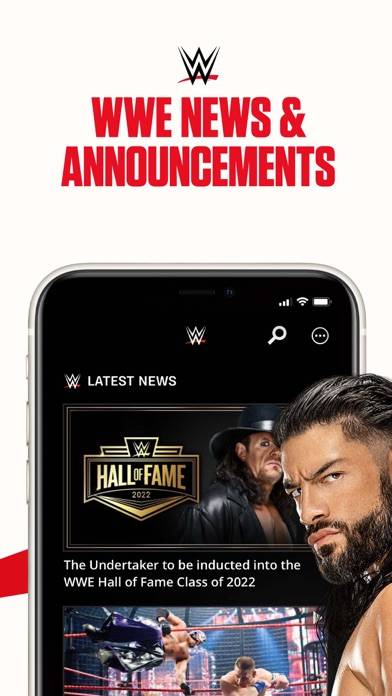 Screenshot #1
Screenshot #2
Screenshot #3
Customer Reviews
.... An option to be able to clear ur playlist u have seen
Continue Watching.... ...only works on the 2nd Tuesday of every other odd numbered month?
Great but. I love the app but, the app keeps randomly pausing. Please fix it.
Best $10 I ever spent. Growing up a huge WWF/WWE fan, I used to spend countless hours on watching Raw/Smackdown, going to friend's places for ppv's or
waiting for the home videos to come out and purchasing them with the money I saved from bailing hay. Now that the network os here,
I have access to every ppv since 1985 fro
Chromecast needed. There should be a thirty second skim forward function for the mobile app, or it there should be more options to find specific
matches, I heard you are working on chrome cast capability and when that happens I'll give the app 5/5
---
Share this Review
This review of WWE was written by Carol Swift
Download WWE App Latest Version on Android and iOS. You can get it directly on your device or download the app to your PC or Mac computer then install the app on your tablet or smart phone.