Horn
Genres: [Entertainment | Adventure | Action]
Developer:
Phosphor Games, LLC
✿
Release Date:
Aug 16, 2012
✿
Version:
1.7
✿
Size:
973.63 MB
$ 6.9
6.99
Price Changed on Dec 06, 2014
(Price drop Sold Out!)
Need help? Use our Horn Walkthrough or sign up and make your contribution today.
QR Code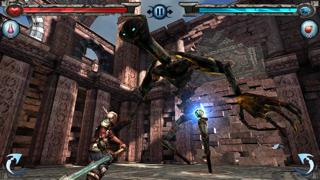 This iOS application is compatible with iPhone 3GS/4, iPad 1/2, iPod Touch 3rd.
Phosphor Games Studio LLC has already given us Dark Meadow: The Pact on Nov 26, now delivering another great Entertainment & Adventure game and iphone app on the store. The review includes the developer's description, customer ratings, user reviews and screenshots for iPhone, iPad, and iPod touch.

if you like this mobile application, please share It with others (click on the social media icon links).
"NOTE: HIGH DEFINITION GRAPHICS AND ADVANCED FEATURES ONLY SUPPORTED ON iPad2, Latest iPad, iPhone4S, iPhone5, iPod 5th Generation!"
NOTE:  Horn is a graphically rich game with
advanced features.  To OPTIMIZE your playing experience, you may want to
turn off other apps before playing.
**IGN-" Horn is this year's most impressive iOS game"**
**AOL- "Horn is a testament to what is possible on mobile"**
**GAMEZEBO-" A mobile masterpiece"**
**MODOJO-" The newest addiction of any iOS supporter"**
**METACRITIC 94 out of 100**
**IGN - 9 out of 10-Editor's Choice**
**SLIDE TO PLAY - 4 out of 4**
**GAMEZEBO - 5 out of 5**
**MODOJO 4.5 out of 5**
____________________________________
HORN is a 3rd person action adventure game - a completely unique experience where anyone can fully explore and enjoy a beautiful and engaging console-style world, all controllable by touch gestures.
You play as a young blacksmith's apprentice named Horn who wakes up to find your village and lands over run by large fantastic, and sometimes humorous, monsters. It is revealed these creatures are actually the people and animals from your village transformed by a curse, and you alone have the power to free them. On your incredible adventure you carry the loud-mouthed head of one such fantastic creature with you - a somewhat uncooperative and ill-tempered but grudgingly helpful sidekick. Along with this new companion you must use your sword, crossbow, trusty musical horn, and wits to explore the lands, defeat the enemies, and solve puzzles in your quest to undo the curse that engulfs your homeland.
Horn features:
∗ Accessible controls that anyone can use- walking, jumping, crawling, even grapple hook, are all performed with intuitive gestures
∗ Freely navigable console-quality detailed world- go wherever you want; not confined to limited path or rail
∗ A rich and unique fantasy world
∗ Touch-friendly melee combat and crossbow style weapons
∗ 3 unique and beautiful lands to discover
∗ Endlessly escalating challenge modes
∗ Hidden side content to discover
∗ Score written by award winning Austin Wintory and performed with full live orchestral
Get now this application with your unique ID and secured password.
Application Screenshots
How to download the Game
Download Horn app for for iPhone, iPod Touch, iPad and iPad mini.
Download Horn on PC or Mac:
1. Go to the Horn application page in your iTunes.
2. Click the button to download the Game.
3. Sync your iPhone, iPod Touch, iPad or iPad mini with iTunes to install the Horn app.
Download the Game With iOS App Store:
1. Open the App Store on your iDevice.
2. Search for Horn.
3. Click the button to download and install it on your device.
4. Enjoy.



You can securely create an apple profile with your information, but you have to be registered to iTunes in order to get the Horn app to your device.
If you don't have an active account, please register to iTunes store with a credit card number. In case you are not interested to open an account with your credit card, you can select the option 'None' during the secured registration.
*This Horn application may be available in some countries.


Video Play Review
How to play
here you will find every thing you need to help you pass and complete all levels, includes guides / walkthrough, hints, tips & cheats, you will find here the best solutions and answers for all levels in this Entertainment.
User Ratings
Jun 12
(3★)
Good game held back by bugs, glitches, & lags
Horn is far from a bad game. However it's (sometimes game breaking) bugs, glitches, and lags along with a few other problems are
what hold it back. It's story is more or less what you'd expect, and fo
Jun 09
(3★)
Great game with not so great controls
Visually this game is amazing and the story is awesome, but the tap controls are wonky and nonrespondent. Could be perfect with a
thumb stick for movement. A glaring issue in an otherwise wonderful ga
May 10
(5★)
A bit confusing
While the game was amazing to play and look around I found myself getting confused of where I needed to be or where something is.
The story was amazing and I love the enemies. Great job!
May 08
(3★)
Great game if it worked and the prices were reason
Every time I run in to a wall I get afraid that the game will get stuck. Also buys new outfits will take a long time because the
prices are so high.
Mar 30
(3★)
Incredible, beautiful game w/ very frustrating con
Horn is simply gorgeous. No other word for it. Storyline interesting with an environment I really want to explore. I could play
it all day long. but for the Controls. Grrr. Its just so annoying that
Mar 19
(3★)
Love the game
Love the game except for one thing on the summon horn spell thingey there is a fricking pentagram really this is a game ment for
10 year olds and there is a pentagram this is a bad move and the only t
Mar 09
(5★)
this game is so good
I've been trying to find a new game all day and I found horn. I almost didn't buy it because of some ratings but when I got it, I
could not put it down. for what I thought was 5 minutes was one hour.
Feb 12
(5★)
A game with substance
With so many short lived and click happy story "light" games for iOS this game was a pleasant surprise. Solid story, great
graphics and varied gameplay.
Feb 05
(3★)
Good but buggy
Nice game overall but the controls are lousy for response time. Also, this game freezes constantly after defeating an enemy. You
have to restart the game and THEN REDEFEAT the guy you just beat! I
Jan 02
(4★)
Great game though could be better
Love the game but not the controls. The tap to go thing is annoying so I recommend a joystick type thing other than that great
game
Dec 26, 2014
(5★)
When is the epilogue?
I can't wait for the epilogue!
Dec 10, 2014
(3★)
Beautiful & Boring
Stunning graphics and a decent storyline, but the gameplay is stunningly boring and repetitive. Same old same thing the whole
game. Touch controls for fighting are, per usual, inadequate and the fight
(2★)
Boring
Puzzles solve easy, easy fights, this game is just not challenging. Boring after halfway through
Dec 06, 2014
(3★)
Beautiful graphics but repetitive
Battles are more boring than others by unreal. Puzzles would be fun if they weren't obvious and pointed out blatantly
Nov 14, 2014
(4★)
Exits and crashes
The game exits and crashes sometimes I have iPod 4 32gig iOS 6.1.6 the latest iOS fix it or make it compatible
Nov 09, 2014
(5★)
Great game.
This developer has two great games. This and Dark Meadow are both great games and cover a lack in the big name appstore games
which is atmosphere and storyline. Their apps are original and innovative.
Nov 06, 2014
(2★)
Good game, bad controls and lag
I was only able to play for about an hour before I couldn't take it anymore. The controls are awful and what makes them worse is
the non-stop lag. So far I've enjoyed the story and the characters but
Oct 20, 2014
(2★)
iPhone 6 not compatible
A five star game ruined by incompatibility with iPhone 6. The screen does not fit properly on the new phone.
Oct 17, 2014
(5★)
Awesome game
Constantly entertaining and it never seems to get boring.
Sep 25, 2014
(3★)
Please read and fix or reply with answer
For some reason whenever i play at about 8% in the story when you fight a big guy with a ball on his leg when i kick him through
the wall it crashes and i have to start over again and im using 4th gen
Aug 29, 2014
(5★)
Well Done
Great story, graphics, decent fighting system. Really enjoyed this one.
Aug 10, 2014
(5★)
This game is awesome
I absolutely love this game the graphics are amazing and the story line is also great I would recommend this game to anybody that
like adventure or fantasy games
Jul 17, 2014
(4★)
almost perfect
5 for graphics, immersive 360 experience, story, etc. 1 for battle lag.
Jul 10, 2014
(4★)
Fun
Using iPhone 4s. Combat controls not as responsive as they could be which is sometimes frustrating but otherwise an engaging fun
and interesting game.
Jun 30, 2014
(3★)
Controls
Need dpad or joystick please touch move is horrible
Jun 29, 2014
(3★)
Good game, but.
The touch the ground to move to the location controls are very weird and difficult. They should implement a D-Pad option in the
settings.
Jun 12, 2014
(4★)
Great game
They only think I hate is that it crashes a lot.
Jun 06, 2014
(5★)
Love It
I noticed people playing it and decided to buy it, best money spent :0
May 19, 2014
(4★)
Crashes
I have an iPad mini and it crashes constantly.If you can fix it I will put five stars and tell everyone to put five stars.
Apr 24, 2014
(4★)
4.5
Overall good, but the component where you shoot stuff is a bit hard to control
(3★)
Games is 2gb not the printed 1gb
Game is great. However the app size is 2gb not the list 1.2gb
(5★)
One of the best
The infinity sword collection is lacking what this game has. But what is lacks is a detail system. Of everything not just general
stats. Other then that it is a wonderful and fun game.
(5★)
Incredible
In complete awe! Fun and adventure around every corner graphics and game play do not disappoint
Apr 23, 2014
(5★)
Beast
I play on a iPhone 3G and only crashed once this is a beast game. I highly recommend it.
(5★)
Cool
This reminds me of infinity blade. BUT ITS WAY BETTER!
(5★)
Definitely awesome
Awesome graphics, easy to playI would like to play a longer version for ps4 Is like Ico comes to The Legend of ZeldaAwesome
(4★)
Great game but
I loved this game, its amazing and has the best controls imaginable for a mobile game. Id give it 5 stars but i have 2 issues:1-
at the end of journeys you get to pick between 4 chests, and usually wh
(5★)
App help
I started having app crashes just this morning.
(3★)
A few bugs
It seems like it would be a fun game but it keeps freezing and crashing. Plus the intro playing every single time gets annoying
(5★)
Prueba en español
Este juego esta genial, me recuerda al Zelda. Esto es una prueba "para validar Nick App Store"Codigo de invitacion "k8fk93qj"
(4★)
Give it a chance
After careful review and playing more than mid point of game, great game, fun, gets alittle tricky but definitely has the
potential, give it a try if ure device is good enough to play this game, I enj
Apr 22, 2014
(3★)
Unexpectedly well graphics but empty story
Just another mobile game. Graphics are much above of usual, but inside is empty. Story lacks any depth at all. Better play good ol
square enix games with pixelated 2d games, because rpg games need a s
(4★)
Crashing!
Would like to give more than a one star rating but it crashes during the tutorial portion
(3★)
Good but.
Very well made. Intuitive, great controls. However, it crashes on my iPad mini constantly, and the crashes become more frequent
the further I progress, so it looks like I will not be playing until an
(3★)
it crashes alot
it crashes at a certain point and it should be fixed
Apr 21, 2014
(4★)
impressive and fun
I love the voice acting and the story and the action is addicting but I want a joystick option and a block 4 combat 2
(5★)
¡Excelente!
Me encantó el juego, historia interesante y fácil de llevar, controles sencillos de ejecutar y sobre todo tiene ciertos aspectos
que me recuerdan a muchos de mis juegos preferidos como por ejemplo "
(4★)
Please Fix
I am liking this game very much but if you are reading this game makers can you please improve a bug that causes the game to shut
down.I have to do it all over again and that is tiring so can you upda
Apr 20, 2014
(5★)
So fun and great story
It has a great story and is worth playing
(5★)
Best game ever
This is by far my second favorite game first is cookie clicker
(5★)
Great
Lots of bugs, and its not so easy to move, but ITS A GREAT GAME, they Will fix it!
(4★)
A Short Nostalgia Trip
Horn is an excellently crafted game, despite its console being mobile. It feels like a great adventure game on console, which
makes it more shocking when you find it on the App Store. Horn is well cra
(5★)
Great game!
So far, so good! Great storyline and excellent graphics.
(5★)
Exceptional
Great graphics, good storyline, and fast-paced strategic combat. Only thing that can be improved is the game loading time, and
dialogue scenes that could be shortened.
(3★)
Awesome iOS game but.
The game has great graphics and a great story line. It really feels like a mix between dark souls 2 and infinity blade. The only
problem is when you are attacking, if you go to dodge an attack but you
(5★)
Good but bad game name
I think horn is a bad name, cause some people say hore and bad words and these stuff so I think they would change the name
Apr 19, 2014
(5★)
Horn
This is a great game, it has a great plot and graphics!
(5★)
Like like like
If you were on facebook I would like you ten thoushand times. I am playing on iPad 2, no problems what-so-evers with lag or
crash. Thank peoples this one is very interesting a mix of zelda and sma
(3★)
Help
Just got it I have an I pod touch and it keeps crashing, what do I do.overall it seems real fun
(5★)
Best gamever
Only thing is that once you get to the town on the iPod 4 it just kept crashing down and took me out of the app
Apr 18, 2014
(5★)
Best game ever play on the apple store
Sin duda es un Rpg buenisimo, los graficos son los mejores, el modo de juego esta de 1era sin duda lo recomiendo.
(4★)
One problem
Please add a joy stick control it would be a lot easier to play and it would be easier to move around
(5★)
Need a little tweaking
It very good but can you improve the control it kinda annoying I suggest joy stick
(5★)
Best game ever!
Nice graphics, great story--what more could you ask for?
(5★)
Good game over all
I really enjoyed this game it is totally worth it you should get it.
Total
65
reviews with ratings for this app.