Horn
Horn
Universal App – Optimized for iPhone and iPad.
Published by: Phosphor Games, LLC
App Description
"NOTE: HIGH DEFINITION GRAPHICS AND ADVANCED FEATURES ONLY SUPPORTED ON iPad2, Latest iPad, iPhone4S, iPhone5, iPod 5th Generation!"

NOTE:  Horn is a graphically rich game with
advanced features.  To OPTIMIZE your playing experience, you may want to
turn off other apps before playing.

**IGN-" Horn is this year's most impressive iOS game"**
**AOL- "Horn is a testament to what is possible on mobile"**
**GAMEZEBO-" A mobile masterpiece"**
**MODOJO-" The newest addiction of any iOS supporter"**

**METACRITIC 94 out of 100**
**IGN - 9 out of 10-Editor's Choice**
**SLIDE TO PLAY - 4 out of 4**
**GAMEZEBO - 5 out of 5**
**MODOJO 4.5 out of 5**
____________________________________
HORN is a 3rd person action adventure game - a completely unique experience where anyone can fully explore and enjoy a beautiful and engaging console-style world, all controllable by touch gestures.

You play as a young blacksmith's apprentice named Horn who wakes up to find your village and lands over run by large fantastic, and sometimes humorous, monsters. It is revealed these creatures are actually the people and animals from your village transformed by a curse, and you alone have the power to free them. On your incredible adventure you carry the loud-mouthed head of one such fantastic creature with you - a somewhat uncooperative and ill-tempered but grudgingly helpful sidekick. Along with this new companion you must use your sword, crossbow, trusty musical horn, and wits to explore the lands, defeat the enemies, and solve puzzles in your quest to undo the curse that engulfs your homeland.

Horn features:
∗ Accessible controls that anyone can use- walking, jumping, crawling, even grapple hook, are all performed with intuitive gestures
∗ Freely navigable console-quality detailed world- go wherever you want; not confined to limited path or rail
∗ A rich and unique fantasy world
∗ Touch-friendly melee combat and crossbow style weapons
∗ 3 unique and beautiful lands to discover
∗ Endlessly escalating challenge modes
∗ Hidden side content to discover
∗ Score written by award winning Austin Wintory and performed with full live orchestral
What's new in version 1.7
- Fixed the crash for devices running IOS7 - Fixed the quest mode bug causing a black screen after level 27
Need help? Use our Horn Walkthrough or sign up and make your contribution today.
App rank history
Latest App Activity
Horn is a universal iOS app available in the App Store for $1.99 (Ads free) with no in-app purchases. The game is compatible with all devices running iOS 5.0 or later, including the new iPhone 6 and iPad Mini. To download the Horn app click the button below to go to the app's download page.
---
Horn is a good rated app with 4 stars.
The app is currently $1.99, instead of its regular price of $6.99.
Horn is currently ranked #197 in the U.S. App Store.
If you've enjoyed the game, please rate and review it on the App store and in the comments section below.
iPhone/iPad Screenshots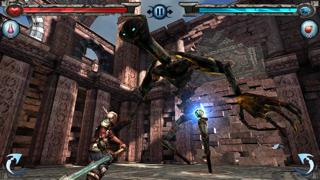 Screenshot #1
Screenshot #2
Screenshot #3
Screenshot #4
Screenshot #5
Recent Reviews
Zelda meets infinity blade. This game is half Zelda have infinity blade and unfortunately does neither particularly well. It feels like a ps2 era game ported
to iOS. It has lots of ambition and while never dropping the ball, all I can think while playing it is how I'd rather be playing
games that have done the same but better.
Works on iOS 10. Finally played the game. So amazing story and good plot. Graphics could be better than this buy always run at 60 fps. The most
concerning point was my iOS version which is now 10 and it played smoothly without any crashes.
The game itself has some minor bugs specially at objects physics but i liked
Simple and cheap. I had downloaded this game sometime ago, but got bored for some reason. The graphics seems better for mobile, but played better
for me on a tablet. I agree with earlier players, that if you buy anything, buy cores. At the last hub, 'pygite' is easy to get,
so much so that I even avoided it. But it w
Great Game All Around. Everything about this game is spectacular. The storyline is great and intriguing, the game is pretty lengthy so you get your
money's worth (and then some), & the graphics are awesome! This is on the level of console games. Speaking of console games, the
only thing I would suggest for this game is
C'mon think. I really love this game and everything in it. All it needs is control stick. It's hard to control.
---
Share this Review
This review of Horn was written by Carol Swift
Download Horn App Latest Version on Android and iOS. You can get it directly on your device or download the app to your PC or Mac computer then install the app on your tablet or smart phone.