Talking Ginger
Talking Ginger
Universal App – Optimized for iPhone and iPad.
Published by: Outfit7 Limited
App Description
Little Talking Ginger needs your help! Help him get ready for bed and have fun along the way!

Ginger provides the best company - talk to him, tickle him and play games with him. You can even see what he's dreaming about at night!

Enjoy your time with the little kitten, record videos of your fun time together and share them online!

Features:
- Have fun with Ginger: Pet him, poke him, tickle him and hear his cute laugh.
- Talk to Ginger: Talk to the little cat and he'll repeat in his cute voice.
- Get Ginger ready for bed: Shower and blow dry his fluffy fur, brush his teeth and take him to use the potty.
- Play games with Ginger: Pop toothpaste bubbles, roll down the toilet paper and play the jigsaw puzzle game.
- Collect jigsaw puzzle images: Collect all the snapshots of Ginger's vivid dreams.
- Brush teeth with Ginger: Don't brush your teeth alone, brush them with Ginger.
- Record videos and share: Record videos of all the fun things Ginger does to send to your friends, or upload on Facebook and YouTube.

This app is PRIVO certified. The PRIVO safe harbor seal indicates Outfit7 has established COPPA compliant privacy practices to protect your child's personal information. Our apps do not allow younger children to share their information.

This app contains:
- Promotion of Outfit7's products and contextual advertising
- Links that direct customers to our websites and other Outfit7 apps
- Personalization of content to entice users to play the app again
- The possibility to connect with friends via social networks
- Watching videos of Outfit7's animated characters via YouTube integration
- The option to make in-app purchases

Terms of use: http://outfit7.com/eula-ios/
Privacy policy: http://outfit7.com/privacy-policy/
What's new in version 2.3.1
BUG-FREE: That's right – we've zapped all the bugs so the app is bug-free and better than ever!
App rank history
Latest App Activity
Version 1.3

Mar 15, 2013

Version 1.2

Nov 17, 2012

Version 1.1

Sep 21, 2012

Version 1.5

Aug 12, 2012

Version 1.0

Aug 12, 2012
View All Activity »
Talking Ginger is a universal iOS app available in the App Store for free with in-app purchases. The app is compatible with all devices running iOS 5.0 or later, including the new iPhone 6 and iPad Mini. To download the Talking Ginger app click the button below to go to the app's download page.
---
If you've enjoyed using the app, please rate and review it on the App store and in the comments section below.
iPhone/iPad Screenshots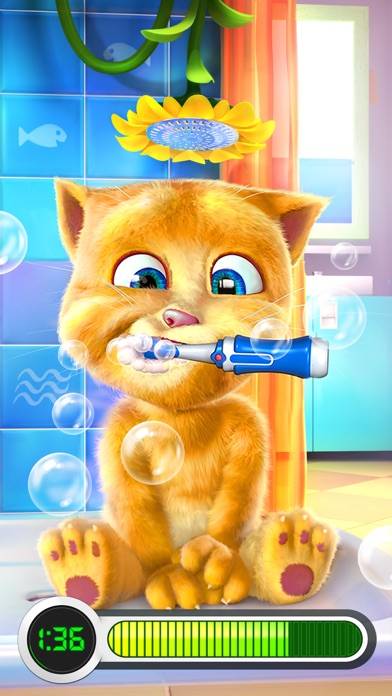 Screenshot #1
Screenshot #2
Screenshot #3
Screenshot #4
Screenshot #5
Recent Reviews
Alright. This game is fun and happy but a little stir but it's super cute and it's a challenge to complete you're task
Cute game. It's adorable.
❤️. This app is so much fun to play 😁😁😁😁😁😁😁☺️
---
Share this Review
This review of Talking Ginger was written by Carol Swift
Download Talking Ginger App Latest Version on Android and iOS. You can get it directly on your device or download the app to your PC or Mac computer then install the app on your tablet or smart phone.