Foap
Universal App – Optimized for iPhone and iPad.
Published by: Foap AB
Price: Free

Current Version

2.4.0

Size

41.43 MB

Released

May 14, 2012

Age

4+

Category

User Ratings

4.00 (5 votes)
App Description
Turning your photos into real money. Simple as that. Just Foap it! Upload your smartphone photos from apps like Instagram, EyeEm, Flickr and more.


*Sell your photos through Foap Market
*Sell photos through Foap Missions to brands like Mastercard, Hyatt, Volvo Group, Absolut Vodka
*Create your own web portfolio easily accessible for buyers
*Explore beautiful photos from all around the world
*Get feedback on your photos from other Foapers
*Photo upload right from your phone
*No upload limits
*PayPal integration for cashouts
*Amazing community
*The best way to make money out of your passion

Foap is free. Each photo costs $10 and the author gets $5.
Every mission is rewarded with a prize starting from $100.

Featured on ABC News, CNN, BBC, The New York Times and Mashable.
What's new in version 2.4.0
- Newsfeed not only works like a charm, but also got an improved look - fonts and thumbnails are bigger making the browsing much easier now; - Photo upload couldn't be easier? Now it can! "Verification" step was removed from the photo upload screen. It will appear on the Manage photos screen unless you're verified; - New feature in "Manage photos" - you can sort the photos by the date of upload or by the visibility status. Finding a particular photo should be much faster now. - Enabled more photo albums in Photo Gallery. For some users some of their photo albums weren't visible before. Some of you know what we mean. - Want to jump into the Community Portal right from the app? Now it's possible! Go to Your Profile page and choose the "More" tab. - The famous "Edit photo" button that was trying to hide from everyone's eyes got a double, which appears now on the photo screen. No more hiding, now you can edit your photo directly from the photo screen; - Lots of UI and user experience improvements (Newsfeed, Explore, rating, user profile, comments) that make us sing: "What a wonderful world"; - Lots of bugfixes in the Photo gallery and upload process to make it all work for you like it should;
Latest App Activity
Foap
Version 1.05

May 14, 2012
View All Activity »
Foap is a universal app, and is available on the iTunes App Store for free with in-app purchases. The app is compatible with all devices running iOS 8.0 or later, including the new iPhone 6 and iPad Mini. To download the Foap app, just scan the QR code with your device or click the button below to go to the app's download page.
---
Foap is a good rated app with 4 stars.
The app is free.
Foap is currently ranked #112 in the U.S. App Store.
If you've enjoyed this app, rate and review it on the App store and in the comments section below.
iPhone/iPad Screenshots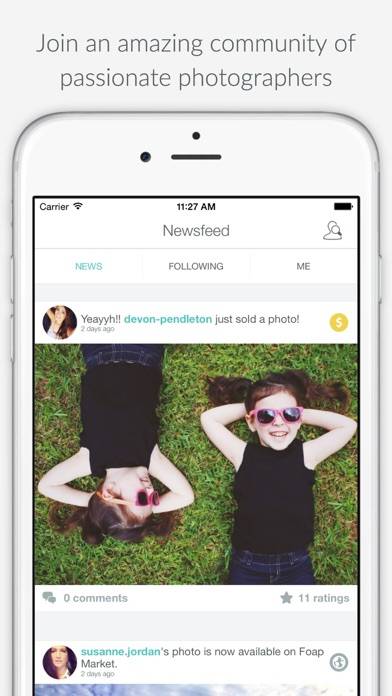 Screenshot #1
Screenshot #2
Screenshot #3
Screenshot #4
Screenshot #5
Customer Reviews
I love Foap!!. Before Foap I knew nothing about photography. One year ago I uploaded about 30 pics to see what would happen and sold one!! I now
have won 3 missions, sold 22 pics and had two product sponsors. I am enjoying my new hobby immensely.

The Foap community is super friendly and encouraging. The app is ea
My Favorite App!. Foap has introduced me to amazing activities I would not take part in of it wasn't for the app itself. I love everything about
this app including the rating, commenting and 'missions' system. I would give a more descriptive review but I'm having to much fun
viewing everyone's photos on Foap. Terrifi
Completely satisfied. This app functions well, I've had no issues with it or complaints. I've had it close to a year now and use it pretty much
everyday. I absolutely enjoy it!
---
Share this Review
This review of Foap was written by Carol Swift
To find and download the latest version of Foap, click on the Download button.
You can get it directly to your device, or you can download it to your computer (PC or Mac) and then transfer it to your device.