Foap
Foap
Universal App – Optimized for iPhone and iPad.
Published by: Foap AB
App Description
Turning your photos into real money. Simple as that. Just Foap it! Upload your smartphone photos from apps like Instagram, EyeEm, Flickr and more.


*Sell your photos through Foap Market
*Sell photos through Foap Missions to brands like Mastercard, Hyatt, Volvo Group, Absolut Vodka
*Create your own web portfolio easily accessible for buyers
*Explore beautiful photos from all around the world
*Get feedback on your photos from other Foapers
*Photo upload right from your phone
*No upload limits
*PayPal integration for cashouts
*Amazing community
*The best way to make money out of your passion

Foap is free. Each photo costs $10 and the author gets $5.
Every mission is rewarded with a prize starting from $100.

Featured on ABC News, CNN, BBC, The New York Times and Mashable.
What's new in version 2.6.2
- Newsfeed not only works like a charm, but also got an improved look - fonts and thumbnails are bigger making the browsing much easier now; - Photo upload couldn't be easier? Now it can! "Verification" step was removed from the photo upload screen. It will appear on the Manage photos screen unless you're verified; - New feature in "Manage photos" - you can sort the photos by the date of upload or by the visibility status. Finding a particular photo should be much faster now. - Enabled more photo albums in Photo Gallery. For some users some of their photo albums weren't visible before. Some of you know what we mean. - Want to jump into the Community Portal right from the app? Now it's possible! Go to Your Profile page and choose the "More" tab. - The famous "Edit photo" button that was trying to hide from everyone's eyes got a double, which appears now on the photo screen. No more hiding, now you can edit your photo directly from the photo screen; - Lots of UI and user experience improvements (Newsfeed, Explore, rating, user profile, comments) that make us sing: "What a wonderful world"; - Lots of bugfixes in the Photo gallery and upload process to make it all work for you like it should;
App rank history
Latest App Activity
Foap is a universal app, and is available on the iTunes App Store for free with in-app purchases. The app is compatible with all devices running iOS 8.0 or later, including the new iPhone 6 and iPad Mini. To download the Foap app click the button below to go to the app's download page.
---
Foap is a good rated app with 4 stars.
The app is free.
Foap is currently ranked #112 in the U.S. App Store.
If you've enjoyed this app, rate and review it on the App store and in the comments section below.
iPhone/iPad Screenshots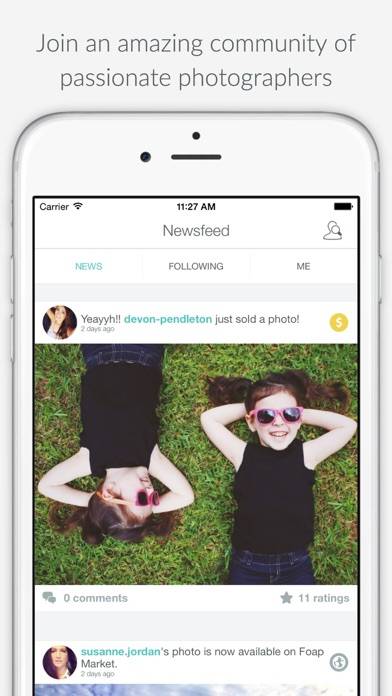 Screenshot #1
Screenshot #2
Screenshot #3
Screenshot #4
Screenshot #5
Customer Reviews
Don't know if this site works. I've been using it for over a month. I've only gotten followers. I have had most of my photos rated as 5 stars. Out of all my
ratings I have had not one buy as of today. The problem is they only want photos of endorsing certain products or of famous world
land marks. So if you have money and nothing
Takes too long to load.. The app is good and it's a good idea but it takes too long to load. And like the people on it seem to be almost fake. Get some
well known people to have the app. I have good shots and I don't even think the have potential because I don't have many
interactions. It's a good app. It can be a lot bette
It's great. But it would be excellent if you could sell more photos and if we made 8 dollars off of each picture instead of five. We only sell
about a pic a month or more months than that but foap gets 5 dollars for every pic that is sold which is ALOT of photos a day for
them. So me make nothing while they cou
Pretty Easy App and Concept. FOAP is an easy to navigate app that allows you to upload pics to the open market or for specific contests. While the logic
patterns of the app is pretty easy, it does take some getting used to. And a few problem alerts - like your images not being large
enough is hard to read or discern. Even if yo
Why not try?. Fun to post, share feedback, and hope for sales. Wish we'd make more money (haven't sold or won contests in my few months as a
member yet). Fairly easy to navigate app. Why not try? But don't quit your day job ;)
---
Share this Review
This review of Foap was written by Carol Swift
Download Foap App Latest Version on Android and iOS. You can get it directly on your device or download the app to your PC or Mac computer then install the app on your tablet or smart phone.