Foap
Genres: [Photo & Video | Social Networking]
Developer:
Foap AB
✿
Release Date:
May 14, 2012
✿
Version:
2.2.2
✿
Size:
23.98 MB
QR Code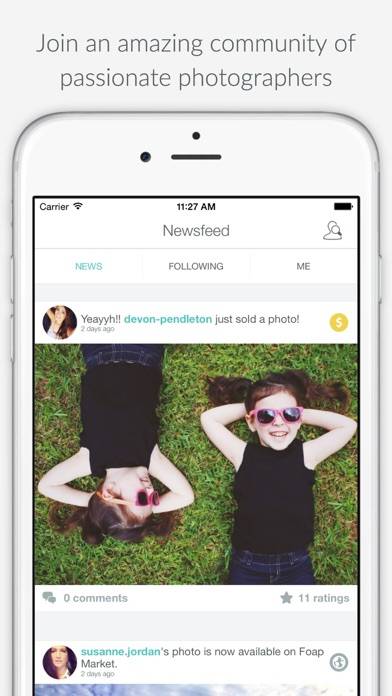 The review includes the developer's description, customer ratings, user reviews and screenshots for iPhone, iPad, and iPod touch.

if you like this mobile application, please share It with others (click on the social media icon links).
Turning your photos into real money. Simple as that. Just Foap it! Upload your smartphone photos from apps like Instagram, EyeEm, Flickr and more.
*Sell your photos through Foap Market
*Sell photos through Foap Missions to brands like Mastercard, Hyatt, Volvo Group, Absolut Vodka
*Create your own web portfolio easily accessible for buyers
*Explore beautiful photos from all around the world
*Get feedback on your photos from other Foapers
*Photo upload right from your phone
*No upload limits
*PayPal integration for cashouts
*Amazing community
*The best way to make money out of your passion
Foap is free. Each photo costs $10 and the author gets $5.
Every mission is rewarded with a prize starting from $100.
Featured on ABC News, CNN, BBC, The New York Times and Mashable.
Get now this application with your unique ID and secured password.
Application Screenshots
How to download the App
Download Foap app for free for iPhone, iPod Touch, iPad and iPad mini.
Download Foap on PC or Mac:
1. Go to the Foap application page in your iTunes.
2. Click the button to download the App.
3. Sync your iPhone, iPod Touch, iPad or iPad mini with iTunes to install the Foap app.
Download the App With iOS App Store:
1. Open the App Store on your iDevice.
2. Search for Foap.
3. Click the button to download and install it on your device.
4. Enjoy.



You can securely create an apple profile with your information, but you have to be registered to iTunes in order to get the Foap app to your device.
If you don't have an active account, please register to iTunes store with a credit card number. In case you are not interested to open an account with your credit card, you can select the option 'None' during the secured registration.
*This Foap application may be available in some countries.


User Ratings
Jul 08
(2★)
Kind of a scam
They get you to upload your ID (pretty invasive if you ask me) and it takes forever to upload individual photos. After all of
this, you have about a one in a million chance of making 5. There are tons
Jul 06
(3★)
An "okay" app.
I don't like that you have to give an ID or certificate to "verify" your photos. I'd also like to be able to see what other photos
sold for. Otherwise, this is a brilliant app.
Jul 04
(3★)
Yes and No
The app is fun when it works. I'm glad the newer version allows you to post pics without being rated by other users, BUT I do not
like that I upload a pic and it tells me it's "good" and all of a sudd
(5★)
Great for stock work
This app is a quick and easy way to get my stock photos seen. No risk no cost and it works! Love it.
Jul 03
(2★)
Haven't made anything yet.
I've been using Foap for over a month now and haven't sold anything. I'm not really sure how much money one can make on here given
my current experience. I didn't have to enter any ID info as far as I
Jul 01
(4★)
Awesome app
It's really cool but every time I try to change my notification settings, the app crashes.
Jun 27
(3★)
Uuugggghhhhh
My pictures aren't being rated after I got the new update. Even on missions. I have done all the "requirements" for getting a top
ranked photo and waited days and still nothing. It's getting to be ann
Jun 23
(3★)
Taxes and identify theft
I'm afraid Foap wants too much personal info! Passport DL social security numbers and this company is based overseas
(2★)
Where are my pics
Ok so on this new update you're supposed to be able to upload multiple pictures at once. I can't confirm that because I didn't get
past the upload stage. I got the upload button and all of my major pi
Jun 21
(4★)
Photo sight
Not certain if I will ever really sell anything on here but it truly a fun sight
(4★)
Nice App
Good way to potentially make a little money if you are good at snapping photos
(4★)
Pretty great app
Easy to use and easy to navigate through. Needs a preview setting before selecting a photo but otherwise very good.
(4★)
Still new
I am just beginning, so we will see. Uploads are simple but sales are yet to be seen.
Jun 08
(2★)
More options
I was excited to get this app, as I love taking photos, & thought is would be a good way to receive extra income. Instead, I was
met with size requirements, harsh reviews that wouldn't let it go throu
(5★)
Fun
The changes to this app were key. Mass upload saves so much time! Keep it up Foap. Your doing it right!
Jun 04
(5★)
Great for photography sharing
This is a great way to get your pictures out into the world of amateur and professional photography.
May 31
(5★)
Working Well
I love it! Update is great! When I needed help, I received a quick and courteous response.
May 28
(3★)
Not a bad app
I like how easy it is to snap a shot with my phone and gave it approved for posting by the community a few moments later. I also
like the missions that give you a chance to be selectively creative for
May 26
(2★)
Can't use all of your pics
I am new to this app and I'm already frustrated with it. I have so many great pictures to use but I am only able to post half of
what I have because they require at least 1280x960 size pics. There is
(2★)
Needs Better Support
I was really excited about this app as I have a large portfolio and was excited about the possibilities.However, after uploading
25 photos I found there are some glitches:Biggest being that 3 of my ph
(2★)
questionable app
details of buying and selling on this app are shady. However it can be fun to see how people rate your photos. Information about
how and who the people are that buy photos is missing. Although it appe
May 24
(2★)
Not too sure about this. Not many buyers
Noticed that lots and lots of photos are uploaded. Very few are bought. Someone buys a pic for 10. You only get 5 of it. Why must
pics be so expensive to buy? And why is it only 50/50 when the photos
May 21
(5★)
Love this app!
Love sharing my photos with people all over the world and seeing what they are sharing also! It is addicting like others have
said, I am now taking more pictures than I have before. I have told all my
(4★)
Awesome when it works.
I'd happily give it 5 stars if it would accurately track the fact that I rated other photos.
May 18
(3★)
Mike h
This app has great potential but has many glitches that need to be worked out. It is slow and hard to complete an up load. I
follow the procedures add tags and rate five photos and then it doesn't kn
May 17
(3★)
any slower and the grass will overgrow.
I love the concept of this app and it's cool but good lord does it have a lot of issues. I just started out but right now a huge
problem I'm having is just getting my basic bio to save. I'll click the
May 16
(4★)
So fun!
This app is simple and fun! Such a great place to throw all my pictures. Just a few big fixes like refreshing to and my pictures
are now all jumbled up, no longer in order of uploaded which I would li
(5★)
Fantastic App
As a Graphic Designer and contributor, I love the concept! Royalty-Free Images for the community, by the community.
May 15
(5★)
Easy to use
It's a cool app. Works fine. It's neat to see all the different photos.
May 13
(5★)
Great app for beginner photog!
I have not experienced problems with uploading photos. It takes so little time to rate 5 photos and then yours will be reviewed.
Easy to use.
May 11
(3★)
Rating System doesn't work
You need to rate 5 other pictures to upload one of your own pictures. I rated like 20 and I still can't get my pictures up. It's
disappointing because I can't get this to work. I tried everything but
May 10
(2★)
Thinking about deleting
App was working great when I first downloaded it.been trying to upload pics all day and every single one is stuck in review even
after I've reviewed several times. I did all of the trouble shooting re
(3★)
Love the concept, lots of bugs
Love this idea. I'm totally addicted. Just wish you would take that large watermark off our pics and fix the bug that says I
haven't rated 5 other photos when I have and then rated additional. Please
May 06
(5★)
GREAT!
I have found so much joy with this app. I think it's great how Foap allows you the opportunity to sell your art pieces and gives
you motivation to continue practicing photography
(4★)
Great app
Love being able to put my photos up with ease! And sell them too!
May 03
(2★)
Half of my photos won't upload
It's a waste of time to load photos and rate 5 other photos to have the photo you uploaded disappear off in to space.Other than
that, it's fun so far.
(5★)
The Chance to be Viewed
So far I haven't sold any photos, but the chance to get them out there where someone might choose one is awesome!
May 02
(2★)
What happened Foap?
I used to love foap, it was like one of my favorite apps. :) since new update though, I can't stand it, It takes 15 seconds plus
to load feed even with 4G wifi.Every picture I upload just disappears,
May 01
(2★)
Nice. kinda
new update is buggy with uploads. One went through. and thats about it. Can't upload anymore. It gets stuck 1/3 thru and keep
asking to rate 5 other pics. sigh
Apr 29
(3★)
Confused and annoyed but good concept
"Hey Foaper, there's only 3 days left to download the new app! Get it now!" HOW! I have been trying to weeks! I got a notice
saying to download the new app and there is no new app in the App Store. It
Apr 22
(4★)
Improving
Enjoyable to use but the news section is a mishmash of information and I do not find it useful. They fixed the problems of
verification and freezing while rating. Overall it is fun and easy to use. I
(5★)
Cool
I like Foap, it's a pretty cool app. Not just because you can sell your photo's, but because you get to see so many other people's
views through their camera. It's pretty awesome.
Apr 18
(5★)
FOAP is back!
The April 16 update fixed the uploading and verification problems. I also noticed the app format is easier to use now, too.I've
missed you, Foap. Glad you're back!
Apr 17
(5★)
Love this App
This is a great way to share your personal perspective on the world. This app is fabulous. This is great not only for professional
photographers, but novice ones too. Overall A.
Apr 16
(4★)
Easier
Is there a way to make it a bidding war with the pictures! Or set your own prices for a buy now option
Apr 15
(2★)
ID
There is no way in this world that I'm going to upload or scan my ID for you. It's like inviting someone to steal your identity.oh
and while we are at it would you like me to help you carry MY TV out
(3★)
Not working
The up grade wants me to enter my screen name and password and it does not recognize my name or password. Tried to reset password
and never got email to reset. Tried 20 times and never got a response.
Apr 14
(5★)
FOAP is awesome!
This app is amazing and the pictures on it are great. I've seen a lot of cool pictures thanks to foap.
Apr 13
(4★)
Good app
I'm new to the app but so far I like it.
(5★)
Excellent
Does exactly what it is supposed to do. Fast. Easy to use. Great software. Great way to sell photos.
Mar 29
(5★)
Awesome
I've only just begun to use this app and only have one picture there so far, but I absolutely love this app!
(4★)
Great Fun
I really enjoyed watching some of my favorite family photos get such great ratings from others.
Mar 26
(4★)
Solid app for hobbyists and pros
This app is easy to use, gives the potential to make money from your photos, provides fun contests. The review process should be
expanded. Four random reviewers aren't enough to give a far assessment
Mar 25
(5★)
It's worth it
Why not take the chance to make money with the photos you have saved on your phone?
(5★)
Fun App
Upload your awesome pictures and get paid.
Mar 24
(2★)
Broken
The app is buggy. The verification system fails consistently. This bodes badly.
Mar 23
(3★)
Not impressed
So far I have only seen 1 person who has uploaded 450 plus. Pictures who has sold anything. So I keep uploading and waiting to see
how and if I will actually make any money
Mar 22
(3★)
Like the idea but.
This app would be amazing if you could get your pictures to be passed. I had some really good pictures that got denied. Dunno why
cuz I saw some that had been sold that were crap.
Mar 16
(3★)
Thumbs up
Really great concept for an app. You make money from your photos. But who views them and can say that my photo isn't to their
liking and not let me post it so others can see it? I mean one person can'
Mar 15
(2★)
Good concept/poor process
The concept of this is great, however, the process of getting photos available to be sold is absurd. You're basically having your
competition rate your photos. Some of the photos that "make it through
Mar 11
(4★)
Pretty cool app
I like the idea of selling photos.hopefully the community grows.
Mar 07
(4★)
Awesome Idea
Easy enough to use, especially for someone who loves taking pictures already. Just wish I could use all the pictures I already
have downloaded on my computer
Mar 03
(3★)
Nice but Confusing
this is a nice program but it is confusing to use.
Feb 26
(5★)
Great App - don't expect big bucks
I actually love this app a lot. I secretly love photography and even though I take photos with iPhone and not a fancy camera, it
is still a lot of fun. The community is full of people with the same pa
Feb 25
(4★)
Solid App
It is and does exactly what it says. Great app, Solid Fun.Reminder: Not every photo is as good as you think it is. Ever heard of
the phrase "you have a [insert here] only a mother could love?" Well, t
(3★)
Cool & Fun, but some bugs
I enjoy the app overall. The review process could be improved. It is currently based on only 4 people reviewing and doesn't give
a more accurate feel of overall community. Maybe after 10 reviews av
Feb 23
(2★)
Rating System is crazy
Have many good photos and community did not rate my picture high enough and I can accept criticism, but when i have won a contest
on a photo or have many likes or views on other websites and to get a
Feb 22
(4★)
Promising
The concept is good, but there are some issues.The review process is odd. I've had some pictures rejected while other, almost
identical pix went through. Not sure what the criteria for picking is?The
(4★)
Pretty good
I like the app. But does anyone ever sell anything ? I would love it if I could sell some photos. App works great for me .
Feb 21
(4★)
It's cool
You need to be on the top of your game to get a good rating.
Feb 18
(4★)
I love the concept of the app
The only thing I don't love is its giving me a hard time to upload my pictures and verify my ID
Feb 01
(5★)
Pretty Darn Cool!
Lots of fun. Very interesting to see what others think of your photos. Always surprising to compare my favorites to their
favorites. It's certainly given me a more critical eye. Worst case.I become a
Jan 29
(2★)
Facebook login problem
So I just got a new iPhone and when I downloaded the app again and tried to login in with Facebook it didn't let me. I kept
pressing but it didn't do anything.
Jan 26
(5★)
Excellent A app
Easy to use. So many photos. I don't know how many photos will sell. But nice to see such beautiful photography.
Jan 24
(2★)
Very disappointing
I love the idea of this app but as soon as I verified my identity with my drivers license and post 3 pictures it seems they will
not let me on again. This needs to be fixed immediately or I will take
Jan 23
(3★)
Nice photos!
It's a nice place to put your awesome photos. You might get lucky to be chosen and have your photos sold!
Jan 11
(4★)
Exciting and fun
The Foab app is exciting challenge to ones photographic aspirations, whether big or small. Even the most amateur of people can
take something.
Oct 31, 2014
(4★)
Like but.
I link the app but there are bugs that I can not wait to get fix! My profile keeps changing. To one of my Facebook friends picture
and name. On my things. That is weird. My password does not work and
Oct 29, 2014
(5★)
Fun!
I am an armature photographer. As I learn to photograph and edit I like sharing best ones on Foap.
Oct 23, 2014
(2★)
I missed the boat
I feel like only pros pics sell now.
Oct 16, 2014
(5★)
bast app!
I love this app it is a great way 2 get your photos out there! love the fact that your photos have 2 be rated before they can be
posted!
Oct 11, 2014
(3★)
Well intended
Just hard to make any money from this.
Oct 06, 2014
(5★)
Great Way to Make
This is a great way to make money while getting better at photography.
Sep 13, 2014
(4★)
Nice App, but
The App is nice. My only main complaint is that you cannot upload multiple pictures at once. Also, it appears to be a bit hard to
make profit here, as most people are here to sell instead of buy.
Sep 07, 2014
(3★)
Okay
The problem is this a stock photography app and not a beautiful picture app. The community seems biased and unfair in most of
their ratings. Your star rating depends on another persons motive and agen
Aug 25, 2014
(5★)
A Great Way To See Quality Photos!
For the most part seems to be honest people sharing and rating quality photos. Very much enjoy this app.
(4★)
Fun App but.
Downloaded this App after seeing it reported on GMA. It is a fun App. And enjoy the missions. However, the report of course made
it sound like hundreds of dollars will be yours. Well I made 5.00. Lo
Aug 21, 2014
(4★)
Was a solid 5
Where did the popular tab go? I always found it a plus to be able to see the photos that the community liked the best. While it is
good to see what is selling as a guide it tend to keep photos more ac
Aug 13, 2014
(5★)
Flap
Great way to take pictures and explore your world and put on goal to make !
Aug 05, 2014
(3★)
FOAM Review
I have posted several photos and have never had a buy offer. I suspect most photos posted do not receive offers.So, while the
suggestion is that photos sell on this site, I am doubtful how many sale
Jul 29, 2014
(5★)
Cool app
Easy to use could make money sell pic . Great app
Jul 28, 2014
(4★)
IMHO
I enjoy a wide variety of subjects. FOAP allows me to find new ones.
Jul 27, 2014
(5★)
Great
Love it, very fun and easy to use!
Jul 21, 2014
(4★)
.
I enjoy viewing all the great shots
Jul 19, 2014
(5★)
Still new to me
Its a little early for me to be able to accurately rate this app. I will start with 5 stars, as time goes we will see if they
remain
Jul 14, 2014
(5★)
Great photo app!
Foap is great for photographers of all levels. Convenient way to share and market photos and admire photos, also. Great way to
learn about photography and what sells, too!
Jul 04, 2014
(5★)
Highly addictive!
Love this App! I use it almost daily! Very addictive! It I have problems. I message FOAP and they take immediate action to fix the
bugs. Best app out there!
Jun 19, 2014
(5★)
Foap beta
It looks like it runs much better. I still would like to see the most popular in the old way with ratings 1-100. It encourages you
to take great photos!
(5★)
Amazing
This app works very well. Great app if you like sharing and reviewing other people photography.
(4★)
Bug
I have really enjoyed using this app, but for some reason when I tried to log in today it detected a faulty error due to a bug. I
would really like to continue using this app as soon as the "bug" is g
Jun 12, 2014
(3★)
Foap
This app is good for viewing pics from around the world but not necessarily for selling although it has potential !
Jun 11, 2014
(5★)
Amazing!
This app is outstanding and deserves better reviews! I have sold one picture and made five dollars so de and plan on selling more!
I wish you could put your own price on the photos though.
Total
102
reviews with ratings for this app.