Coco Voice
Universal App – Optimized for iPhone and iPad.
Published by: Interstellar Connection LLC
Price: Free

Was $0.99

Track this app for price drops.

Current Version

7.4.1

Size

39.38 MB

Released

Jul 24, 2011

Age

4+

Category

User Ratings

4.00 (5 votes)
App Description
"Coco helps users to COmmunicate and COnnect with anyone, anywhere for FREE

With Coco, users can:

• Make free calls all over the world

• Log messages with Visual Voicemail

• Stay in the loop with 'Moments,' a diary of your friend's activity

• Send instant texts and push-to-talk voice messages

• Create group chats with existing friends or join public chat rooms to create new ones

• Share photos, location, and contact information

• Meet people with social features such as People/Groups Nearby, Winks, and Shake Shake

• Communicate without interruption from in-app advertisements

Coco's mission is to distill the illusion of time, distance and language and provide a fun, free and functional space for all people to instantly connect."
---------------------------------------------------------
Visit us at icoco.com
Talk to us at feedback@instanza.com
What's new in version 7.4.1
FIXES: Bug fixes and performance improvements
Latest App Activity
Coco Voice
Version 5.0

Aug 1, 2012

Version 4.1

Jul 24, 2011
View All Activity »
Coco Voice is a universal app, and is available on the iTunes App Store for free with in-app purchases. The app is compatible with all devices running iOS 5.1.1 or later, including the new iPhone 6 and iPad Mini. To download the Coco Voice app, just scan the QR code with your device or click the button below to go to the app's download page.
---
Coco Voice is a good rated app with 4 stars.
The app is free.
The app is currently Free, instead of its regular price of $0.99.
If you've enjoyed this app, rate and review it on the App store and in the comments section below.
iPhone/iPad Screenshots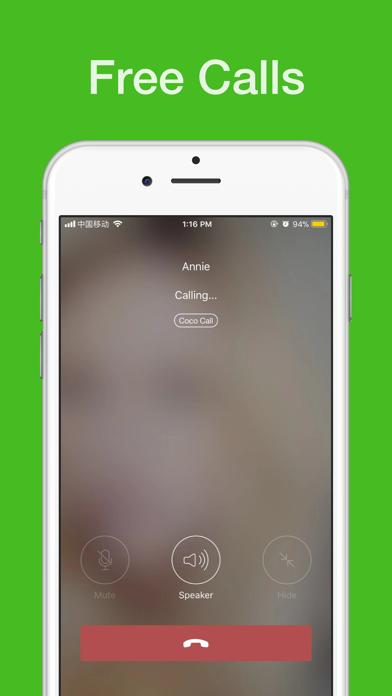 Screenshot #1
Screenshot #2
Screenshot #3
Screenshot #4
Customer Reviews
Great. So the app is awesome in my opinion anybody who sees this app should get it because you get to call and text for free! There are
no ads which is great and you don't need credits and it doesn't charge you for anything this is the best free calling app you can
get oh and you don't need a phone number
I love the app!But I have a suggestions. I really love the app so much!But can you please make it so we can send videos?Because I really want to send my friend a video but
I can't😓.So can you please take my suggestion?Either way I LOVE THIS APP!!!!!
Good app. Its a good app but it needs to be upgrade for iPhone 6s .... Please Its Been too long since the last update
NO NOTIFICATIONS. The app doesn't give any notifications if you're not using the app at the moment. It definitely needs to be fixed, otherwise it's
useless.
---
Share this Review
This review of Coco Voice was written by Carol Swift
To find and download the latest version of Coco Voice, click on the Download button.
You can get it directly to your device, or you can download it to your computer (PC or Mac) and then transfer it to your device.