Bingo Bash
Bingo Bash
Universal App – Optimized for iPhone and iPad.
Published by: BitRhymes
Current Version

1.60.1

Size

94.7 MB

Released

Jun 15, 2012

Age

12+

Category

Card

User Ratings

4.00 (5 votes)
App Description
Play the world's #1 free bingo app - with an all new Wheel of Fortune® room in Bingo Bash, the ultimate app for free bingo games!

Join over 4 million players from across the globe on BINGO BASH – WIN BIG with 350+ levels, 50+ fun ways to play, and NEW rooms added every 2 weeks.

Play in our BRAND NEW ROOM – Wheel of Fortune® Bingo!
- Wheel of Fortune® meets Bingo in an extraordinary partnership. America's #1 Game Show & America's #1 Bingo come together at last!
- Walk on to the famous Wheel of Fortune® stage - and play the world's #1 Bingo there.
- Win unprecedented bonuses in the Wheel of Fortune® Spin to Win Minigame!
Play classic bingo games just as you remember them. Enjoy familiar bingo games with tons of added rooms and bonuses to help you win big!

Classic Bingo Games!
- Enter one of our 50+ Wonder and Special rooms.
- Pick your bingo cards to start playing!
- Daub the numbers called out.
- Score bingos in 13 different ways - and win big!
- Complete collection items to win goodies.
- Unlock newer levels and cool new rooms.

Play Bingo Games and More in Bingo Rooms:
- BINGO ROYALE SLOT ROOMS: Spin your way to more coins and chips! Play on the virtual Bingo Bash slot machine to win BIG!

- WONDER ROOMS: Fly around the world in all of our special bingo rooms!
- Swim in the Great Barrier Reef bingo room.
- Battle gladiators in the Colosseum!
- Have fun scaling the Great Wall of China.
- Hit the Vegas strip for high-stakes casino games.
- Unlock exciting bingo rooms like Purrfect Crime, Pot of Gold, and Wild West for more fun games!
- Play in free seasonal rooms like Zombie Bash, Thanksgiving Room and more!

Exclusive Bingo Bash Features!
- Unlock exciting new rooms every 2 weeks.
- Multiplayer and real time play with millions of players!
- Win HUGE power-ups, get Chips from finding Gems and Collectibles, and more!
- Play and chat with friends in fun real-time games! Team up to uncover never before bonuses.
- Win huge power-ups, surprise gifts, and more!

Be a bingo-playing machine with the top bingo app in the world! Download Bingo Bash today and enjoy FREE BINGO in exclusive rooms and mini-games!

**The only bingo game to make Apple's Top 10 Apps of 2013!**

Contact our support team: Bashgaming.com/contact

· Bingo Bash is intended for a mature audience.
· Bingo Bash does not offer "real money gambling" or an opportunity to win real money or prizes.
· Past success at social casino gaming has no relationship to future success at "real money gambling".
What's new in version 1.60.1
SPECIAL ROOM: Have a fun-flinging time in our latest Room La Tomatina! STILL A FAVORITE: Wheel of Fortune® Bingo! America's #1 Game Show & America's #1 Bingo come together for an extraordinary partnership. •Win unprecedented bonuses in the Wheel of Fortune® Spin to Win Minigame! •Walk on to the famous Wheel of Fortune® stage - and play the world's #1 Bingo there. •Now improved with all new features - and even more goodies to be won!
Need help? Use our Bingo Bash Walkthrough or sign up and make your contribution today.
App rank history
Latest App Activity
Version 1.17

Jun 17, 2013

Version 1.14

Mar 29, 2013

Version 1.13

Mar 9, 2013

Version 1.12

Feb 27, 2013

Version 1.11

Feb 5, 2013
View All Activity »
Bingo Bash is a universal app, and is available on the iTunes App Store for free with in-app purchases. The game is compatible with all devices running iOS 6.0.0 or later, including the new iPhone 6 and iPad Mini. To download the Bingo Bash app click the button below to go to the app's download page.
---
Bingo Bash is a good rated app with 4 stars.
The app is free.
Bingo Bash is currently ranked #32 in the U.S. App Store.
If you've enjoyed this app, rate and review it on the App store and in the comments section below.
iPhone/iPad Screenshots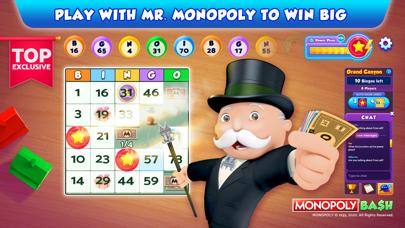 Screenshot #1
Screenshot #2
Screenshot #3
Screenshot #4
Screenshot #5
Customer Reviews
Indiana Snail. I like the game; although it has been known to cut me off from winning a bingo. I will keep playing , I like the background music.
It's bingo. If you like bingo, you'll enjoy this app. Even if you don't win a "bingo", you can win chips, etc. during play.
Best Bingo I've played!. I love this game and have tried many other bingos but this has always been my hands down favorite! There's lots of variety and
cool new games introduced for each season/holiday of the year, and it's easy to earn free chips through watching brief video ads,
using coins to play slots, and occasionally
Trudy Norton. I love bingo bash!! But for some reason I never get a bingo!! The slot game grande tour always leaves me needing one more to win
the credits!! I love both bingo games and slots but not moving up with as much as I can play!!
Addicted to Bingo Bash. I like playing this game. If only they add more game rooms to collect more chips every 20 hours!
---
Share this Review
This review of Bingo Bash was written by Carol Swift
Download Bingo Bash App Latest Version on Android and iOS. You can get it directly on your device or download the app to your PC or Mac computer then install the app on your tablet or smart phone.