Bingo Bash
Genres: [Entertainment | Card | Casino]
Developer:
BitRhymes
✿
Release Date:
Jun 15, 2012
✿
Version:
1.48
✿
Size:
77.07 MB
Need help? Use our Bingo Bash Walkthrough or sign up and make your contribution today.
QR Code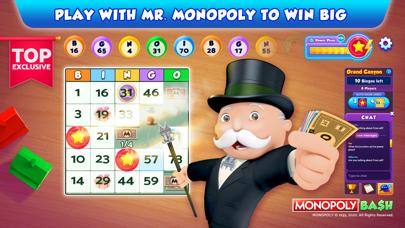 This iOS application is compatible with iPhone 3GS/4.
BitRhymes Inc has already given us Bingo Bash HD - Fun Bingo & Slots featuring Wheel of Fortune Bingo and more! on Nov 30, now delivering another great Entertainment & Card game and iphone app on the store. The review includes the developer's description, customer ratings, user reviews and screenshots for iPhone, iPad, and iPod touch.

if you like this mobile application, please share It with others (click on the social media icon links).
Play the world's #1 free bingo app - with an all new Wheel of Fortune® room in Bingo Bash, the ultimate app for free bingo games!
Join over 4 million players from across the globe on BINGO BASH – WIN BIG with 350+ levels, 50+ fun ways to play, and NEW rooms added every 2 weeks.
Play in our BRAND NEW ROOM – Wheel of Fortune® Bingo!
- Wheel of Fortune® meets Bingo in an extraordinary partnership. America's #1 Game Show & America's #1 Bingo come together at last!
- Walk on to the famous Wheel of Fortune® stage - and play the world's #1 Bingo there.
- Win unprecedented bonuses in the Wheel of Fortune® Spin to Win Minigame!
Play classic bingo games just as you remember them. Enjoy familiar bingo games with tons of added rooms and bonuses to help you win big!
Classic Bingo Games!
- Enter one of our 50+ Wonder and Special rooms.
- Pick your bingo cards to start playing!
- Daub the numbers called out.
- Score bingos in 13 different ways - and win big!
- Complete collection items to win goodies.
- Unlock newer levels and cool new rooms.
Play Bingo Games and More in Bingo Rooms:
- BINGO ROYALE SLOT ROOMS: Spin your way to more coins and chips! Play on the virtual Bingo Bash slot machine to win BIG!
- WONDER ROOMS: Fly around the world in all of our special bingo rooms!
- Swim in the Great Barrier Reef bingo room.
- Battle gladiators in the Colosseum!
- Have fun scaling the Great Wall of China.
- Hit the Vegas strip for high-stakes casino games.
- Unlock exciting bingo rooms like Purrfect Crime, Pot of Gold, and Wild West for more fun games!
- Play in free seasonal rooms like Zombie Bash, Thanksgiving Room and more!
Exclusive Bingo Bash Features!
- Unlock exciting new rooms every 2 weeks.
- Multiplayer and real time play with millions of players!
- Win HUGE power-ups, get Chips from finding Gems and Collectibles, and more!
- Play and chat with friends in fun real-time games! Team up to uncover never before bonuses.
- Win huge power-ups, surprise gifts, and more!
Be a bingo-playing machine with the top bingo app in the world! Download Bingo Bash today and enjoy FREE BINGO in exclusive rooms and mini-games!
**The only bingo game to make Apple's Top 10 Apps of 2013!**
· Bingo Bash is intended for a mature audience.
· Bingo Bash does not offer "real money gambling" or an opportunity to win real money or prizes.
· Past success at social casino gaming has no relationship to future success at "real money gambling".
Get now this application with your unique ID and secured password.
Application Screenshots
How to download the Game
Download Bingo Bash app for free for iPhone, iPod Touch, iPad and iPad mini.
Download Bingo Bash on PC or Mac:
1. Go to the Bingo Bash application page in your iTunes.
2. Click the button to download the Game.
3. Sync your iPhone, iPod Touch, iPad or iPad mini with iTunes to install the Bingo Bash app.
Download the Game With iOS App Store:
1. Open the App Store on your iDevice.
2. Search for Bingo Bash.
3. Click the button to download and install it on your device.
4. Enjoy.



You can securely create an apple profile with your information, but you have to be registered to iTunes in order to get the Bingo Bash app to your device.
If you don't have an active account, please register to iTunes store with a credit card number. In case you are not interested to open an account with your credit card, you can select the option 'None' during the secured registration.
*This Bingo Bash application may be available in some countries.


Video Play Review
How to play
here you will find every thing you need to help you pass and complete all levels, includes guides / walkthrough, hints, tips & cheats, you will find here the best solutions and answers for all levels in this Entertainment.
User Ratings
Jul 05
(2★)
New update.blah
With new update I cannot even open the app, keep saying it cannot connect! Missing out on daily rewards and other events. Playing
for a long time now this is frustrating!
(3★)
LOVE this game BUT.
Bingo Bash truly is my favorite bingo game out there, But. Chips are hard to come by and easy to lose. More so than the other
games I've played. I get roped into the game trap I call In Game Purchase.
Jul 04
(3★)
Game
It's a pretty decent game. The only thing I don't like is the amount of time you have to wait for energy to refill. 20 hours! But
other than that it's okay.
Jun 08
(5★)
Love it
It's better then some of the others.
Jun 07
(3★)
Mrs Model T
Not enough chipsAlso, the message comes up saying I called a bad Bingo. I did not call a bad bingo. Very frustrating
(5★)
well developed app
could let player win a little more often but still quite fun
May 14
(5★)
Muy buenísimo
Muy bueno para esos ratos en los que quieres q el tiempo pase pronto o bien olvidarte un poco de situaciones de una manera muy
entretenida para la mente.
May 12
(5★)
LUV this app!
So relaxing to play so many different ways to play
Apr 20
(5★)
Fun, fun, fun.
I love this app, is the best of this type, these games are usually somewhat boring but this app makes it fun and addictive
(4★)
More chips
Wish there were an easier way to get bingo chips and a count to chips conversion!
Apr 19
(4★)
Fun.- as it always as been
Very nice, smooth, enjoyable to play - classic
(5★)
Very addicting
This is by far the best bingo app out there!
(3★)
game rigged
Just as I'm supposed to win large chips, it takes my last chips & says " Bad Bingo"! How? When it's automatic & can only daub
space when numbers called? On disability & I spend extra few on this as m
Apr 17
(4★)
Gems
How can I trade in gems for chips or power plays?
Mar 25
(5★)
Bingo bash is GREAT!
This is my favorite bingo game! I can't get enough of it!
(4★)
Good
Bingo Bash has an awesome UI and smooth interface.No lagging or crashing on my iphone whatsoever. Have time to spend ? Might wanna
try this app
(3★)
Where's the slot games?
I have all this but can't use it anywhere. What happened to the slot games on the iPhone app?
Mar 24
(4★)
Bingo
Easy to play and to get the hang of right away. Have had this app the longest. I wish they would allow you to trade your power
plays for chips like you can for gems! I mean really.I have over 5,000 fr
Mar 22
(3★)
Skbaker
Not enough chips. Need twice day!The yellow ones see.
Feb 25
(5★)
Favorite Bingo
So so much fun! Especially Wheel of Fortune
(3★)
Fun!
Fun! Crazy addictive, especially the wheel of fortune room. 3
(4★)
Good bingo game
Great for people who like bingo. The update help run it smoother. It added some very nice features to it
Feb 21
(4★)
Fun
Like variety and features of slots, scratch-off's, pull tabs and bingo!
(2★)
Bored
Tired of losing all the time not spending real money on bingo chips just to lose and not earn many bingo chips in return. They
want you to spend money but not earn money or chips in return. Time to f
Jan 29
(5★)
Nice bingo game. Quite interesting.
My dad likes to play bingo, so this is perfect for him. Beats having to travel to the senior center for Bingo Tuesday. Now my
mom is looking at this too.
Jan 25
(4★)
sanya05
Great amazing app cool I think to bring in top 10
Jan 07
(5★)
Great bingo game
This is the best bingo game for my iPhone, runs smoothly especially considering all the animations there are in the fun rooms.
Love it
Jan 02
(4★)
Love it only one problem
The only thing I would change is I wish we had the option on playing our own cards instead of having the 3 an 4 automaticity done.
I love to play several cards that is the ONLY thing I would change.
Dec 13, 2014
(3★)
It's ok
The graphics are fun, and there's nothing wrong it, per se, but I'm not sure what makes this app stand out from the crowd.
Dec 12, 2014
(3★)
Frustrating!
Please fix your connection issues!Please fix your connection issues!Please fix your connection issues!
(4★)
bingo and christmas
christmas is coming and this bingo game is so much of fun to play. i love the xmas graphic and the animation of this game. lets
bingo and have some fun for this season
Dec 11, 2014
(4★)
Really nice game
Spent this summer just playing this. Really addictive. Give it a try and thank me later.
(4★)
Awesome graphics
The gaming interface of the app is great. Hours of fun play.
(5★)
Bingo bash
The best bingo that I have played in the recent past love it
(3★)
Amazing
This app is so amazing extremely perfect app I love playing it beautifully framed.
Nov 16, 2014
(4★)
Addictive--at times frustrative
Difficult at times to get a bingo
Nov 14, 2014
(5★)
Fun Bingo App!
I can spend a lot of time playing this one! Wheel of Fortune Totes fun. Luv the spin!
(5★)
Bingo Bash review!
I just played Wheel of Fortune room and it was super fun, challenging and gameshow themed. I get so many bingos! Great game and
fun to pass time playing. I love all the grandchildren and they love the
(5★)
5 star rating all the way
I recently tried out the Wheel of Fortune room that just opened and love the vintage game show look and feel. The setup of the
game is good. Out of all the free bingo games I have found this one is so
Oct 21, 2014
(3★)
INFO:
I like the game. But the only thing that bothers me is that you cant do something to really get more bingo chips. I think that you
should be able to watch a video or something to get more bingo chips!
Oct 20, 2014
(5★)
Great!
Game is lots of fun, support is courteous and responds within 24 hours :)
Oct 19, 2014
(4★)
Love this Bingo!
I have a great time playing bingo with this app. There is only one thing I would change and that is the amount of chips you can
earn daily returns. Otherwise, Love It!
Oct 17, 2014
(3★)
Please help!
Every time I try to enter Halloween room it freezes and does not open. Please fix. Thank you
Sep 25, 2014
(4★)
Enyertainment
Many enjoyable hours of entertainment, once the bugs are exterminated it will be exceptional
Sep 24, 2014
(2★)
STILL BUGGY
After iOS 8, still buggy and losing connection to server or force closing.
Sep 22, 2014
(3★)
iPhone 6
Please update so it can be compatible with the 6!
Sep 21, 2014
(4★)
Needs Improvement TIRED of losing bingo chips
I really enjoy playing but the constant shutting down and losing bingo chips is very frustrating. Also can rarely do the daily
scratchers because it shuts down even more frequently when clicking on th
Aug 27, 2014
(3★)
Bad bingo
I got two bingos and when I click on the bingo sign it said bad bingo on two different cards I would like my 6 points back
Aug 25, 2014
(4★)
Great game very addictive
Wish had better odds and got more daily bonuses
Aug 02, 2014
(2★)
Great games but bug in new update
Awesome Bingo game but the new update makes me log into Facebook again each time I open the app. Please fix!
Jul 08, 2014
(5★)
Used to love it
I have to spend way too much for too little winnings and now you have to wait to long for the power plays. Please be a bit more
generous to those of us who are long time players.
(5★)
Nice game
Good game to pass the time away
(4★)
Fun game when bored
Wish that there were more bingos offered but it does make time fly :)
Jun 13, 2014
(5★)
Great game better than normal Bingo
With the extra things like collecting coins and gems for power plays it makes Bingo much more fun. On times when you just have two
crappy cards that are definitely not hitting a Bingo you can still be
May 19, 2014
(5★)
LOVE THIS GAME!
Gotta check it out dude. Hella addicting though
(5★)
Fun.Love It!
Minimal issues with every update. Very very enjoyable game, better than others I have tried. Can never play just one game, so
addicting!
Apr 23, 2014
(4★)
Game is ok
It is fun but a lot of the games cost too much of your chip to play expensive !
(4★)
Fun.,
But the server is slow to respond. The game itself is challenging & fun!
Apr 22, 2014
(3★)
Cool game
I wish I could play as much as I want without the chips
Mar 29, 2014
(3★)
I just wanna play!
I love playing this game. I just wish I could play longer than 5 minutes at a time.
(5★)
The Best Bingo Ever.
I love this bingo.there is not a better version to play.
(5★)
Most fun in a cell phone
I keep going back and play every day.
Mar 27, 2014
(5★)
Good game
Need more opportunities to get more chips
(5★)
Addicted
Very addictive love it wish I had more time to play. Wish I could earn more coins to buy more power ups. I loved how there was
weekend for unlimited power ups. Do more please
Mar 04, 2014
(3★)
Too many hours
I enjoy the game but getting bored with too many hours between bonuses.
Mar 03, 2014
(5★)
Fun fun o fun
With so many rooms to choose from u can spend all day playing something new. Luv the slots room also. A must have app on my phone.
(5★)
Best Bingo App
Beats all the others in enjoyment and usability.
Mar 02, 2014
(3★)
Review!
It is constantly cutting off taking balls away and is always doing something wrong! It really needs ALOT OF BUG FIXES!
(5★)
Addicting win/lose
Play until zero chips are left ))
Feb 05, 2014
(3★)
Fun App
Fun app. Very addicting. Only complaint, it wont let me send chips to my friend.
(3★)
Rsting
Not enough chips to play 24 to 32 at a time. Want you to buy takes the fun out of it
(3★)
Fair
I like this but sometimes it freezes and I lose all of my bingo chips. Not enough wins.
(5★)
Awesome Game!
This is the best Bingo game available!
Jan 09, 2014
(5★)
Super fun
A lot of fun and a good way to kill time when waiting
(2★)
M
Lots of fun when several people are playing. When only a few are paying, you get only a few chances to win. Seems like computer
always wins.Too many ads
Dec 16, 2013
(4★)
Eehhh.
I love this game and the rewards but the chips are way to expensive. Only able to play two or three rounds with the daily bonus
chips :(
(5★)
Great app
I play everyday! Love all the rooms and challenges. I always tell my friends about this app
Dec 15, 2013
(2★)
Fun, but problems
Problems happen in the middle of the game. Then, game takes all points needed to buy more cards. Plus, game ends before reload
happens. Also, some games never start, but still take your credits for t
(5★)
Awesome game, I love it!
Please add more unlimited power plays, they really help.
Nov 19, 2013
(2★)
Losing coins
I keep losing connections and losing coins, I love the game but gosh
(4★)
Great game
Addicting! Sometimes drops my connection.
(5★)
Addictive
This game is so addictive. Play it every night.
Sep 28, 2013
(4★)
Super game
I love this game I would give it 5 stars if we had access to the tournament on the mobile app
Sep 27, 2013
(2★)
Slow game
Wish it was a little more interesting or more entertaining. More prizes would be awesome.
Sep 02, 2013
(4★)
Bingo Balls
Wish there were an easier way to trade for bingo balls.
(5★)
Love it! :)
I love bingo and I live bingo bash. I played and Facebook and for the app for my iPhone later. Love it!
(5★)
Best bingo app ever!
Love the auto daub. And rewards are great! I never have to worry about running out of chips lol
Sep 01, 2013
(5★)
Bingo Bash 2
Great entertainment! It will keep you occupied for hours to come.
(5★)
One of my favs!
Addicted to bingo, this is one of my favorite bingo apps that I have :0)
Aug 08, 2013
(5★)
Ok
Slightly addicting. Pretty easy to get chips/coins to play and for boosts. Good game if you like bingo
Aug 07, 2013
(5★)
Ms
I love it keeps me going comes in handy wen ur board
(5★)
Pwolf
Great game , develops eye focus and memory skills
(3★)
Great game but.
I just bought a chips and power play deal and got took. Took my money and gave me half the chips and no power plays.
Jul 13, 2013
(5★)
Love it!
Out of all my bingo games , this one is my favorite !
(5★)
I need to stop playing!
My all time favorite game. Hard to get anything else done! Totally addicted!
Total
95
reviews with ratings for this app.