Fair Food Maker
by Sunstorm Interactive
Universal App - Designed for both iPhone and iPad.
App Description
Play the BIGGEST and BEST Fair Food Maker chef game! Make 18 delicious fair foods and 8 fair games in one download!
*NEW* Just added! Chicken Nuggets Maker - Cook your own delicious crispy nuggets!
Our latest new mystery food is there for you too. Have you made a Donut Ice Cream Sandwich yet? Yum!!
Visit the Midway to get started – it's easy and fun. Check out your favorite yummy treats!
• MYSTERY Maker! It is a surprise!
• Fried Ice-Cream Maker
• Super Soda Machine
• Cotton Candy
• Chocolate Covered Bananas
• Snow Cones
• Milk Shakes
• French Fries
• Lemon Shake Ups
• Candy Apples
• Corn Dogs
• ICE Pops
• Kettle Corn
• Funnel Cakes
• Bubble gum
• Yummi gummi
• Donut ice cream sandwiches
• Chicken Nugget Maker
Pick from tons of flavors, sweet candy toppings, and decorations. Can you make the coolest snow cone? The funniest corndog? The best donut ice cream sandwich? Make them all!
The Midway is full of carnival fair games too! What will your fortune be? Win and collect awesome prize!
• Mystery game - it's a surprise!
• Fortune Teller - what does YOUR future hold?
• Smack Sammy
• Bottle Toss
• Balloon Pop with Darts
• Frog Flip
• Fish Bowl Toss
• Water Gun Fun with clowns
Share your fair foods and your prizes with your friends. If you enjoy our game, please write an awesome review!
ABOUT Sunstorm
Sunstorm is the pioneer of the popular "Maker" and "Sunnyville" series of games. Founded in 2009, Sunstorm provides creative and fun experiences for kids and parents to enjoy together. Sunstorm is a subsidiary of TabTale, a leading, global creator of innovative games, interactive books and educational apps.
Visit us:
http://www.tabtale.com/
Like us:
http://www.facebook.com/TabTale
Follow us:@TabTale
Watch us:
http://www.youtube.com/Tabtale
CONTACT US
Let us know what you think! Questions? Suggestions? Technical Support? Contact us 24/7 at WeCare@TabTale.com.
IMPORTANT MESSAGE FOR PARENTS:
* This App is free to play but certain in-game items may require payment. You may restrict in-app purchases by disabling them on your device.
* By downloading this App you agree to TabTale's Privacy Policy and Terms of Use at
http://tabtale.com/privacy-policy/
and at
http://tabtale.com/terms-of-use/.
Please consider that this App may include third parties services for limited legally permissible purposes.
What's new in version 2.1
>No more bugs here! We've stepped on the little guys and made your game extra fast! >We've enhanced your game – it's now smoother than ever, and fun as usual! >Keep in touch! We'd love to hear from you!
Need help? Use our walkthrough or sign up and make your contribution today.
Rank in top paid apps
Ranking - Games (iPhone) - United States
Fair Food Maker is currently ranked #198 on the iOS store in united states.
Fair Food Maker is a good rated app with 4 stars.
Updates
Release v1.10

Aug 10, 2012

Release v1.03

Jul 20, 2012

Release v1.22

Jun 15, 2012

Release v1.03

Jun 15, 2012
View All Activity »
---
App Details
Current Version: 2.1
File Size: 106Mb
Publisher:
Sunstorm Interactive
Users Rating: 4.00 (70 reviews)
Game Overview
The Fair Food Maker app game is now available for free on iOS. The application is compatible with iOS 7.0 or later on the following devices: iPhone 7, iPhone 6, iPad 3, iPad Mini and iPod Touch 5G or newer.
Download Fair Food Maker and play on your iPhone or iPad (See button below). If you have an Android or Windows device, you can find links to download this app here.
Developer site: Support
Screenshots
iPhone
iPhone
iPhone
iPhone
iPhone
iPad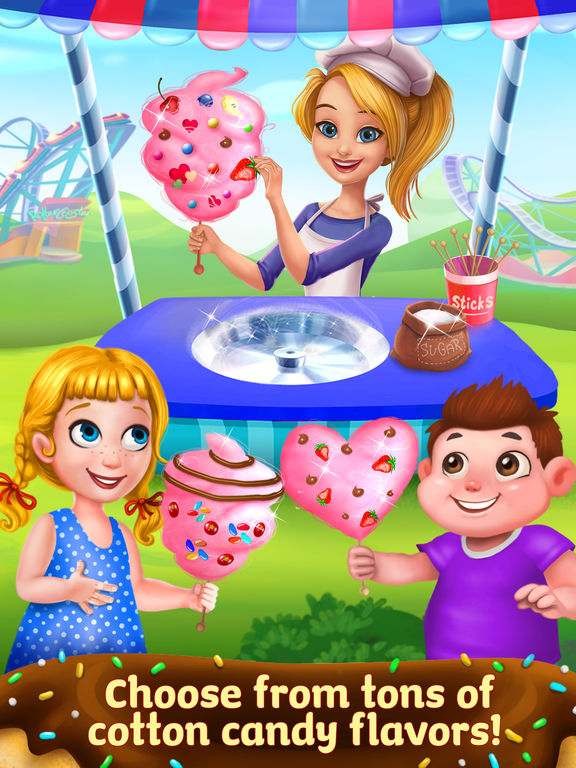 iPad
iPad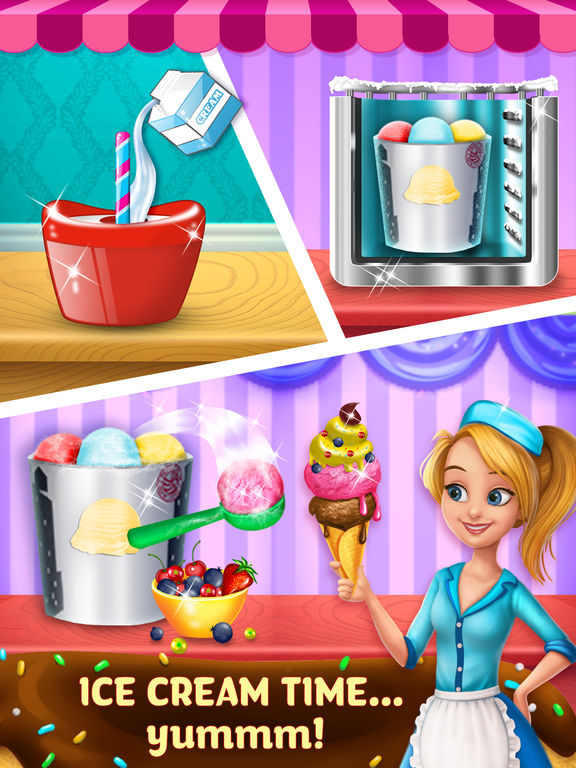 iPad
iPad
Fair Food Maker - 8 Favorite carnival foods ALL IN ONE Has Add-Ons
Donut Ice Cream Sandwich Maker
Note: Add-ons available as in-app purchases
Reviews
Fun but so different from ads

A lot better before

Yesssssss!!!!!!

GOOD BUT TO MANY ADDS

Sooooo many adds

PLZ FIX IT 😫😫

#needs sumthing