Safeway
Safeway
Universal App – Optimized for iPhone and iPad.
Published by: Safeway Inc.
Current Version

4.7.2

Size

41.29 MB

Released

May 1, 2012

Age

4+

Category

Lifestyle

User Ratings

2.50 (5 votes)
App Description
Make shopping fun again! With the Safeway app, saving has never been more convenient. Use the app to easily get coupons and find weekly savings. In addition, with our shopping list feature, you can create, edit and update a real shopping list – on the go and on your time. Never miss a sale or forget to pickup an item because our app is always with you.

Features:

- Build a real, customizable shopping list you can use week after week
- Easily view the Safeway Weekly Ad for your store on the go
- Load savings on the go with Just for U digital coupons and personalized deals
- Use our store locator to find the closest Safeway store
What's new in version 4.7.2
iPhone only: - Previously purchased items are now displayed on the My Card page. - Aisle location is now available on the Offer detail page. - Usability improvements and bug fixes.
App rank history
Latest App Activity
Safeway is a universal app, and is available on the iTunes App Store for free with in-app purchases. The app is compatible with all devices running iOS 7.0 or later, including the new iPhone 6 and iPad Mini. To download the Safeway app click the button below to go to the app's download page.
---
If you've enjoyed this app, rate and review it on the App store and in the comments section below.
iPhone/iPad Screenshots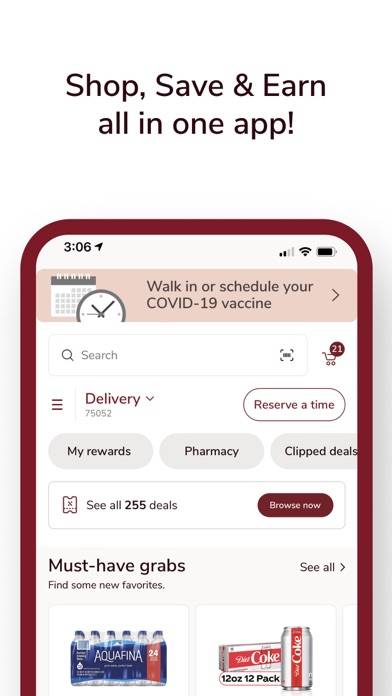 Screenshot #1
Screenshot #2
Screenshot #3
Screenshot #4
Screenshot #5
Customer Reviews
Not as functional as it could be. I agree with others that this app is too crowded with information. It takes too long to go through all of the specials and I
generally have to do it at home due to there not being reliable wifi at the stores (see second comment). It would be better if
there was a generic search feature - enter, for
You can change the "Add to List" option. There is a fix! On your homepage scroll to the bottom, Tap "more/settings" Tap "Add Button Preference" and Tap the "Add to my
Account only" and it's right back to you making your own shopping list :)
Oh, and to clear everything they added to your List, from your "My List" page, at the top right corn
Disappointed. This new update is terrible! I like using the "My List" for only the things I really really want to get. I like to add all of the
personalized Just for You deals just in case I spontaneously decide to buy an item(s). Now when I add items from the Just for You
personalized deals it automatically add
Still haven't fixed it. Two updates later and you still haven't fixed the email list function. Is it that complex?
Works great for me!. Love this app. Sometimes I forget how useful and time saving it can be. Great way to find coupons digitally and even sort your
shopping list by aisle! When you add coupons to your card they work automatically when you check out! (I always watch the register
just to make sure though. And sometimes yo
---
Share this Review
This review of Safeway was written by Carol Swift
Download Safeway App Latest Version on Android and iOS. You can get it directly on your device or download the app to your PC or Mac computer then install the app on your tablet or smart phone.