Safeway
Universal App – Optimized for iPhone and iPad.
Published by: Safeway Inc.
Price: Free

Current Version

4.5.3

Size

18.59 MB

Released

May 1, 2012

Age

4+

Category

Lifestyle

User Ratings

2.50 (5 votes)
App Description
Make shopping fun again! With the Safeway app, saving has never been more convenient. Use the app to easily get coupons and find weekly savings. In addition, with our shopping list feature, you can create, edit and update a real shopping list – on the go and on your time. Never miss a sale or forget to pickup an item because our app is always with you.

Features:

- Build a real, customizable shopping list you can use week after week
- Easily view the Safeway Weekly Ad for your store on the go
- Load savings on the go with Just for U digital coupons and personalized deals
- Use our store locator to find the closest Safeway store
What's new in version 4.5.3
iPhone only: - Previously purchased items are now displayed on the My Card page. - Aisle location is now available on the Offer detail page. - Usability improvements and bug fixes.
Latest App Activity
Safeway
Version 3.1.2

May 1, 2012

Version 1.1.2.8

May 1, 2012
All App Activity and Price Drops »
Safeway is a universal app, and is available on the iTunes App Store for free with in-app purchases. The app is compatible with all devices running iOS 7.0 or later, including the new iPhone 6 and iPad Mini. To download the Safeway app, just scan the QR code with your device or click the button below to go to the app's download page.
Customer Reviews
Clear List = Clear offer from Card?!. I build my shopping list based on coupon offers. I DISLIKE that when I "clear checked items" from my shopping list, it also clears
the offer (and discount) from my card!! The offer should stay on my card until it expires. I have wasted a lot of time, and money,
by simply clearing checked items off m
Working well. I happy with the way the app functions. Love the way the iPad version syncs with the IPhone version. Great. Still not happy that
the list of items for sale is so bloated. Almost 500? And then the same items are listed in multiple categories to make things
even more maddening. Please, make things cle
This app works fine for me on my iPhone 6.. I use this app once or twice per week most weeks, and it works well for me. I'm not entirely enthused that Safeway has allowed me
the privilege of using an additional step in the workflow of my day in order to get the lowest possible prices, but because low
prices are a huge motivator for me I have
Advocate. The store at silver bell and Grant is the best store I only go in because of Jenny, Antionette, Anjelica, Kayla those girls really
work hard they deserve a raise they put up with a lot and all the dept are fab also would like to see mang out more on the check
stand instead of the office hiding
Suggestions. 99% of the time I want to check my Card when I open the app. Why do I have to click 3 times to get there??The app should open to
the card...and...why can't I delete something I added by mistake??
If you've enjoyed this app, rate and review it on the App store and in the comments section below.
iPhone/iPad Screenshots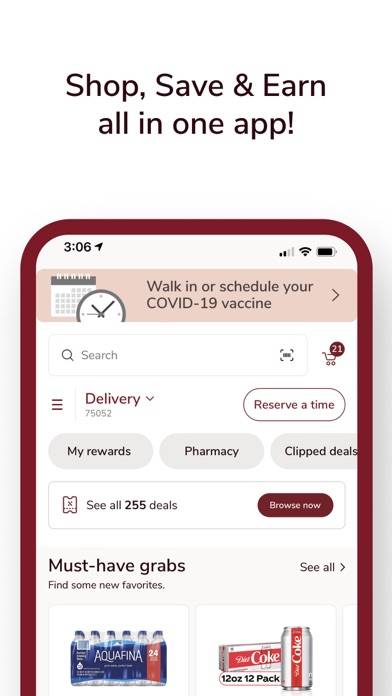 Screenshot #1 (iPhone)
Screenshot #2 (iPhone)
Screenshot #3 (iPhone)
Screenshot #4 (iPhone)
Screenshot #5 (iPhone)
The Verdict: Average!
---
Share this Review
This review of Safeway was written by Carol Swift
To find and download the latest version of Safeway, click on the Download button. You can get it directly to your device, or you can download it to your computer (PC or Mac) and then transfer it to your device.