Weebly
Genres: [Productivity | Utilities]
Developer:
Weebly, Inc.
✿
Release Date:
May 02, 2012
✿
Version:
4.0.6
✿
Size:
55.82 MB
QR Code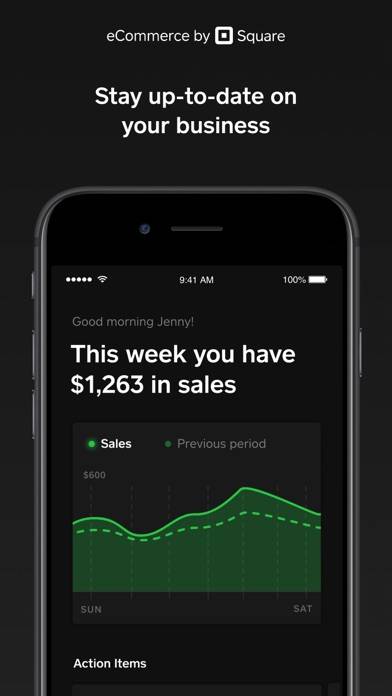 The review includes the developer's description, customer ratings, user reviews and screenshots for iPhone, iPad, and iPod touch.

if you like this mobile application, please share It with others (click on the social media icon links).
Weebly gives everyone a surprisingly easy way to create a high-quality site, blog or online store. Millions of people have started something on Weebly and you can too.
Featured in USA TODAY, Newsweek and TIME, Weebly sites work brilliantly on computers, phones and tablets.
From your iPhone you can start a new blog or store and manage it on the go. As a site owner, check your site stats, view your form entries, and respond to customers from anywhere. As a store owner you can track, manage and process your orders and receive notifications whenever a new order is placed.
Weebly for iPhone lets you:
Blog
- Start a new blog with our powerful drag & drop creator and modern themes
- Create new blog posts while on the go
- Easily add text, photos and videos to your blog posts
- Apply custom filters that make your photos stand out
- Instantly respond to blog comments & form entries
- Share your posts to Facebook & Twitter with one click
Store
- Start a new store and begin selling products online
- Add new products: photos, descriptions, options (like color or size) and prices
- Instantly start accepting payments with Stripe
- Track, manage and process orders
- Receive notifications whenever a new order is placed
- Quickly respond to customer inquiries
Site
- Check your site stats from anywhere
- View and respond to contact form entries from your site visitors
Get now this application with your unique ID and secured password.
Application Screenshots
How to download the App
Download Weebly app for free for iPhone, iPod Touch, iPad and iPad mini.
Download Weebly on PC or Mac:
1. Go to the Weebly application page in your iTunes.
2. Click the button to download the App.
3. Sync your iPhone, iPod Touch, iPad or iPad mini with iTunes to install the Weebly app.
Download the App With iOS App Store:
1. Open the App Store on your iDevice.
2. Search for Weebly.
3. Click the button to download and install it on your device.
4. Enjoy.



You can securely create an apple profile with your information, but you have to be registered to iTunes in order to get the Weebly app to your device.
If you don't have an active account, please register to iTunes store with a credit card number. In case you are not interested to open an account with your credit card, you can select the option 'None' during the secured registration.
*This Weebly application may be available in some countries.


User Ratings
Jul 25
(5★)
Best website app ever
Its easy and free which makes it awesome
(3★)
Not too bad
This is touted as being easy for beginners, but to me it was a bit confusing. I had to go to Youtube to figure out how to do some
basic stuff. The blog page is a bit unwieldily also. I think a "ref
Jul 24
(5★)
Perfect
Love it. Has been so helpful for my prosperous site and business!
(5★)
Love Weebly!
Website set up - easy!App - great!Support - helpful and thorough.
Jul 23
(5★)
Love this app
I run two businesses using this app. Action art studio and Robbins lucky beads. The purchase system is Great! awesome business
tool.
Jul 22
(5★)
Helpful
I like this app I just wish I could edit my site from here!
(4★)
Weebly for iPad
I like it! I just wish there were blogging features and it could be so much cooler. I do like that I can check my stats and all
but I do really want to be able to blog from my iPad device. It has a cl
Jul 21
(5★)
Beautifully simple
Weebly has enabled me to create and customize my own personal online store and blog.The app makes editing my sites easier when I'm
mobile. So powerful!
(5★)
Seems good so far
So far, I really like it. Haven't tried much though.
Jul 15
(3★)
Ok
I use the iPad and desktop software more then the iPhone. It is nice to check on small things, if I had a store I would use it
more. It's free so it meets my needs.
Jun 29
(3★)
Pretty Good. App needs improvement
This app is so amazing! You can have the chance to make your own website and you don't even need code! Also this is a easy to
express who you are to the world! But the Weeby APP is very confusing. You
(4★)
Pretty great. Could be better
There are very few website building apps, weebly could go farther if they really put work in their app. I love using weebly.
Jun 28
(4★)
Cannot post from iPad
I loved this site when I first setup, I could easily post to my site from iPad app. Can you bring this back please? if not I am
looking for other platform.
Jun 27
(5★)
Excellent
Weebly is an excellent site for novice webpage builders to polish their craft. The staff is very helpful and easy to contact.
There are multiple, helpful explanations addressing issues common to begin
Jun 26
(5★)
Lovely Weebly
Wonderful app, I'm in love with my blog, website, etc. u can see what else u can create once u get the app! It's amazing! Get it
now, it's worth seeing, discovering, and loving!️
Jun 25
(5★)
Impressed
I can check on my site and update all day long, thanks for making a non tech person look good!
Jun 24
(3★)
Review of website not app
This review is about the Weebly website since that's my main interaction in a browser and I rarely use the app. As a blog site
Weebly works but it is somewhat weird. Each new post requires the user to
Jun 23
(3★)
Contributor sites
When I started with Weebly, everything was alright. I have everything I needed to edit right in front of me. One day my friend
asked me to help him admin his website also with weebly (check us out! Me
Jun 22
(4★)
Good but like everything better on computers
Alright let me start out by the fact that this app is really good if your on the go and wanna check out your store, forum, blog
anything, but when your at home it works better on a computer
Jun 20
(2★)
Blogging!
It's nice but why does the iPad version not support blogging? It's convenient on the iPhone but I have access to all my images and
materials for blogging on my iPad.
Jun 19
(5★)
In love
I purchased my own domain from Weebly and I must admit I am lost for words I'm speechless two words HANDS DOWN
(5★)
Good mobile functionality
Can update blog and monitor stats easily. Data has been beneficial enough to where I see the value of upgrading my weebly account
and beginning a more serious pursuit of my website. I use weebly sever
Jun 18
(3★)
It's ok
Writing a post on mobile and then viewing it in the desktop site, the font is different and one line break becomes two, so
everything is more spaced out.
Jun 16
(3★)
Great app, can't use it now
The app was great and worked perfectly up until I changed my password on the computer. Now it comes up with 'not authenticated:
forbidden' I can't use the app. Please fix this. Thanks, great app by th
(5★)
️️
Easy-to-use and free! My two favorite things in an app. This definitely deserves a good five star rating!
Jun 03
(3★)
The Website is Better
I only use the app for looking at my stats. Other than that, it's really difficult to write a post on it.
Jun 01
(5★)
Not bad
It's fun being able to release the thoughts of your mind.
May 30
(5★)
Very pleased
This must have been a real tough app to code. I'm very impressed by what you've included. Of course building and editing a site is
much easier using Weebly on one's desktop, but your app permits me to
May 27
(4★)
Nice. Good.
It's a incredible program. I use it a lot. They should make a few changes, though. 1. You should be able to show other people. 2.
It needs to load faster. 3. You should not have to pay money for a rea
(5★)
Great but.
Great app worth it but can you access your website from their? Oh yes it is a amazing app but sometimes it crashes.
May 25
(4★)
Love weebly, but app is limited
Like the app itself, but can't blog from iPad. It also doesn't seem to be able to edit a responsive theme.So it's functionality is
somewhat limited.
May 22
(5★)
Easy and convenient
I developed my website almost entirely using my iPad! Very convenient
May 21
(5★)
Easy to use
Very easy to use, and it's great if you want to build a portfolio website to show case your work to potential clients.
May 07
(5★)
Best App!
This app makes tracking my site so much easier! Would recommend.
(2★)
Needs More Functionality and Fewer Crashes
The app is very limited compared to the web version. I dislike the way it opens to stats and no option to change this. Crashes are
extremely frustrating. To spend time on a post and then have the app
May 05
(4★)
Very good
I wish I could have a bit more editing options such as moving things around and adding widgets. If I could add widgets, my site
would be complete.
May 04
(5★)
Amazing App
This is an amazing app it helped me on a Genius Hour Project. And it didn't cost any money what so ever. It was a really fast and
easy way to make a website, blog, or online store web or something lik
(2★)
Love web version, ipad. Not so much
I want so badly to use the iPad to update my websites and those of my clients. But I can't even edit or style a blog! I love the
web version on a desktop. But so far the iPad version is pretty clunky.
May 03
(4★)
Nice App
Great App Easy to use and helps making blogging easier
May 02
(5★)
5 stars from me!
Easy to use and operate. Perfect for starting a new Web!
May 01
(5★)
Great app!
Let's me see how my sites are doing on the go. Awesome app. Super easy to use. I just wish I could check my invites and send some
out through the app.
(5★)
Great Application
I really love this app and btw how do I publish the website online? anyways it's a great app and will be using it again!
Apr 30
(5★)
Cool app
Great app lets me look at my survey results easily!
(5★)
Easy peasy!
Love how easy this is too use. I enjoy very much!
Apr 28
(2★)
Apple watch support before blog editing.?
Whoa. You're telling me you added Apple Watch support before allowing blog editing? Huh? Blog editing! Blog editing! .Hand raised
at your next morning meeting: Blog editing!.Hurry up folks! Time is &
(5★)
Woot
I wish there were an option to add pictures, as that's very important to what I post and the desktop version doesn't seem able to
do it. otherwise, great options and layout! Everything I need to acces
Apr 26
(5★)
Mobile cool
Of course the web version is the best but the mobile has more options than I expected. Great!
Apr 12
(5★)
Love the new Weebly App
Found the legacy Weebly app pretty useless since you could only edit the blog section but the new app for iPad is outstanding with
only a few minor glitches. I can create and edit a Weebly site as eas
Apr 11
(5★)
Good app
I like the app because it's very convenient
Apr 09
(5★)
Thank God
Thanks this made things much more easier and understandable
Apr 08
(3★)
Works, but it doesn't save your Login info!
It works fine for editing a blog but you have to re-enter your email and password every-time you open the app. This becomes
annoying and should have a save feature like most apps. To solve this proble
Apr 07
(5★)
Hopefully great
I wanted to create a website so I went to weebly.com and started.I found it was very hard because I was using an iPad on a desktop
compatible only website.A few days ago,I heard of the weebly app whic
Apr 06
(3★)
Needs to save user and password
I like that I can see the stats for my websites on my phone, but I am extremely annoyed that I cannot remain logged in. I have to
log in every time I want to access the app which is not efficient. Ple
Apr 05
(2★)
issues.
cannot change or modify a previous blog post. especially if the post contains any media. I use this for stats, and that's about
it.
(5★)
Convenient and easy to use
This is the first time I have ever had a blog. This app is so easy to use even for a newbie like me. It is amazing that I can
actually do my blog post on my phone when I can't use my computer. I love
Apr 04
(5★)
Awesome App
On the fly and need to get your thoughts down for a post. Great app!
Apr 03
(5★)
Great! But.
I can't manage my pages. But works great with my blogs
Apr 02
(4★)
Great app.
Weebly is a fantastic concept platform for making websites. One of the features I'd like to see in the iPhone version is automatic
login. Other than that I'm satisfied.
(5★)
Love it
No pro here but it works good for my business
(5★)
Good job weebly
You did a really good job on this app I think it gets 5 stars good job but I have noticed I have been trying to find a website
maker with. A free domain but I haven't found one maybe you should do tha
(5★)
Anywhere anytime
I love my app and I can blog anywhere I go. It's so easy friendly for someone who can be hesitant on blogging at first. Great way
to be mobile and still try to help someone.
Apr 01
(2★)
Meh
The app kinda stinks. Every time I try to edit a page or product it says error. Waste of time. May get refund.
Mar 15
(4★)
Just what I needed.
Love this. It's just what I needed to get started on web design for someone with no experience (me).
(3★)
Deserves more stars
I love nearly everything about weebly. It would get more stars, probably all five if they could get their act together with the
app. Most of my time is on an IPAD instead of a computer. This new app d
Mar 14
(4★)
Awesome, though.
This app is awesome though it had some issues. I use weebly for work and I created an account and it told me I had to create a
whole nother website.
Mar 13
(5★)
Great!
I LOVE MAKIBG WEBSITES ON THIS APP THEIR PERFECT
Mar 09
(4★)
A terrifically easy web development site
I enjoyed the ease of use with this site. I think it is better on a PC or laptop compared to the tablet app. I had difficulty
trying to get the full features on the tablet. Once I opened on my laptop
(5★)
Ecommerce wizard
Simple. Clean. Functional. Everything you need and nothing you don't.
(3★)
Review
Stats info is really useful. One critique: having to re-log-in every time I open the app.
(5★)
Excellent!
Smooth application and very easy to use while maintaining a professional allure! Best in market!
Mar 08
(5★)
Looking good
I just started using it.Everything is so intuitive. Love it.a lot like I started my walk with Apple 12 years ago.
Mar 07
(4★)
Love this website
It is very user friendly, not like some others I used. I was up and running in no time. The only reason I gave it 4 stars was
because it freezes on my iPad sometimes and I also the changes I made on t
Mar 06
(2★)
Can't edit on iPad
I love weebly, but I can't edit on the iPad. It's so frustrating because I have to go online to edit my blogs when I have the app.
It said that there are edit features and they have pictures of editin
(5★)
Easy to use.
The app is easy to use though I would recommend an easier way to edit the page.
Feb 16
(5★)
Great app
More website companies Should be phone builder friendly
(3★)
Frankly. It could be better.
I love weebly, even being a newer user! I love love love how simple it is. But the app, while it is very close to the site, it is
still lacking. 1) it is SLOW to load. 2) why is it that we cannot edit
(5★)
WeeblyAwesome
I like weebly but do you have to pay for weebly because what if you want to use everything but you don't want to pay I am just a
kid
Feb 15
(3★)
Please make editing available!
I LOVE using weebly for my blog, but I REALLY want to be able to edit on my iPad! Please please please make editing happen for the
app so I can blog on the go!
Feb 14
(5★)
Are you kidding me?
The most professional looking (and performing) website for pennies a day? What's the catch ? Saweeeet! There is none! Now get on
board and start building a money maker!
(2★)
NEEDS WORK
I miss the speed and functionality of the laptop version. Mobile platform is painfully slow. Please improve so I can write a
better review!Ken Cumming, Ga
Feb 12
(3★)
Awesome company, horrible app
I love weebly, it's the most easiest and least expensive to create your own website. However this app is kinda sucky bcuz it's
crashes every time I try to open it. Waiting for the next update to fix i
(3★)
Great company, bad app
I genuinely love Weebly and how easy it is to learn and use; however, I do most of my blogging from my phone because that's where
all of my pictures are, and the app is awful. It closes all the time a
(5★)
Amazing
I love this web builder platform. It is easy to use and has a ton of options to be creative and custom to meet all types of needs.
I have used it to build business sites, church sites, ministry, non p
Feb 11
(3★)
LOVE the site and host
BUT I wish there were more options on the app. I would really benefit from the "gallery" tool on the blog editor. I keep a
classroom blog and that would remove a couple steps. Otherwise. Great app. Si
(5★)
New Weebly User - Very Satisifed
I am new to Weebly but find it to be very easy to work with. I am still building my website and hope to publish it in the next
few days as I continue to add to it. Weebly has made this all possible
(3★)
Been a weebly user for 3 years, Love them, but the
Since downloading this app before support for iPad the icon does not show weeblys logo it shows the stock apple one. the
functionality was enough for on the to editing. I was excited for weebly for iP
Feb 10
(3★)
Love and hate
I got it at school and loved it but won't work at my house I have great internet though?
(5★)
Best app
It's the best app for creating a website
Feb 09
(5★)
Awesome!
I created a cool website the free version!
Jan 22
(2★)
App has glitches
This app has had glitches for the past 3 months
Jan 21
(5★)
So easy to build a page
Weebly is intuitive. Weebly is simple. Weebly is flexible. Thank you Weebly!
Jan 20
(5★)
I think I am in love.
Best website editor for iPads. (:
(5★)
Convenient!
Love being able to check my page stats with the easy access of an app
Jan 19
(4★)
Love it!
Easy to use app. Provides with everything that you need to build a website. I truly recommend it.
Jan 18
(5★)
So far so good
Just started blogging this week and so far the app is pretty easy to use!
(4★)
Easy to use and update
The app is great for those who want to do frequent updates to their site. It is easy to use. Occasional glitches when saving and
some oddities with picture sizing. The biggest issue is lack of integra
(5★)
Awesome
This app is awesome! Sleek, functional, and easy to use
(5★)
YouTube
It made me make a YouTube website for my channel youtube.com/BrikManiak2
Jan 17
(5★)
Easy and efficient!
I have been using weebly for a little over a year and I really like it! Thanks weebly!
(5★)
Fast
Great with efficient fast way to grow.
Jan 16
(5★)
Ya weebly Ya!
I love this app so much because now I can check and manage my site without having to be stationary at a desk. I now can take my
work on my trips and be comfortable about it.
Dec 24, 2014
(5★)
Weeeee!
Super easy and an awesome app / program for novice web operators.
(5★)
Great web builder
Easy to use, accessible and consistent. Use it regularly for presenting class content to a Lifelong Learning group, who love it!
(5★)
Great for business . Easy to use!
Love it - Great for business . Easy to use!
Dec 21, 2014
(5★)
Great for keeping tabs on my wedding site
It was nice being able to track views and RSVPs for my wedding site
Dec 20, 2014
(4★)
Quality update
Latest update provides valuable fixes. App is pretty strong and feature rich. The mobile blog posting is still a limiting
interface. Mobile blogging is okay for setting up rough drafts to finish on a
(2★)
Notification problem
I need to be able to get notifications on those who use the blog on my site.
Dec 17, 2014
(5★)
ThatOsumGuy
Jzhhsgzjhdgxishduxsjagsikdbshsjajwvejfjxgvsfkfidjbrjdoejrgdudir. So yeah.
Dec 15, 2014
(3★)
Crashing problems
Whenever I put a YouTube video into my website it always crashes it is getting annoying
(5★)
More features
The app could be redesigned and be added with more features
Dec 09, 2014
(5★)
Amazing!
Weebly is such a great app! Creating a website has never been easier!
Nov 30, 2014
(5★)
Weebly
Great app something you need to have
Nov 29, 2014
(5★)
I Love This app!
I use it on a daily basis for my cookie, fudge,and butterscotch sales. I love the idea of weebly in mobile.
Nov 22, 2014
(3★)
Good concept, has many bugs
Like the ability to edit a website on iPad, mainly to add photos, as it is not possible on your main site due to lack of Adobe
flash. The app is very slow loading and deleting pages and photos, and wi
Nov 20, 2014
(5★)
weebly rocks
very easy to navigate and uploads fast. faster than any websites.
Nov 19, 2014
(3★)
Not a full editor yet but a good idea if you could
I was not able to edit a simple text from a page I made in their own website an existing site. But this is a good start. But needs
a lot of work. I would buy this if it worked
Nov 16, 2014
(3★)
Great app but.
Cant load my sites, when tap on any of my site cant load, get "an error while ocurred while loading the page" message, please fix
that
(3★)
Very slow
Takes ages to publish and for the sites you are editing to appear.
Nov 15, 2014
(5★)
Amazingly simple to use
The user experience with this app is just incredible. Nice work people. Keep it up.
Nov 14, 2014
(5★)
Great ap
I like being able to blog and check my site states fromAnywhere!
Nov 03, 2014
(3★)
Decent app, needs work
Especially in the text editing department. Very awkward.
Nov 02, 2014
(4★)
Awesome app but.
This app is awesome! However, I would like to see more features that you have on the computer version on this phone version. Also
recently it crashes quite frequently but other than that it is awesome
Nov 01, 2014
(5★)
Favorite website app
Easy to use and very customizable. Website hosting one of my favorite I have told all my friends and never have had a problem!
Oct 30, 2014
(3★)
Trouble with viewing stats
While trying to see dates, by scrolling across graph in stats, it jumps around and is nearly unusable. Embarrassing while showing
to potential clients. Otherwise solid app.
Oct 28, 2014
(4★)
Crash
It is perfect.Love the crash update. But when I am editing my site, and I click on the photos tab on my site, it will crash
Oct 10, 2014
(5★)
The Best Solution for the iPad
Weebly is one of the best and affordable WIZZYWIG editors available for creating simple and easy websites. Up until now, it has
been difficult to find anything on the iPad that can give you the same l
Oct 09, 2014
(5★)
Finally! Thank you weebly!
I am in love with weebly and i am a pro user! Thank you so muchh weebly!
(5★)
Excellent intuitive app
Easy to use. I made a site using only this iPad program. Good Job.
Oct 07, 2014
(3★)
Great app with so much potential!
I love the simple layout of the app. It does crash often, especially when you try and cut and paste. I would also like to be
able to change things on my site from the app. I am looking forward to f
Oct 06, 2014
(3★)
It Keeps Crashing
I usually love the app, but lately it has been crashing when I try to add text to a new blog post.
Oct 05, 2014
(4★)
Weebly app
This app has a great deal that is impressive. I mostly blog from this app. As I am a busy mom of a toddler the easier I can make
things on myself the better. Not having to get out the laptop to write
Oct 04, 2014
(3★)
support
I wish to support the Arabic language in the editing, allowing writing from right to left
Sep 14, 2014
(5★)
Tnrilled to have found Weebly!
Excellent website building company with superb customer service. I recommend it whole heartedly!
Sep 10, 2014
(5★)
Gr8 app
Gr8 app luv knowing how many visits I get - email comes immediately!
(5★)
App Review
This is a really good app. I find it useful for making my gaming website.
Sep 09, 2014
(4★)
Good way to keep up with Weebly sites
Love being able to post to my blog and monitor comments. Just wish I could also edit my pages too.
Aug 31, 2014
(5★)
Easy
Easy, effective, and efficient!
Aug 09, 2014
(5★)
Awesome way to update my website on the go!
So simple it hurts - the Weebly mobile app is the perfect companion to the already easiest way to build a website on the web.
Totally worth paying for the Pro features as well. Good job guys!
Aug 08, 2014
(3★)
Good but not great.
Easy to use but I wish I could readjust photo sizes in the app. Just needs to be revamped.
Aug 05, 2014
(4★)
Great App but needs to function like the desktop v
I like this app, and it has great potential. There is still much instability in it. It needs the functionality of the Desktop app
so I can successfully update inventory, inventory number tracking, and
Jul 21, 2014
(5★)
Nana Baby Boutique
Very easy to add to your inventory! Pictures and everything.
Total
141
reviews with ratings for this app.