Slots
Universal App – Optimized for iPhone and iPad.
Published by: Storm8 Studios LLC
Price: Free

Current Version

1.7.6

Size

61.63 MB

Released

Mar 17, 2012

Age

12+

Category

Card

User Ratings

4.50 (5 votes)
App Description
Wow! Over 20,000 five star reviews worldwide! Thank you for your support!

The #1 slot machine game with popular Vegas themes! Play FREE forever!

The excitement of Vegas now on your phone to play whenever you want. Just tap to spin!

Slots has hours of fun with tons of slot machines to play and more to come.

- FREE updates with new slot machines
- Win more often than any other slots game
- Reveal your luck in exciting mini-games
- Exciting animations and cool effects!
- Free Spins, Wilds & Bonuses!
- Play on 5 reels with up to 30 lines!

Play a huge variety of fun slot machines themes:

- Uncover the Pharaoh's Treasures!
- Get mesmerized by Vampire's Seduction!
- Win a fortune with Lucky 7's!
- Be victorious against the Alien Invasion!
- Plus even more popular and original themes!

Top notch performance on your iPhone, iPad, or iPod Touch.

Please note: Slots(TM) is an online only game. Your device must have an active internet connection to play.

Please note that Slots™ is free to play, but you can purchase in-app items with real money. To delete this feature, on your device go to Settings Menu -> General -> Restrictions option. You can then simply turn off In-App Purchases under "Allowed Content". In addition, Slots™ may link to social media services, such as Facebook, and Storm8 Studios will have access to your information through such services.

Follow Storm8 Studios
www.storm8-studios.com
facebook.com/storm8
twitter.com/storm8
What's new in version 1.7.6
- Performance optimizations and bug fixes.
Need help? Use our Slots Walkthrough or sign up and make your contribution today.
Latest App Activity
Slots
Version 1.0.4

Mar 17, 2012

Version 1.6

Mar 17, 2012
All App Activity and Price Drops »
Slots is a universal app, and is available on the iTunes App Store for free with in-app purchases. The game is compatible with all devices running iOS 5.1.1 or later, including the new iPhone 6 and iPad Mini. To download the Slots app, just scan the QR code with your device or click the button below to go to the app's download page.
Customer Reviews
Excelente Juego. Muy Bueno, adictivo
Greatest slot game ever. So much fun!!!!!
Best slots. It's a fun game to play. It's like playing real slots but the payout isn't that good
Great slot app. Great graphics, music and sound effects not the annoying kind, not forced to sign in via Fakebook, no ads, no aggressive sales
tactics, interesting bonus games and they aren't complicated. Plus there are plenty of cool looking slot themes from which to
choose. Many are available after a certain leve
TP44 Likes Slots. Great app with a good variety of different slots to choose from
If you've enjoyed this app, rate and review it on the App store and in the comments section below.
iPhone/iPad Screenshots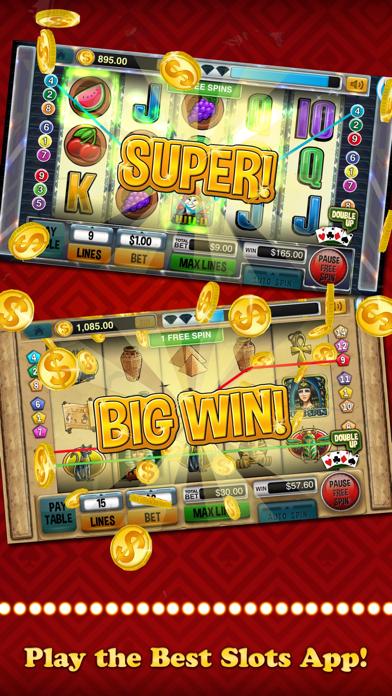 Screenshot #1 (iPhone)
Screenshot #2 (iPhone)
Screenshot #3 (iPhone)
Screenshot #4 (iPhone)
Screenshot #5 (iPhone)
The Verdict: Good!
Slots is a highly rated app with 4.5 stars.
The app is free.
Slots is currently ranked #142 in the U.S. App Store.
---
Share this Review
This review of Slots was written by Carol Swift
To find and download the latest version of Slots, click on the Download button. You can get it directly to your device, or you can download it to your computer (PC or Mac) and then transfer it to your device.