Meter Readings
by Graham Haley
$1.99 > $0.99
SALE - 50% OFF!

Apple's iPad APP OF THE WEEK (UK and Ireland), March 2011

AppStore Rewind 2011, one of Apple's favourite iPhone finance apps of 2011 (UK and Ireland)

Closely monitor your household energy and water usage and the chances are you will SAVE MONEY!

This useful application makes it easy to MONITOR your household utility meters. Once you start entering readings, your usage, costs and savings are calculated and displayed in easy to visualise graphs.

For UK users, you can also compare your usage and costs against energy supplier prices in your area to see if you can SAVE EVEN MORE money. You can even switch suppliers directly from your device!

KEY FEATURES

Monitor up to NINE separate household meters, e.g. electricity, gas, water, solar ... etc
Quick entry of readings, as often as you like
Use the rearfacing torch/flashlight when reading your meters (if your device has one)
Local reminders so you don't forget to enter your readings
Displays usage and costs for the latest readings period, and compares this with your average or previous year
Plots graphs of usage and costs per day, week, month, quarter or year, so that you can visualise changes over time, e.g. against the previous year
Multiple colour themes (black, red, blue, green ... etc)
Import historical readings from a CSV file
Export readings as a CSV file for easy import into a spreadsheet
Backup your data and sync it between devices by email, AirDrop, Dropbox or iCloud
Universal app, works on the iPhone, iPod Touch and iPad

METERS, CURRENCY AND RATES

User configurable units, so the app could be used for other types of measurement
Support for meters that count up (e.g. electricity, gas, water ... etc), down (e.g. oil, petrol/gas ... etc), or where your readings ARE your usage (e.g. broadband data)
Uses the currency from your device's region setting, but you can override this per meter (e.g. for holiday homes)
Handles a wide range of rates and charges, e.g. fixed or time based rates, perunit rates, stepped rates for up to 12 levels, Economy 7/10, time of day meters ... etc
Support for rate changes, if/when you switch supplier or they change your rates

BILLS

Check your bills by comparing any pair of readings (e.g. those submitted to your supplier)
View your usage and costs since your last bill, as well as an estimate of when and how much your next bill will be

PRICE COMPARISON (UK only)

Compare your usage and costs against energy supplier prices for your postcode
Completely independent tariff calculator from Energylinx, the UK's number 1 guide to utility prices
Switch energy suppliers directly on your device, or email yourself a link to do it on a computer

PRO USER FEATURES (via a ONE-TIME in-app purchase)

Removes the restriction on meter numbers, e.g. for landlords, businesses and professionals

SUPPORT
Please don't leave support requests on iTunes as these are anonymous and I have no way of contacting you if I have questions. Instead there is a link to my support page from iTunes and from the app itself (or simply go to http://grahamhaley.co.uk/meters/).

Alternatively, PLEASE contact me directly via my support pages and you will get a quick response.

What's new in version 5.1
This update is necessary to migrate to some new APIs from Dropbox, as the old ones are being permanently disabled at the end of June 2017! If you are currently using the Apps folder to store your backup files, you shouldn't notice any difference. However if you are using the Root (i.e. top level) folder, you will need to re-link the app to Dropbox to continue using their service. Unfortunately files cannot be migrated automatically, but this is very easy to do from a computer. Please see my support site or get in touch if you need help. If you think the torch functionality is not working, chances are you have disabled access to the camera in your device's privacy settings (this is set per app). I now detect this and warn about it on the Settings screen. Note that you now require iOS 8 or above. Older versions (of iOS and my app) will continue to work, but you will no longer get updates.
Rank in top paid apps
Ranking - Apps (iPhone) - United States
Meter Readings is a good rated app with 4 stars.
The app is currently $0.99, instead of its regular price of $1.99.
$1.99 -> $0.99

Apr 19, 2017

$0.99 -> $1.99

Sep 18, 2016

$1.99 -> $0.99

May 17, 2015

$0.99 -> $1.99

Jan 10, 2015

$1.99 -> $0.99

Dec 22, 2014

Release v3.1.1

Jul 1, 2009
---
Meter Readings App Details
Meter Readings is an application developed by Graham Haley and released on iOS. The app is compatible with iOS 8.0 or later on the following devices: iPhone 7, iPhone 6, iPad 3, iPad Mini and iPod Touch 5G or newer.
Below are the links to download the app on iOS. To download the app for Android, click here.
Developer site: Support
Quick Details
Current Version: 5.1
File Size: 7Mb
Users Rating: 4.00 (1 reviews)
App Images
iPhone
iPhone
iPhone
iPhone
iPhone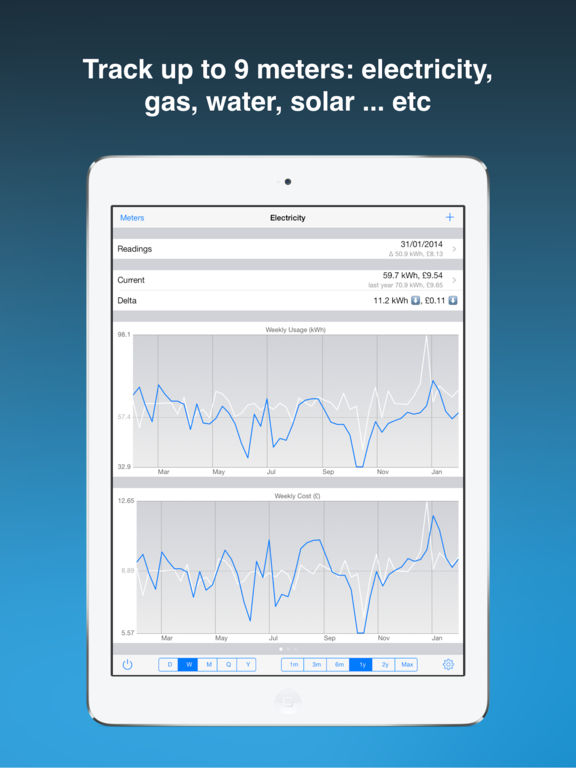 iPad
iPad
iPad
iPad
iPad
Meter Readings App Add-Ons
Note: Add-ons available as in-app purchases
Meter Readings Reviews
Help get spending under control
great app, it does what it promises.
Great convenient way to track gas, water and elect
Excellent app for tracking and graphing meter use.
Great convenient way to track gas, water and elect