Elmo Calls
Genres: [Educational | Family | Education]
Developer:
Sesame Workshop Apps
✿
Release Date:
Dec 09, 2011
✿
Version:
3.4
✿
Size:
74.5 MB
QR Code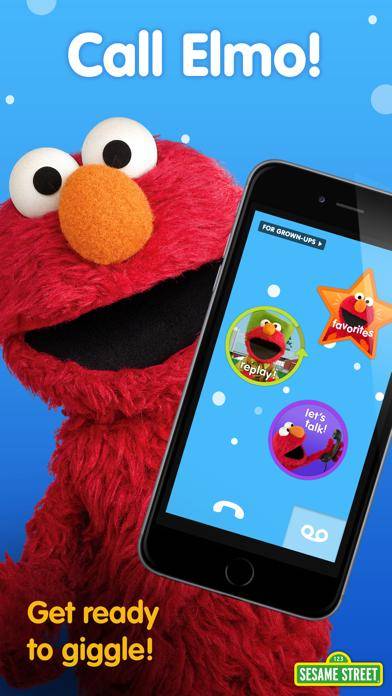 This iOS application is compatible with iPhone 3GS, iPad 1/2, iPod Touch 3rd.
Sesame Street has already given us Another Monster at the End of This Book...Starring Grover & Elmo on Nov 28, now delivering another great Educational & Family game and iphone app on the store. The review includes the developer's description, customer ratings, user reviews and screenshots for iPhone, iPad, and iPod touch.

if you like this mobile application, please share It with others (click on the social media icon links).
This is an app full of fun phone calls from Elmo, which will help teach your child about healthy habits, self-confidence, and letters.
Same great Elmo Calls with a brand new look and a new set of features, including even more fun calls! Now easier for kids to find and replay favorite calls. Plus, an improved Grown-ups section for accessing, favoriting, scheduling and adding calls.
Pick up the phone, Elmo's calling! Receive video calls, audio calls, and voice mail from Sesame Street's own furry, red monster. Or, give him a call yourself! With Elmo Calls you can laugh, play, and sing with Elmo!
FEATURES
• Receive audio and video calls from Elmo, or dial Elmo yourself.
• Receive voicemail from Elmo regularly and listen to the messages any time.
• See live video of yourself in the corner of the screen while you're chatting with Elmo.
• Grown-ups can activate calls or schedule calls for a variety of situations, such as time to wake up! (more calls for going to the doctor, bath time and learning to potty available with additional call packs)
LEARN ABOUT
"Elmo Calls" encourages children to engage in imaginative play, practice listening skills and sing songs with Elmo! This app also fosters self-confidence by encouraging children to celebrate important life moments, such as visiting the doctor, going to the potty and learning the alphabet!
CALL PACKS
The Sunny Day Sampler Call Pack comes with your purchase of Elmo Calls. This pack includes 13 fun-filled calls for you and your child to enjoy right away! For even more calls, download "Playdate with Elmo" for FREE, plus you can buy additional Call Packs easily right within the app:
• ABCs: Saying your ABCs is fun! It's even more fun with Elmo!
• Special Visits: Elmo wants to talk about your special plans for today.
• Holidays: Holidays are fun to celebrate and Elmo wants to celebrate with you!
• You Can Do It!: No matter what you're learning, whether its your ABCs or using the potty, Elmo wants to cheer you on.
• Sing with Elmo!: Elmo sings for you! You can sing along or just listen.
• Happy Habits: Healthy habits are more fun when you do them with Elmo.
• Laugh with Elmo: Elmo just wants to say hi!
• Playdate with Elmo: Play and pretend with Elmo! (FREE)
TIPS
• Please allow Push Notifications to receive scheduled calls from Elmo!
ABOUT US
• PRIVACY POLICY can be found here:
Get now this application with your unique ID and secured password.
Application Screenshots
How to download the App
Download Elmo Calls app for for iPhone, iPod Touch, iPad and iPad mini.
Download Elmo Calls on PC or Mac:
1. Go to the Elmo Calls application page in your iTunes.
2. Click the button to download the App.
3. Sync your iPhone, iPod Touch, iPad or iPad mini with iTunes to install the Elmo Calls app.
Download the App With iOS App Store:
1. Open the App Store on your iDevice.
2. Search for Elmo Calls.
3. Click the button to download and install it on your device.
4. Enjoy.



You can securely create an apple profile with your information, but you have to be registered to iTunes in order to get the Elmo Calls app to your device.
If you don't have an active account, please register to iTunes store with a credit card number. In case you are not interested to open an account with your credit card, you can select the option 'None' during the secured registration.
*This Elmo Calls application may be available in some countries.


Video Play Review
User Ratings
Jul 07
(4★)
My 19month old loves it!
My lo loves it, he was so excited he almost blew off my ear drums. Then he was very sad when Elmo had to go.
Jul 05
(5★)
My baby loves it!
My baby loves it and is especially good for when we are in a public place and he is screaming! Calms him down
Jun 20
(2★)
Not the best
You have to pay 1.99 for this app which isn't bad but to call him let's say for the holidays you have to pay extra same with some
other categories plus they don't even have q birthday category.
Jun 08
(5★)
Son loves it
Our son kept playing with phone pressing random things. He loves Elmo so this was no brained. Great variety of calls
too.noglitches, well done!
Jun 01
(5★)
Perfect!
My grandchildren 2-6 yrs old all love it!
May 17
(5★)
14 months and Love it!
We FaceTime family so why not FaceTime with Elmo too! She loves it and it keeps her occupied in the car! Thumbs up!
May 05
(3★)
Good app.
Just really want you to add more Elmo clips. They are the same ones, and are in need of some new ones. Or just add more with
what's already there.
(5★)
So cute
My 3 almost 4 year old just loves this app. Nothing out there like it, I know of. Makes getting up and dressed for daycare so much
easier when Elmo wakes her up.
(3★)
Great but need more
Wish there were more ways to interact with Elmo, but a great app
Apr 29
(5★)
Well worth purchasing full app
5 years later & kid # 2 loves this app too! Always great & interactive.
Mar 28
(5★)
Best game ever
I would rate this game 11/10 and this game should go down in the mlg hall of fame
(5★)
Kids love it!
Got this for my grandson, he loves it! I have added to it since! Now with a new grandson, it will be well used!
Mar 27
(4★)
Elmo calls!
We love it so far! Only thing is that my kids are telling him "I love you Elmo!" And they don't hear it back. Add it please we
live Sesame Street! Elmo is the favorite in our him for my 4 yr old and
Mar 23
(5★)
My son loves this ap
He loves the music, likes to pretend to talk on the phone, and gets into the subject material. Great ap.
Mar 18
(5★)
Fantastic phone Calls
Our little one is thrilled to play with Elmo, she has plenty of laughs and learning with Elmo!
Feb 15
(5★)
This app is amazing!
This app is so helpful. My Godson needed a little motivation to potty and when Elmo called it was the push he needed!
(2★)
Hmmm
I would have thought there would be more of a variety of calls for my son. He liked it for now at 17 months old, but I'm sure he
will catch in shortly. Just so so!
Jan 23
(4★)
Add a Happy Birthday call!
This is such a cute app! I just wish there was a birthday phone call--that would make my nephew's head explode! Love it though,
great work!
Jan 17
(5★)
We love calling Elmo!
This is my daughter's favorite app.
Jan 04
(5★)
Elmo You Really Know How to Empty Pockets
My daughter loves Elmo, and went crazy when she got a call from Elmo! NOT happy about paying 1.99 fir the app then another 4.99
for ALL calls, but she loves it so I will fall into the Parent APP TRAP
Dec 28, 2014
(4★)
Entertaining
My 15 month old loves it! My only wish is that the app was some how able to lock the screen to keep baby from getting out of the
app and getting into the other phone features and making real phone cal
Dec 15, 2014
(5★)
Great app
Great app ! My 7 month old Luvs it! Calls should be longer or just keep going till you end call ! Must have app for kids .
(5★)
Elmo
Great app to share with our granddaughter- her favorite!
(3★)
Elmo's Calls
Originally I purchased the "all call package" and it wouldn't download. Tried several times over several weeks. Contacted the
website for support a couple of times and finally asked for a refund fro
Dec 08, 2014
(3★)
Love the free app, don't love what I paid for and
Like others said, the "all packs" download won't work. I've tried deleting and reinstalling the app as others have. It's
frustrating and while I plan to contact the developer, this isn't something wor
(3★)
Love the free app, don't love what I paid for and
Like others said, the "all packs" download won't work. I've tried deleting and reinstalling the app as others have. It's
frustrating and while I plan to contact the developer, this isn't something wor
(3★)
Love the free app, don't love what I paid for and
Like others said, the "all packs" download won't work. I've tried deleting and reinstalling the app as others have. It's
frustrating and while I plan to contact the developer, this isn't something wor
(3★)
Love the free app, don't love what I paid for and
Like others said, the "all packs" download won't work. I've tried deleting and reinstalling the app as others have. It's
frustrating and while I plan to contact the developer, this isn't something wor
Dec 05, 2014
(2★)
Great app but poor support
After upgrading to an iPhone 6 I can not download my purchased content.tried contacting support, but no luck
Dec 04, 2014
(3★)
3 stars
I wish Elmo had more conversations. It's the same ones over and over again.
(5★)
Best game ever!
This is the best game ever invented! Even though my son is in fourth grade, he still watches Sesame Street and loves it. You
deserve these five stars!
Dec 01, 2014
(3★)
PACKS WILL NOT DOWNLOAD
I CAN NOT GET MY PACKS TO DOWNLOAD SINCE I SWITCHED IPHONES.PLEASE HELP OR GIVE ME MY MONEY BACK! Other than that my great nephew
loves it!
(2★)
"All calls" doesn't work
I paid for the All Calls, but it never loads. Can you please fix this? My kids love this app, but it would be nice to get all the
calls we paid for!
Nov 30, 2014
(2★)
App is great but.
I have the same issues as BERT039. The "ALL CALLS" will not download, I have tried uninstalling also and no luck. I have
reported this as an issue with IDEO so lets see if I get any response fro
Nov 29, 2014
(5★)
Love Elmo Calls!
It keeps my 16 month old busy! It's a cute app!
Nov 26, 2014
(5★)
My kid loves it!
My kids know Elmo from TV programs and this app brings Elmo to them more personally and they love it so much
Nov 22, 2014
(5★)
Great app! Worth the money!
My kids love this! I use it as a reward for good behavior with my twin 2 year olds. The act of answering the phone is authentic
too!
Nov 19, 2014
(3★)
Clever Ploy
My son loves it, which costs me more money. Well done.
Oct 28, 2014
(5★)
MLG
This game is posed to kick call of duty off the mlg circuit
Oct 19, 2014
(5★)
Great app!
My son loves it, so if he approves then I approve!
Oct 10, 2014
(5★)
Giggles and fun!
We have three children under age 4 and each have enjoyed "talking" to Elmo. The FaceTime where they can see their face on the
screen is our favorite!Busy Mom
Sep 22, 2014
(5★)
Great for babies and tots
The peek-a-boo call makes my tot laugh so hard
Sep 19, 2014
(5★)
Love love love!
My 2 year old loves this app and is always asking to talk to Elmo:) Highly recommend!
Sep 13, 2014
(5★)
Cute app
My grandson loves Elmo and has been playing with this app for about 4 months, since he was about 16 months.
Sep 01, 2014
(5★)
Awesome
My baby loves this application , thank you !
Aug 31, 2014
(3★)
Cute app
Cute app. My son likes seeing himself in the "face time" window.
Aug 28, 2014
(5★)
O.M.G
This app is Amazing! Sesame Street should go on forever!
(5★)
The best!
Love the new design, this app is the best!
(5★)
Very fun! And useful!
This app is delightful and a gift to help parents - awesome
Aug 20, 2014
(5★)
Elmo doesn't disappoint
Luv that you can schedule calls for certain times. Wonderful. As always, Elmo is adorable.
Aug 19, 2014
(5★)
Too Cute
My grandson loves this! So cute for young ones
Aug 11, 2014
(2★)
Bummed Out :(
I thought when it said face time I thought I could call some one and Elmo would be there instead of me. Plz add that in the next
update!
Aug 09, 2014
(4★)
Good app
Keeps my girls quiet on long car rides.
Jul 30, 2014
(5★)
Love love love
Our two year old talks to Elmo every day. She asks for him by name! We love this app
Jul 27, 2014
(4★)
Such a sweet app
My 16 month old daughter loves Elmo. Whenever Elmo appears on the ipad, she kisses him and says hi:) i just wish videos would be a
little longer
Jul 22, 2014
(2★)
Good, but.
REALLY need to get rid of the music on the home screen! It almost defeats the purpose of the app because my daughter hears the
music and knows what is happening. Also would like to see more value for
Jul 18, 2014
(2★)
Waste of money! Bought it for my nephews they loved it at first but not many videos to choose from so it gets old & boring very
quickly!
Jun 06, 2014
(4★)
Elmo rocks
My niece really enjoys this app. I downloaded it for her at 3 months to distract her and she has always enjoyed when he is
actually shown not just his voice. She is now 3 yrs old and still likes to se
May 27, 2014
(5★)
I like this app because
This app is GREAT because Elmo is cute. Go on SproutOnline.com to get information.
Apr 29, 2014
(4★)
Nice but.
My 23 month old daughter loves this, but please have where you can change the videos on the main page. Maybe make the front page
your favorites so you do not have to go into the parent section to see
Apr 28, 2014
(5★)
Love it!
This app is great for small children! My 7 month loves it. He always smiles and laughs when Elmo comes on the screen and starts
talking to him! Highly suggest this app for small children!
Mar 28, 2014
(3★)
Cute app
But keeps shutting down. Pls fix
(5★)
Great. App but.
Great app but cannot purchase anything, iOS 7.1, I would like to give you my money **updated can now buy IAP** updated rating
Mar 27, 2014
(2★)
Crashes
Crashes ALOT and it the same thing over and over. Maybe like 4-5 options.
Mar 01, 2014
(5★)
Must have
This is a must have app if you have toddlers or grandchildren my Grandkids love it.
Feb 16, 2014
(4★)
Gets the job done
Keeps my daughter entertained for a while.
Feb 14, 2014
(4★)
Love it.but.
When you turn on the holiday calls from Elmo, we can never hear the actual phone call. The push notification comes through, click
on it, phone call comes through, then no Elmo voice.
Feb 03, 2014
(5★)
The best app
I bought this for my baby cousin and she freaking loves this app️
Jan 06, 2014
(5★)
Fun
Both my daughters love calling elmo. Weonly wish it had more options. Either way its a great app.
Dec 28, 2013
(5★)
My stinker loves it!
i think it is a really good app for entertaining your little one!
Dec 18, 2013
(2★)
Ok
It crashes on the first call you make every time. But my 7month old loves it.
Dec 14, 2013
(5★)
Funny!
This app is great, my kids love it!
Dec 02, 2013
(5★)
Makes my little girl laugh
Very cute app! My daughter loves it!
Nov 29, 2013
(5★)
awesome
This app is awesome. My babies love it. Keeps em busy when I want.
(5★)
Elmo Calls
Very entertaining app for my granddaughter who just loves this character.
Nov 19, 2013
(5★)
Great concept, great app!
My 18 month old absolutely loves this app! Totally worth the money to see him so happy! Yay for Elmo!
Nov 18, 2013
(5★)
My daughter loves this app!
It is awesome! My 1 year old daughter loves to face time and there is not always someone available to FaceTime with her. With this
app she can face time with her favorite Sesame Street character anyti
Nov 05, 2013
(4★)
Only ok but entertains 2 yo
I wish I had known it was only a couple of calls for this. I guess I should have known for the price! But it has entertained all
the kids and my 2 yo loves Elmo. Ill probably end up buying the rest o
Total
78
reviews with ratings for this app.