Elmo Calls
Elmo Calls
Universal App – Optimized for iPhone and iPad.
Published by: Sesame Workshop Apps
Price: $1.99

Track this app for price drops.

Current Version

3.5

Size

75.23 MB

Released

Dec 9, 2011

Age

4+

Category

User Ratings

4.00 (5 votes)
App Description
This is an app full of fun phone calls from Elmo, which will help teach your child about healthy habits, self-confidence, and letters.

Same great Elmo Calls with a brand new look and a new set of features, including even more fun calls! Now easier for kids to find and replay favorite calls. Plus, an improved Grown-ups section for accessing, favoriting, scheduling and adding calls.

Pick up the phone, Elmo's calling! Receive video calls, audio calls, and voice mail from Sesame Street's own furry, red monster. Or, give him a call yourself! With Elmo Calls you can laugh, play, and sing with Elmo!

FEATURES
• Receive audio and video calls from Elmo, or dial Elmo yourself.
• Receive voicemail from Elmo regularly and listen to the messages any time.
• See live video of yourself in the corner of the screen while you're chatting with Elmo.
• Grown-ups can activate calls or schedule calls for a variety of situations, such as time to wake up! (more calls for going to the doctor, bath time and learning to potty available with additional call packs)

LEARN ABOUT
"Elmo Calls" encourages children to engage in imaginative play, practice listening skills and sing songs with Elmo! This app also fosters self-confidence by encouraging children to celebrate important life moments, such as visiting the doctor, going to the potty and learning the alphabet!

CALL PACKS
The Sunny Day Sampler Call Pack comes with your purchase of Elmo Calls. This pack includes 13 fun-filled calls for you and your child to enjoy right away! For even more calls, download "Playdate with Elmo" for FREE, plus you can buy additional Call Packs easily right within the app:

• Firsts and Celebrations: Special calls for special days. Elmo calls you during big events, such as your birthday!
• Elmo is Proud of You: You're proud of your achievements and so is Elmo!
• Feelings: Everybody has feelings and Elmo can call you to share and talk about those feelings.
• ABCs: Saying your ABCs is fun! It's even more fun with Elmo!
• Special Visits: Elmo wants to talk about your special plans for today.
• Holidays: Holidays are fun to celebrate and Elmo wants to celebrate with you!
• You Can Do It!: No matter what you're learning, whether its your ABCs or using the potty, Elmo wants to cheer you on.
• Sing with Elmo!: Elmo sings for you! You can sing along or just listen.
• Happy Habits: Healthy habits are more fun when you do them with Elmo.
• Laugh with Elmo: Elmo just wants to say hi!
• Playdate with Elmo: Play and pretend with Elmo! (FREE)

TIPS
• Please allow Push Notifications to receive scheduled calls from Elmo!

ABOUT US
Sesame Workshop's mission is to use the educational power of media to help kids everywhere grow smarter, stronger, and kinder. Delivered through a variety of platforms, including television programs, digital experiences, books and community engagement, its research-based programs are tailored to the needs of the communities and countries they serve. Learn more at www.sesameworkshop.org.

ABOUT IDEO
IDEO is a human-centered design and innovation firm ranked independently among the ten most innovative companies in the world. Learn how our team of child-development experts, veteran toy designers and interaction designers approach the creation of award-winning kid apps at www.ideotoylab.com.

PRIVACY POLICY
The Privacy Policy can be found here:
http://www.sesameworkshop.org/privacypolicy

CONTACT US
Your input is very important to us. If you have any questions, comments or need help, please contact us at: sesameworkshopapps@sesame.org or ElmoCalls@ideo.com.
What's new in version 3.5
Three NEW call packs! * Firsts and Celebrations - Includes the "HAPPY BIRTHDAY" call! * Elmo is Proud of You * Feelings
App rank history
Latest App Activity
Version 3.1

Nov 27, 2014

$0.99 -> $1.99

Sep 22, 2014

$1.99 -> $0.99

Sep 15, 2014

Version 3.0

Aug 28, 2014

Version 2.2

Sep 26, 2013

Version 2.0

Dec 17, 2012

Version 1.2

Sep 20, 2012
View All Activity »
Elmo Calls is a universal app, and is available on the iTunes App Store for $1.99 (Ads free) with no in-app purchases. The app is compatible with all devices running iOS 7.0 or later, including the new iPhone 6 and iPad Mini. To download the Elmo Calls app click the button below to go to the app's download page.
---
Elmo Calls is a good rated app with 4 stars.
Elmo Calls is currently ranked #173 in the U.S. App Store.
If you've enjoyed this app, rate and review it on the App store and in the comments section below.
iPhone/iPad Screenshots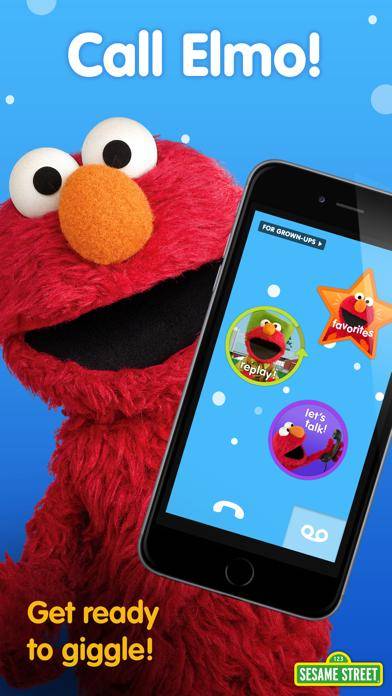 Screenshot #1
Screenshot #2
Screenshot #3
Screenshot #4
Screenshot #5
Customer Reviews
One of the BEST!. I use it in a children's er it is one of the best apps for children there is!! We put stitches in a 2 yr old with out meds
looking at this app!! Great job!!!
Elmo FaceTime. Awesome app , my child enjoys it very much.
Love the app but it's nickel and dime you.... It's great! My kid absolutely loves it and it has a great variety of calls...if you pay for them. The free ones repeat frequently.
My daughter loves Elmo. Such a cute app
Landscape mode. My son loves this app, the only thing I would ask for right now is a landscape mode for iPad. Thanks!
---
Share this Review
This review of Elmo Calls was written by Carol Swift
Download Elmo Calls App Latest Version on Android and iOS. You can get it directly on your device or download the app to your PC or Mac computer then install the app on your tablet or smart phone.