WePhone - free phone calls
by Innovation Works
Universal App - Designed for both iPhone and iPad.
App Description
√ 30% Cheaper than Skype
√ $0.6 USD free credit for cheap international calls
√ RECORD phone calls for free
√ Able to display your current phone number ( Caller ID )
√ Cheap calls to India, China, USA, Nigeria, Mexico, UK, Nigeria, Brazil, Thailand, UAE, Germany, France, Kuwait, Australia, Indonesia, Philippines, Egypt, etc.
√ Turn your iPad/iPod touch to an iPhone
√ Enjoy free calls, free messages, free text, free conference with other WePhone Users
√ Check In Daily to Earn Free Credits! $$$$$$$$
√ Get Bonus Credits $$ for Each Call You Make
√ Works right out of the box, hassle free, no registration required
√ Ads free!
____________________________________________
◆ Customer Reviews ◆
◉ "I love this app I didn't have to put any information or anything. And it let me start right away"
by Imari
◉ "awesome!! This is by far the cheapest wifi call and 3G/4G call service I have found through all my research and the connections are very strong. I am so grateful for this app and would absolutely recommend it to anyone who is looking for an affordable and easy-to-use alternative to the old-fashioned calling card. Thank you!!"
by Grobie
◉ "This internet phone app is sooooooooooooo useful it is the only calling app I use on my iPod touch fifth generation"
by Jaidenisawe
◉ "Easy interface - works as advertised"
by Tonto
◉ "This phone calling app is the best wifi calling app. Now I can give it 5 stars since I can email my recordings. The best app out there for record calls."
by Geekman
◉ "Great phone. I use lots of phone apps and this one works wonderful. No complaints. Rates are great. This one tops others all."
by BackToMInd
◉ international calls,cheap International Calls,cheap calls to India,cheap calls to USA,cheap calls to China,cheap calls to UK,free international calls,free calls,internet calls,cheap online calls,record phone calls, call recorder
......
____________________________________________
◆ Why Use WePhone ◆
With WePhone on your iPhone/iPod/iPad, you can make and receive international phone calls with CRYSTAL CLEAR VOICE QUALITY and at SUPER LOW RATES. WePhone features phone call RECORDER and CALLER ID display(let the receiver see your phone number)
◉ extremely EASY TO USE!! Works right out of the box.
◉ call price is amazingly low, only list a few:
United States: $0.01/min
China: $0.018/min
India: $0.0185/min
Kuwait: $0.061/min
...
◉ get trial phone calls with gift credits to make cheap calls.
◉ free calls, free conferences, international texting between WePhone users.
◉ no hidden costs, no connection fee! no expiry date with the call credit.
◉ can switch to Premium Line for the best voice quality.
◉ can record phone calls and share the recorded calls via various ways.
◉ make calls over WIFI/4G/3G/GPRS, no roaming costs even calling from abroad, call from anywhere at the same rates!
** making calls with 3G/4G/GPRS incurs data usage
◉ can Use Call Back (WePhone system calls you and then calls your destination) to get stable voice quality even with weak Internet connection.
◉ call conversation is encrypted and securely protected from being monitored.
◉ A single tap to purchase PAY-AS-YOU-GO credits using Apple ID.
◉ 7x24 CUSTOMER SERVICE.
________________________________________
Learn more:
http://www.wephoneapp.com
Follow us:
http://twitter.com/wephoneapp
Google plus:
http://www.google.com/+Wephoneapp
Demo video:
http://youtu.be/HRaf875G49M
support email: support@wephoneapp.com
________________________________________
What's new in version 28.0.0
bug fixes
Rank in top paid apps
Ranking - Apps (iPhone) - United States
WePhone - free phone calls is a highly rated app with 4.5 stars.
Updates
Release v6.4.0

Jul 26, 2012

Release v6.2.8

Jul 11, 2012

Release v6.4.0

Aug 1, 2011
View All Activity »
---
App Overview
The WePhone - free phone calls app game is now available for free on iOS. The application is compatible with iOS 8.0 or later on the following devices: iPhone 7, iPhone 6, iPad 3, iPad Mini and iPod Touch 5G or newer.
Download WePhone - free phone calls and use it on your iPhone or iPad (See button below). If you have an Android or Windows device, you can find links to download this app here.
Developer site: Support
Screenshots
iPhone
iPhone
iPhone
iPhone
iPhone
iPad
iPad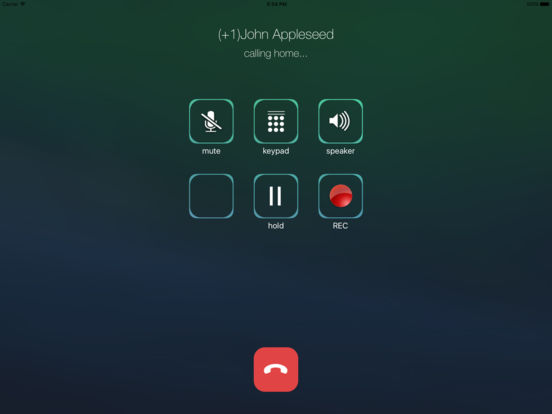 iPad
iPad
iPad
WePhone - free phone calls Has Add-Ons
$10 credit and $0.5 bonus

$20 call credit and $1 bonus

$50 call credit and $5 bonus

$100 phone call credit and $15 bonus
Note: Add-ons available as in-app purchases
Reviews
Coooool!!

Such a convenient app when you're without service

💚💚💚💚💚💚💚💚💚

Thank you 💜

Super easy to use

Worth it to used.. Excellent!

Good App!!!!