Bowls Authentic Tibetan Singing Bowls
Bowls - Authentic Tibetan Singing Bowls
Universal App – Optimized for iPhone and iPad.
Published by: Oceanhouse Media, Inc.
Current Version

2.1

Size

14.86 MB

Released

Mar 30, 2009

Age

4+

Category

Music

User Ratings

4.00 (5 votes)
App Description
** "Top 5 iPhone apps for chilling out" - LA Times
** "A meditative masterpiece" - The Boston Globe
** Selected by Apple as "App Store Essential for Rest and Relaxation" - Aug 2010

Swirl your fingers slowly around the edges of the bowls to create beautiful meditative harmonic tones. Tap the bowls, gongs, bells, and tingsha cymbals to add depth and variety to your music.

NEW Feature!: Record and save your masterpieces and play them back while relaxing or meditating to bring peace to your mind, body and soul.

Use this app for meditation, music, relaxation and personal well-being.

Use the healing sounds of Bowls to...
- Relax
- Make music
- Reduce stress
- Boost your creativity
- Prepare for meditation
- Escape from a noisy situation
- Focus before, during or after yoga

Tips
- Swirl your finger SLOWLY on the rim of each bowl to get it to sing
- Bowls is best experienced with earbuds or headphones
- Use low volume for ambience or higher volume to focus your meditation
- Connect to a stereo system to play your music in a group environment

Note: This app is compatible with the iPhone 3gs and higher devices

"Your body is a temple, but it occasionally needs a tune-up."

Thank you for your purchase! All of us on the Oceanhouse Media team appreciate your support. Visit us at www.omapp.com

********

Bowl images provided by Silver Sky Imports (www.silverskyimports.com)

Music and sounds provided by Deep Prakash Deoja (www.deepsoundmeditation.com)

********
What's new in version 2.1
Bug fixes and performance improvements
App rank history
Latest App Activity
Free -> $1.99

Apr 22, 2016

$1.99 -> Free

Apr 11, 2016

Free -> $1.99

Apr 9, 2016

$1.99 -> Free

Mar 17, 2016

$0.99 -> $1.99

Oct 17, 2015

Version 1.3

Mar 30, 2009
View All Activity »
Bowls - Authentic Tibetan Singing Bowls is a universal iOS app available in the App Store for $1.99 (Ads free) with no in-app purchases. The app is compatible with all devices running iOS 8.0 or later, including the new iPhone 6 and iPad Mini. To download the Bowls Authentic Tibetan Singing Bowls app click the button below to go to the app's download page.
Bowls - Authentic Tibetan Singing Bowls Support.
---
Bowls - Authentic Tibetan Singing Bowls is a good rated app with 4 stars.
Bowls - Authentic Tibetan Singing Bowls is currently ranked #99 in the U.S. App Store.
If you've enjoyed using the app, please rate and review it on the App store and in the comments section below.
iPhone/iPad Screenshots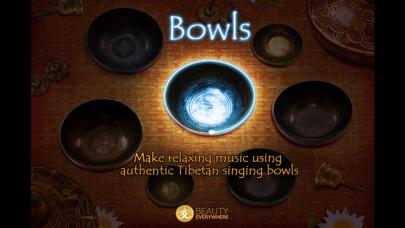 Screenshot #1
Screenshot #2
Screenshot #3
Recent Reviews
a sublime experience. These are wonderful! The sound is indescribably beautiful!

Although moving from bowl to bowl is easy, I would love to be able to choose from all the bowls at once on my iPad. That way, we
wouldn't have to scroll through several screens to get to the next bowl, if we don't want to sing them in the
First app that made me want to rush to write a Rev. First of all, the bells bowls work. Second, what music you make you can record. You can rim the bowls and create a smooth wave.
You can tap the bowl, bell, or gong to to resonate the sound. And there are multiples of different bowls, bells, and gong sounds
to chose from. 👌
Now I understand. Prior to this week I had only heard of and seen brief scenes in documentaries of "singing bowls". Some I have downloaded this app
I have become a believer in the holistic benefits of this type of meditation and relaxation. I can spend many enjoyable minutes
learning by trying to bring the most comfo
Chimes. Well worth my bucks! Thanks for the fix.....this has been my favorite Tibetan bowl app.
Lovely App. This app is perfect when you need to step away from the noise and confusion of your day.
---
Share this Review
This review of Bowls Authentic Tibetan Singing Bowls was written by Carol Swift
Download Bowls Authentic Tibetan Singing Bowls App Latest Version on Android and iOS. You can get it directly on your device or download the app to your PC or Mac computer then install the app on your tablet or smart phone.