אוטובוסים
אוטובוסים
by nadav yaron
Universal App – Optimized for iPhone and iPad.>
App Details
Version

1.0

Release date

Jul 9, 2011

Size

12.94 MB

Age

4+

Genre

Utilities

User Ratings

0.00 (1 votes)
App Store Description
אוטובוסים היא האפליקציה המלאה לאיתור קווי האוטובוס בגוש דן.

באפליקציה מפות קווי האוטובוסים של כל איזור גוש דן, מסלולים מפורטים ותחנות עצירה של כל הקווים.

המפות ניתנות להגדלה ובעזרתן תוכלו לאתר את קו האוטובוס הדרוש לכם בקלות.



This application is about helping you find the exact bus route you are after in Tel-Aviv and Gush Dan.

The app features detailed maps, which are expandable, bus routes, bus stops and even an index of all available bus lines in Tel-aviv and the area.
Rank in top paid apps
App Activity
אוטובוסים is a universal iOS app available in the App Store for free with in-app purchases. The app is compatible with all devices running iOS or later, including the new iPhone 5 and iPad Mini. To download the אוטובוסים app click the button below to go to the app's download page.
Developer site: אוטובוסים support
---
If you've enjoyed using the app, please rate and review it on the App store and in the comments section below.
iPhone Screenshots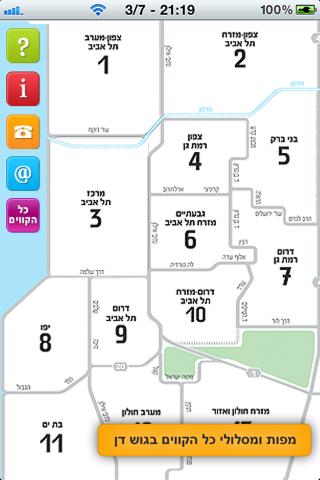 Screenshot #1
Screenshot #2
Screenshot #3
Screenshot #4
Recent Reviews
מעולה. נוח ומדויק, עשוי טוב עם מחשבה אמיתית בצרכיו של המשתמש. ח
---
Download אוטובוסים App Latest Version on Android and iOS. You can get it directly on your device or download the app to your PC or Mac computer then install the app on your tablet or smart phone.