Big Button Box 2
by Shaved Labs
$1.99 > $0.99
Big Button Box™ 2 is the sequel to the chart-topping Big Button Box! Press big buttons, hear RIDICULOUSLY AWESOME SOUNDS!

Features:

Over 100 amazing buttons and growing!
Three buttons modes: Use them as big buttons or choose to play them from the menu in two different ways
Sort the buttons into the order you want
Shift the pitch with the Pitch Warper!
Randomizer: Shuffles the buttons into new combinations!

BBB2's buttons include: Lightning, Guitar Solo, Punch, Cartoon Fanfare, Raygun, Help, Insane Laugh, Blah Blah, Robot, I Love You, You Idiot!, Lion, Incoming, He Scores, Jeepers Creepers, Oh No!, Pyscho Strings, Nail Gun, Ah-Ha!, Angry Mutt, 8-Bit Game, Moo!, Flush, Sax, Im A Bad Boy, Bounce, No Way!, Metal Detect, Quiet!, Rewind, Good Gravy!, Sir Yes Sir!, Sir No Sir!, Awesome, Retro Phone, Ouch!

Update 1: Pogo, Strike, Sub Alarm, Ba Dum Tshh, Please, Yum Yum, Stop It!, I Don't Know, Huh!

Update 2: Cartoon Crash, He Da Man!, Wahoo!, Booyah!, Ratchet, Cool!, Sheep, Strike 3, You're Out!

Update 3: Mmmhmm, You Are So Hot, Synth Hits, Fantastic Mate!, Fireworks, Holy Moly!, Yawn, Yippee!, Zombie

Update 4: Get It On!, Andale Andale, Peeuw!, Liar Liar, Hooray!, Sparkle, Nice, Sneeze, Wise Guy Huh?

Update 5: Ring A Ding Ding!, What A Fox, Samba Whistle, Ride'em Cowboy, Thank You Very Much!, Sob, Yeehoo!, Ninja Star, What's Up?

Update 6: Affirmative, Negative, Bummer, Hola, Suspense Strings, Come On!, Peace, Coo Coo, Ripped Pants

Update 7: You Betcha!, Trombone, Cap Gun, Grunt, You're Kill'n Me!, Shotgun, Oh!, Ha Ha Ha Ha Ha!, Plop

Update 8: Crash Cymbal, Shhh!, Chipmunk Hiccups, Thank You Have A Nice Day, Drop It Like It's Hot!, Spring, Geeze!, Sad Dog, Yeesss!

Big Button Box 2 App Details & Overview
Big Button Box 2 is an application developed by Shaved Labs and released on iOS. The app is compatible with iOS 8.0 or later on the following devices: iPhone 7, iPhone 6, iPad 3, iPad Mini and iPod Touch 5G or newer.
Download the Big Button Box 2 app and use on your iPhone or iPad. Click here to download the app for Android or Windows devices.
Developer site: Support
What's new in version 5.1
- Bug fixes and code optimization
Rank in top paid apps
Ranking - Apps (iPhone) - United States
Big Button Box 2 is a good rated app with 4 stars.
The app is currently $0.99, instead of its regular price of $1.99.
Release v2.1

Aug 21, 2010
---
App Data
Current Version: 5.1
File Size: 35Mb
Users Rating: 4.00 (730 reviews)
App Images
iPhone
iPhone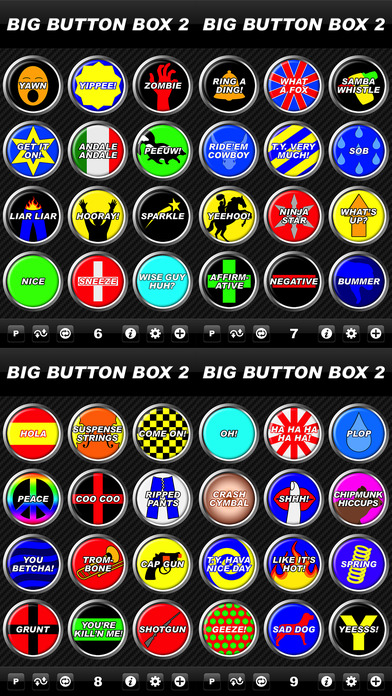 iPhone
iPhone
Big Button Box 2 App Add-Ons
No add-ons has been found...
Big Button Box 2 Reviews
The first one was much better
Funny stuff
Fun app!
Epic sounds
ıṭṡ ѧẇєṡȏṃє
Cool sounds
😵 I'm stunned 🌟🌟🌟🌟🌟☄