Live Cams Pro
by Eggman Technologies Inc.
The most advanced Foscam and IP camera viewer app on the market, also provides 3000 public webcams and support for hundreds of other IP camera models.
#1 paid app in iTunes in more than 25 countries, including US, Japan, Norway, Greece, Italy, Spain, #4 UK, #6 Canada
2.2 million users, available since February 2009 and proudly made in London, Ontario, Canada

Foscam Features:

EVERY Foscam camera model supported (HD (H.264) & MJPEG, including the new Ambarella devices)
H.264 HD video (main and sub streams)
2way audio (pushtotalk)
Oncamera motion detection
Motion on/off and IR on/off/auto/schedule quick access icons
PTZ, presets, cruise paths
SD card playback for Foscam HD devices
Advanced camera settings, such as temperature, sound and IO alarms, flip/mirror/brightness, etc
Audio squelch and alarms
Background audio and motion detection
Demo videos at: https://www.youtube.com/user/EggmanTechnologies

Hundreds of other popular IP camera brands are also supported in this one app. Feature support varies by model. Examples are Axis, D-Link, TrendNET, Panasonic, Canon, Sony, Toshiba, Wanscam, Dericam, Wansview, EasyN, Y-cam and hundreds more!

Generic Features (all brands/models):

A/V recording
Snapshots
Pin code and TouchID support to protect app launch
Multi camera audio, up to 12 or more at a time!
Add an unlimited number of cameras, no extra fees
Backup/restore, wireless data transfer
iCloudenabled, transfers changed app settings instantly to other iOS devices with the same iCloud account!
Thumbnail, map and textbased viewing modes
Variable # of thumbnails, view up to 24 onscreen at a time
JPEG, MJPEG, RTSP, MPEG4 and H264 (see our supported device list for compatibility)
Add cameras to custom groups for easy selection and viewing
Configure the app to launch with any private or public camera group
Can connect to desktop software like Blue Iris, webcamXP, NetcamStudio, Security Spy, EvoCam, Zoneminder, Longwatch or even from your mobile devices using camera apps that can stream video
View your PC/Mac/Linux USB or laptop webcams using desktop software mentioned above and then view with this app

Public webcams:

Includes a built in collection of 3000 public worldwide webcams, realtime video straight from the cameras, many are controllable.
Public cameras include beaches, resorts, landscapes, traffic, attractions, retail, ski hills, golf courses, airports, animals, restaurants, bars, schools and more. Don't just watch cameras from around the world in real time, move them! Some cameras have motorized pan/tilt/zoom and with this app you can control them from your mobile device.

Add and monitor an unlimited # of your own IP cameras. Camera information is only stored on your device and is not shared or published to any other system. It is not possible to have your camera appear in the public webcam list included in the app unless you specifically request this and contact the authors.

Have you found some public cameras online that aren't in the app? Add them into your personal copy of the app by using the private camera interface and the JPEG, RTSP or MJPEG camera profiles.

*Note: See http://www.eggmantechnologies.com for a list of known supported devices. Contact our support email for compatibility questions on unlisted devices.

Follow us:
Twitter - @eggmantech
Facebook - Eggman Technologies Inc.
Web - http://www.eggmantechnologies.com
Email - support@eggmantechnologies.com
Youtube - https://www.youtube.com/user/EggmanTechnologies

What's new in version 4.5.6
Restored Amcrest RTSP port and protocol options to fix issues with HTTPS. Video was failing to connect because our decoder could not process RTSP over SSL. ONVIF drivers will be arriving in the next app release (5.0). Beta testing begins on Jan 29th.
Rank in top paid apps
Ranking - Apps (iPhone) - United States
Live Cams Pro is currently ranked #43 on the iOS store in united states.
Live Cams Pro is a good rated app with 4 stars.
$1.99 -> $2.99

May 7, 2016

$0.99 -> $1.99

Apr 13, 2016

Free -> $0.99

Apr 5, 2016

$3.99 -> Free

Apr 4, 2016

$2.99 -> $3.99

Mar 2, 2016

Release v2.1

Aug 8, 2012

Release v2.0

Aug 2, 2012

Release v1.93

May 6, 2011
---
Live Cams Pro App Details
Live Cams Pro - IP Camera Viewer is an application developed by Eggman Technologies Inc. and released on iOS. The app is compatible with iOS 8.0 or later on the following devices: iPhone 7, iPhone 6, iPad 3, iPad Mini and iPod Touch 5G or newer.
Below are the links to download the app on iOS. To download the app for Android, click here.
Developer site: Support
Quick Details
Current Version: 4.5.6
File Size: 38Mb
Publisher:
Eggman Technologies Inc.
Users Rating: 4.00 (13 reviews)
App Images
iPhone
iPhone
iPhone
iPhone
iPhone
iPad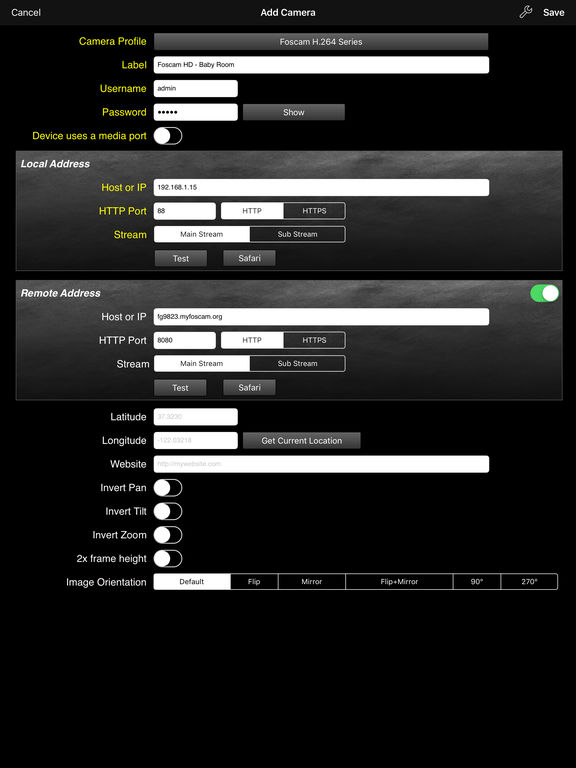 iPad
Live Cams Pro - IP Camera Viewer App Add-Ons
No add-ons has been found...
Live Cams Pro Reviews
Problem going from 4G & wifi vice versa
Excellent Universal Camera App
Only app that works with foscam