Doodle Army 2 : Mini Militia
by Chad Towns
Universal App - Designed for both iPhone and iPad.
App Description
Doodle Army 2 : Mini Militia
Experience intense multiplayer combat with up to 8 players online or locally in Multiplayer mode. Train with the Sarge and sharpen your skills in offline Training and Survival modes.
You too can enjoy the thrills of spewing hot lead and making swiss cheese of your opponents! Hear the whiz of bullets flying past your face as you tumble for cover. Out smart the enemy with a well placed grenade and watch them explode into quivering bloody giblets. What? You're still not satisfied? Ok then finish it of by repeatedly squatting on your opponents remains and wildly firing into the air. Victory is yours, its all waiting for you! Just press the buy button!
DA2 was created based on player feedback and suggestions. We love to hear your ideas so thank you and keep them coming!
Features:
Online Multiplayer via Game Center
Local Multiplayer via Bluetooth or Wifi
Intuitive Dual Stick shooting controls
Open world maps
Rocket boots for extended vertical movement
Dual wield with hand guns
Zoom control on various weapons
Melee attacks
Team Battle
Weapons:
DESERT EAGLE, UZI, MAGNUM, MP5, AK47, M4, M14, SHOTGUN, M93BA, SMAW, MACHETE, PHASR, TAVOR, GRENADES
Powerups:
POWER BOOST, HEALTH PACK, RIOT SHIELD
Purchase the Pro Player Pack to get full access to online weapons.
Coming Soon:
Cross Platform Invitations
Clan Support
Check out game play video by Crazy Mike's Apps:
http://www.youtube.com/watch?v=pd7GrwqF6JQ
Questions, Comments, or Problems?
Contact Us: www.appsomniacs.com
UPDATING: When updating to the latest build you may need to delete the existing app from your device. If you previously purchased the pro pack you will be able to reload it free of charge by pressing "RESTORE" on the upgrade screen.
What's new in version 3.0.135
Bug Fixes
Need help? Use our walkthrough or sign up and make your contribution today.
Rank in top paid apps
Ranking - Games (iPhone) - United States
Doodle Army 2 : Mini Militia is currently ranked #146 on the iOS store in united states.
Doodle Army 2 : Mini Militia is a highly rated app with 4.5 stars.
Updates
---
Game Overview
The Doodle Army 2 : Mini Militia app game is now available for free on iOS. The app is compatible with iOS 6.0 or later on the following devices: iPhone 7, iPhone 6, iPad 3, iPad Mini and iPod Touch 5G or newer.
Download Doodle Army 2 : Mini Militia and play on your iPhone or iPad. You can find links to download the app here.
Developer site: Support
Screenshots
iPhone
iPhone
iPhone
iPhone
iPhone
iPad
iPad
iPad
iPad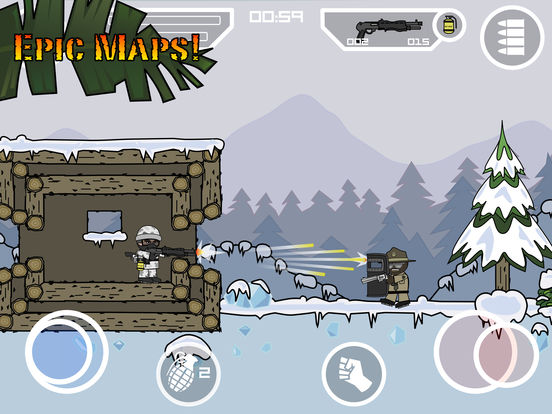 iPad
Doodle Army 2 : Mini Militia Has Add-Ons
Battle Point Pack - Three
Note: Add-ons available as in-app purchases
Reviews
Varisthehacker

delay is bad!

Can you please fix the hacking and chat filter

It's cool.

Update for better performance and quality

Update the game from every phase

Lay Lwint