BizXpenseTracker - Expense, Mileage & Time Tracking
Genres: [Business | Finance]
Developer:
Silverware Software, LLC
✿
Release Date:
Feb 03, 2010
✿
Version:
9.71
✿
Size:
26.14 MB
QR Code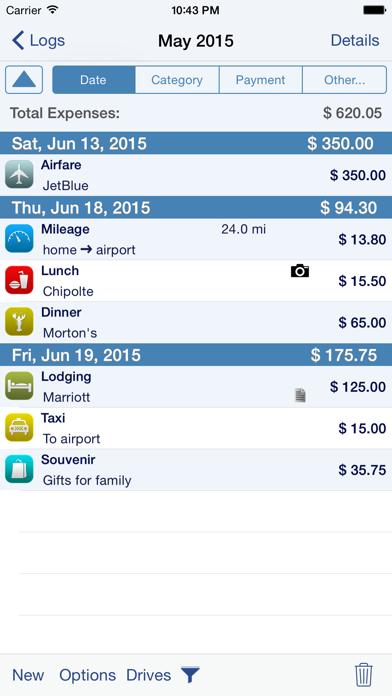 This iOS application is compatible with iPhone 3GS, iPad 1/2, iPod Touch 3rd.
Silverware Software LLC has already given us Flight Update Pro - Live Flight Status, Alerts + Trip Sync on Nov 28, now delivering another great Business application and iphone app on the store. The review includes the developer's description, customer ratings, user reviews and screenshots for iPhone, iPad, and iPod touch.

if you like this mobile application, please share It with others (click on the social media icon links).
BizXpenseTracker is your ALL-inclusive app for tracking and reporting Expenses, Mileage and Time. With ease you can create beautiful, finished PDF reports using one of the over dozen templates supplied or create your own. Get organized in 2015!
July 2014: COLOSSAL UPDATE- numerous customer requested enhancements! Keep track of the three most VITAL business data all in one app; expenses, mileage and time worked!
BizXpenseTracker is an app favorite helping users since 2008 and continues to be noticed by reviewers and users alike.
* Apple named BizXpenseTracker "Noteworthy"
* Selected as a "very useful app" by Apple in: Apps for Business
* Inc. Magazine Recommended
WHY BizXpenseTracker IS BETTER
* Elegant user interface
* The most powerful and flexible Reporting features available
* Organize your entries into logs for maximum ease of use
* Quick and easy on-screen filtering to get the most from your tracked data
* Unique File Linking feature allows you to link files received via email
EASE OF USE
* Completely customize your app and make it your own
* Record your entries with easy to use screens that show your frequently used items
* Customize categories and sub-categories
* Custom keyboard entry with calculator functions
* Smart functions to make data entry FAST (i.e. For each category, the last payment type is remembered)
REPORTING
* The most flexible and powerful reporting available
* Choose the attractive PDF format or CSV for importing into Excel
* Email your reports and photo receipts
* Export your reports to Dropbox, Box or directly to your Mac or PC via a wi-fi connection
* Include photo receipt images in the same file as the PDF report
* Accountants love our templates because they provide all the key information needed
PHOTO RECEIPTS
* Capture multiple images per entry
* Easily Crop images
* Zoom and scroll images
* Geotagging of photo receipts
PREFERENCES
* The MOST extensive set of preferences available
* Show those fields you wish to use and hide those you do not need
ON-SCREEN FILTERING
* Sort entries by "Date," "Category," "Payment Type" or "Client"
* Extensive on-screen filtering to find out exactly what you need to know
* Filter by Date, Client, Merchant, Reimbursable and MUCH more
MILEAGE
* Track mileage the way you want
1. LIVE mileage tracking - the app will track your every move
2. Enter Start/Stop odometer reading
3. Enter the start address and end address and the app will determine the travel distance
* If using odometer, remembers last stop mileage and pre-fills start.
* Mark an entry as round trip
* Remembers Frequent trips which can be quickly selected from the QUICK menu
* Supports Multiple Vehicles
* Miles or Kilometers
TIME
* Create custom rates using one of three different rate types
1. Hourly
2. Per Visit
3. Per Day
* Auto calculate overtime worked
* Further categorize your time: "Work", "Vacation", "Sick" or "Other"
BUSINESS SPECIFIC
* Per Diem Support
* Ability to email database settings to others in your company (without sending your entries)
* Support for Commuter mileage
INTERNATIONAL
* Supports ALL major currencies
* Extensive support for VAT
BACKUP AND SAFE KEEPING
* Backup your data to iCloud, Dropbox, Box or directly to your computer via a Wi-Fi connection
* Set backup to "Automatic" when using iCloud so your data is always safe
* Ability to set password to access app
ADD-ONS
* App offers unique and powerful add-ons if you wish to further expand the power of the app
* Create your own templates for creating PDF reports to match your company's requirements
* Keep all of your iOS devices in sync via iCloud or Dropbox
Continued use of GPS running in the background can dramatically decrease battery life.
We pride ourselves in providing excellent customer service. If you need assistance, always feel free to contact us.
Get now this application with your unique ID and secured password.
Application Screenshots
How to download the App
Download BizXpenseTracker Expense Mileage and Time Tracking app for for iPhone, iPod Touch, iPad and iPad mini.
Download BizXpenseTracker Expense Mileage and Time Tracking on PC or Mac:
1. Go to the BizXpenseTracker Expense Mileage and Time Tracking application page in your iTunes.
2. Click the button to download the App.
3. Sync your iPhone, iPod Touch, iPad or iPad mini with iTunes to install the BizXpenseTracker Expense Mileage and Time Tracking app.
Download the App With iOS App Store:
1. Open the App Store on your iDevice.
2. Search for BizXpenseTracker Expense Mileage and Time Tracking.
3. Click the button to download and install it on your device.
4. Enjoy.



You can securely create an apple profile with your information, but you have to be registered to iTunes in order to get the BizXpenseTracker Expense Mileage and Time Tracking app to your device.
If you don't have an active account, please register to iTunes store with a credit card number. In case you are not interested to open an account with your credit card, you can select the option 'None' during the secured registration.
*This BizXpenseTracker Expense Mileage and Time Tracking application may be available in some countries.


User Ratings
Jul 03
(5★)
Well designed app !
Fantastic app that I use on every trip. Intuitive right from the start, logical, functional with a 'clean' look and many
customizable features including photo receipts. I've tried several other expen
(5★)
BizXpens Trkr
This app has SOLVED my inconsistent tracking of tax related mileages and expenses! After trying other apps, this one combines
"techno dummy" ease of use with immensely customizable reports!
Jul 01
(5★)
Phenomenal
Scott Silverman is a genius! This app has simplified my life beyond belief. An all in one business expense tracking app. Excellent
customer service as well. Had a few technical questions when first pu
Jun 24
(5★)
Huge time saver
I love this app for tracking all my expenses. It's so easy to print a report at tax time! The icing on the cake is the new
feature that tracks mileage. I used to forget to log my trips. Now they a
Jun 16
(5★)
Keep up the good work!
I am a handyman and service hundreds of households. I have used this app for 3 years now and it continues to perform admirably.
Not only is it reasonably priced but service continues to be there lon
(5★)
Amazing, the app, AND the support!
I've been using this app since October 2013 and it has been exactly what I'm looking for. My accountant recently told me she loved
the app too but when she's helping me do taxes, she needs to see the
Jun 15
(5★)
Excellent product!
Allows me to easily track expenses as I go. Able to customize. Got quick and accurate tech support to answer a question I had.
Jun 14
(5★)
I've been using it since January 2012
I've only had one problem with the app in 2.5 years. Randomly the app would lockup and freeze almost immediately after launch. I
emailed the developer and within 24 hours he sent a me a clean prefer
Jun 13
(2★)
Client Errors
Updated the app and it stopped letting me save multiple clients for a single mileage expense. Please fix this! I use it every day
for my business and I'll have to find a new app if the bug isn't fixed
May 28
(5★)
Great Support, for a great App
I have used this app for several years and not long ago, I inadvertently deleted the app from my phone. The support I received on
restoring the data was second to none and it was very easy to recover
(5★)
What I was looking for to track Mileage
Three ways to track mileage. Enter odometer readings, pay the extra dollar for GPS live tracking, or simply enter the
addresses--then state whether or not it's round-trip. Pick your report type and t
May 24
(5★)
Awesome product
Intuitive, effective and helpful.
May 15
(5★)
Perfect!
Everything you need in one place. Intuitive "quick" features. Definitely worth the price.
May 10
(5★)
Perfect app!
This app is just the ticket for the mobile professional! My only critique is the in app purchases - which you really do need! Just
up the price another 2 and be done with the cheesy in app purchases (
May 06
(5★)
Very helpful
Great app. Great for tracking my expenses and milage.
Apr 26
(5★)
Fantastic app!
I just started a consulting business and this has changed tracking expenses, mileage, and hours from a daunting part of the
business to something I look forward to handling. Thanks for the app (and t
Apr 25
(5★)
Thank you for my sanity!
At tax time this year, my pile of various tax deductible receipts was a hot mess and I hadn't calculated any of my deductible
mileage. It wasn't worth the hours or days to properly document and calcu
Apr 24
(5★)
Seamless and intuitive--excellent!
Instead of a chore, entering expenses is now a pleasant compulsion.
Apr 20
(5★)
Solid!
Customizable, easy to use, all your expenses, work time and mileage searchable and on your phone that you already have with you
all the time anyway. Nice.
Apr 18
(5★)
Expense tracking.
I work as a contractor providing medical coverage for hospitals that may not have a complete service line. This app has been
tremendous in allowing me to track mileage and expenses in real time with p
Apr 12
(5★)
Love This App
Not only does this app keep me organized, but the service is excellent . When my app was freezing due to an Apple upgrade Scott
immediately sent me the fix, and it worked! I recommend this app to all
Apr 11
(5★)
Superb Customer Support!
I use this app for both business and personal expenses. I needed a report for personal expenses that when exported shows personal
expenses only and does not populate the amount owed to employee at th
Apr 10
(4★)
Good App
I have been very impressed with this app. I have only been using it for 3 days and it has met my needs. I'll write another review
when more time has past. Otherwise, I do recommend this app. Thank you
(5★)
Fits the Bill!
We have a company expense report that would take an hour plus every month to fill out. Not to mention I had to keep track of all
my receipts. I downloaded this app two months ago and showed my boss wh
Apr 08
(5★)
Mar6675
If I could five give this app a 100 stars I would. It is so awesome. I use it for personal, medical, charity and business. I am
still learning the things it can do. I know their are tutorial out th
(5★)
Fits my needs perfectly
I'm just getting started. Great customization for my input fields and report fields. Exporting the data to my PC is a dream -- so
easy.
Apr 06
(5★)
Excellent app for business and even better support
Used this app for the last 3 years to track business expenses and incomes, by the year and by the project - excellent, simple and
intuitive. Searched hard and wide to find this, am completely happy w
(5★)
Excellent app for business and even better support
Used this app for the last 3 years to track business expenses and incomes, by the year and by the project - excellent, simple and
intuitive. Searched hard and wide to find this, am completely happy w
(5★)
Excellent app for business and even better support
Used this app for the last 3 years to track business expenses and incomes, by the year and by the project - excellent, simple and
intuitive. Searched hard and wide to find this, am completely happy w
Apr 03
(5★)
Great for consulting
I use this for my consulting and property management business. Tracks hours, receipts and time by client or project, etc. Has
limited tracking of invoices but does generate nice invoices for client on
Mar 31
(5★)
D in Dallas
This is a terrific app. So easy to use and allows downloading, syncing with other business software and realtime tracking. Love
it!
Mar 28
(5★)
I couldn't have asked for more!
This app is amazing and I am just learning all of the features. If you run a small biz I imagine this app does all you need.
Highly recommended.
Mar 17
(5★)
Ed
Great app for they money. Works fine. Last long time.
Mar 15
(5★)
None
I have used this app since it first was available. It is the best expense tracker I have ever used by far and I had several others
previously. Not a single problem although recently I inadvertently de
Mar 08
(5★)
Software is great but support OUTSTANDING!
I bought this app to help me get my expense reports filed quicker. This app does this elegantly and easily. But the best part is
the technical support! Yesterday (Saturday evening) I arrived in Li
Mar 06
(2★)
Trouble with Syncing
The main part of the app is pretty good, and is a solid four/five star if you only use it on one device. The problem I have, is
after purchasing the syncing IAP and using the app for several months on
Mar 03
(5★)
Principle
This is a perfect App for a small business person. I love the simplicity of the tool. However, don't let the simplicity fool you.
The reports generated from this tool are amazing. It made preparing
Mar 02
(3★)
Functional Software - Sync does NOT work reliably
This program works really well if you're using it on one device - it's absolutely perfect for that use! The author is also really
good when it comes to e-mail response times and suggestions for probl
Mar 01
(5★)
Perfect expense tracker
I use this to keep track of all my LLC business spending and mileage. Plus our CPA loves the report this app generates come tax
time . it's just fantastic how the app lets the user edit all categorie
Feb 23
(3★)
Paran2
App is a great tracking device, love the flexibility and functionality of the app. The one BIG downside is the backup and restore
function from one device to another. The inconsistency showed up with
(5★)
Amazing expense app!
Does exactly what it promises – gives you lots of flexibility for sinking and backing up.
Feb 21
(5★)
The best support ever!
I love this app! I'm a Realtor and this app makes it incredibly easy to log my miles and expenses and when I have a question,
Scott (the app author) couldn't be more responsive and helpful. Thank
Feb 20
(5★)
Biz Review
This app was highly recommended to me by a colleague, and he was right.It's extremely well thought-out and I anticipate an easier
time when doing my taxes soon than in the past. The flexibility of cat
Feb 12
(5★)
Perfect App
Great App to track Mileage and Time.
Feb 09
(5★)
Great app to use on road and anytime you need to t
I have used this for several years and it has been very helpful in tracking the cash in and out.
Feb 06
(5★)
My most consistently used app (outside of email)
I have used time and billing software for almost 20 years. I have probably tried 20 different systems and apps, online, Mac-based
and now iPad-based.This app suits my needs at this time better than an
(5★)
Just get this app
This app has so much going for it! Stop reading and get this one you will not regret it. It has every function you will ever need.
Feb 05
(4★)
Excellent
This has made my expense report creation oh so easy.
Feb 04
(5★)
BizXpenseTracker - Excellent App
BizXpenseTracker - Expense, Mileage & Time TrackingI have been researching on the internet for an iPhone/IPad Air app for several
weeks now and been reading several reviews on different receipt app tr
(5★)
Easy and quick
I'm in my first wave of self employment and find BizXpensTrkr an amazing ally in keeping things usefully prepared for reporting my
expenses. The application is robust with details and options while be
Feb 01
(5★)
Excellent app
Haven't found a missing feature I needed. Really great app.
Jan 28
(5★)
Buzexpnstrkr
Excellent app - highly recommended
(5★)
Excellent software and support
As a freelancer, this makes tracking expenses and exporting them at tax-time a breeze. Great UX, functionality, options and most
importantly, backup options. The customer support is superb. They even
Jan 27
(5★)
Where Have You Been All My Life?
Looks like I finally found a great app for my business. Just downloaded this morning and it is obvious a great app full of
powerful features. Just as important is professional support ready to help me
Jan 26
(5★)
Perfect small business App!
Love this app And all the features. It really has everything you need to track and record your everyday expenses and deductions.
(4★)
From the Developer
In response to a recent review by Levictor: The issue you are having indicates that you declined BizXpenseTracker access to your
camera when prompted by your device. This is SIMPLY resolved by going
Jan 21
(4★)
New features
I love love love this app! It's formatted for you & it makes it easy to get your info to your tax person. I have a Neat Scanner
but honestly I would rather use this app!
Jan 17
(5★)
Strong App
This thing just works! It's not hard to use. The best thing is that it's stable. So much more simple than quick books online.
I am a private contract anesthesia provider. This has made my life
Jan 13
(5★)
Excellent app!
Excellent! Easy to use. Love it. 5 stars
Jan 08
(5★)
An Essential
I have been using this app for about 1 year and I love it! I track my hours, mileage, and receipts!
Jan 06
(5★)
Great App!
Very easy and convenient to use!
Dec 14, 2014
(5★)
The Cadillac
Does everything I want it to do and more!
Dec 11, 2014
(4★)
Great App.
Still finding new things, but it provides me with a quick and easy way to keep track of my real estate expenses!
Dec 06, 2014
(5★)
A Great Tool!
I am a sole proprietor, providing management consulting to municipalities. This app has been a must have tool that allows me to
track my bill (I bill by the hour), track reimbursable & non-reimbursab
(5★)
A great app. Gets job done and easy as pie
This app is great, tracks, categorizes, assigns vendor. Keeps pics of receipts out of my photo album.
Dec 05, 2014
(5★)
Life saver!
My job requires I do a ton of traveling. This app helps me keep all my business and personal expenses in order. The ability to
make a entry and take a photo of a receipt on the fly is priceless. I no
Dec 02, 2014
(4★)
Valuable small business tool
I recently started my own consulting business and found this tool to be just what I needed. Expenses are easy to enter as are
photo copies of receipts. I have a complete record of expenses and receip
Nov 25, 2014
(5★)
Best app ever
I have looked at apps to track business expenses and this app does it all. I love it. Remember to set your cloud up as you have
back up. Worth every penny.
(4★)
Great app for mileage
Great app for tracking mileage. Would love ability to export to Quickbooks time and mileage entries.
Nov 19, 2014
(5★)
Owner
Excellent app, use it every day. Updates are great. Keep up the good work.
Nov 18, 2014
(5★)
Great App … Has it All !
I am a frequent traveler and needed and App to help me automate my process of submitting my Expense Reports to my assistant in a
clean and easy way. This App manages to handle everything very straight
Nov 17, 2014
(5★)
Worth Every Penny!
This is the first time that I have written a review for any app. This app is THE most useful app that I own. I have started two
separate business in the last year and this tool has been indispensabl
(5★)
Fantastic App
This works better than advertised and has functioned flawlessly since I downloaded it. I use it as a business traveler and find it
saves me 5 to 10 hours per month. Plus I have had to contact support
Nov 12, 2014
(5★)
Fun app
Great and pretty simple way of organizing my expenses
Nov 10, 2014
(5★)
Sports Official
One of the best apps that I have purchased. I need to document all my expenses, income and mileage, and this app allows me to
create whatever categories that I need for dues, meals, laundry, lodging,
Nov 05, 2014
(5★)
Indispensable
I finally settled on this after looking long and hard for very specific features. I use it several times a week, and it works
quite well. Even better, the developer is responsive and eager to improve
Oct 29, 2014
(5★)
Best app on my iPad
I just returned from a cross country road trip and this app is the most used and useful on my iPad or iPhone. It provides
invaluable means of tracking mileage and travel expenses. Particularly helpf
Oct 27, 2014
(5★)
Works perfectly!
This is an app I use to keep track of important financial expenses, travel expenses, and tax deductions for the year. So it
can't fail, and it needs to be reliable. And it is reliable — always h
Oct 26, 2014
(5★)
A big time saver
Great app - works better than expected. After using it for a month, I found the reports generated by the app reduced the time to
submit a company expense report significantly. It eliminated the need
Oct 24, 2014
(5★)
Fantastic app for road warrior
I am about as undisciplined as it gets for filling out expense reports, often it was put off beyond the deadline. BizXpensTrkr has
made it "idiot proof" and painless to keep up with reimbursable expen
Oct 23, 2014
(5★)
Great Expense App
This app does a great job for your whole expense report and is especially great for figuring mileage.
Oct 10, 2014
(5★)
Really thought of everything
I am about as lax as it gets with receipts and expense reports. It really does not get much easier than this. Great app for a
"road warrior" like me. The "export" function is really cool, but I would
Oct 08, 2014
(5★)
Best App
Never lose another receiptAgain. For those who need to track their expenses, this app works the best. This company also stands
behind their app with Great Support. That is an important factor for me.
Oct 01, 2014
(5★)
Best app ever and Scott the author
My app was frozen after I downloaded ios8. I emailed Scott and he got back to me in 30 minutes. That is what I call customer
service! This app is wonderful. I keep track of mileage and all other busin
(5★)
Finally, this is the one
After trying several expense applications and having them notperform as desired, this app does everything it says and that the
other reviews are claiming. It is simple, easy to use, robust and customi
Sep 30, 2014
(5★)
Great program backed by great service
I have used this program for about 3 years now and it works great, plus it keeps getting better with new features and options
being added. The developer gives great support and respond fast to emails.
Sep 29, 2014
(4★)
Version 9.2
This revision to the software adds additional functionality to the overall software. Each software update has added value.
Having used this app for a few years it is still my #1 recommendation to bu
(5★)
Unstuck
Thanks for the help. Initially system froze with iOS 8 but support fixed the problem in a blink of the eye. All I had to do was
sit back, run a clean preference and voila! Back in business. Thanks
(5★)
Very Effective App
Does everything I need and more! With the latest update I had a temporary problem with the app freezing upon opening. I did some
updating with my iPad and after a few minutes, the app on my iPhone syn
(2★)
This update has broken it, but it can be fixed —
I use an iPad Air with iOS 8. I rely on this app to keep track of all receipts and records from taxes to travel. With this
update the app jams and is unusable. Assuming that you can open it in the
Sep 22, 2014
(5★)
Great App & Support
Highly recommend this app for small business owners. It is easy to use, reduces admin time without compromising the quality of
reporting required to manage your business expenses and taxes. Take the
Aug 15, 2014
(5★)
Fantastic App with great support
This app revolutionized tax time for me. Last year I filed on-time for the first time in years, because I started using this app
in 2013 on my iPad, entering all my business expenses as I went along,
Aug 12, 2014
(5★)
Great app
I needed a good iphone/iPad app to track my consulting time and this app did the trick. I can separate my clients, take photos of
receipts and link them to the task. I love the mileage tracking option
Aug 08, 2014
(5★)
I Use This App Every Day!
BizExpense Tracker is an app that I use multiple times every single day. I have finally gotten control over all of my expenses and
have found it to be rock solid in it's design and utility!It's on
Jul 29, 2014
(5★)
Great App and Great Support
This is a must-have for any small business owner or traveling sales person. Giving you the ability to track all of your expenses
in various ways makes this an application that should fit just about ev
Jul 25, 2014
(4★)
Nice App
Does what I need it to do. Exporting not seamless, need to manually keep track of exported document or CSV file. But whatever, it
works well otherwise.
Total
96
reviews with ratings for this app.