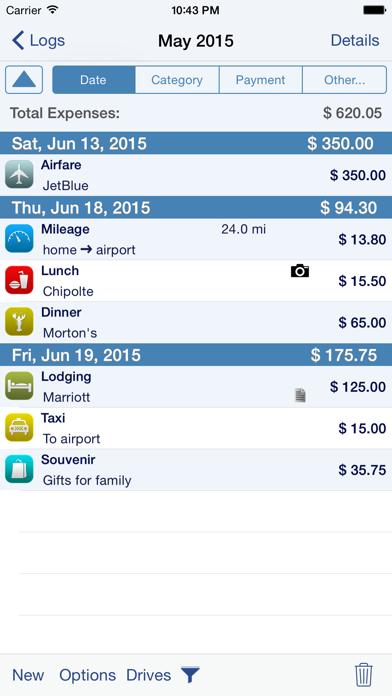 BizXpenseTracker
by Silverware Software, LLC
$7.99 > $6.99
BizXpenseTracker is your ALL-inclusive app for tracking and reporting Expenses, Mileage and Time. With ease you can create beautiful, finished PDF reports using one of the over dozen templates supplied or create your own. Get organized easily and save money too!

COLOSSAL UPDATE- numerous customer requested enhancements! Keep track of the three most VITAL business data all in one app; expenses, mileage and time worked!

BizXpenseTracker is an app favorite helping users since 2008
* Apple named BizXpenseTracker "Noteworthy"
* Selected as a "very useful app" by Apple in: Apps for Business
* Inc. Magazine Recommended

Amex Recommends: http://tinyurl.com/AmexTopPick

WHY BizXpenseTracker IS BETTER
* Elegant user interface
* The most powerful and flexible Reporting features available
* Organize your entries into logs for maximum ease of use
* Quick and easy on-screen filtering to get the most from your tracked data
* Unique File Linking feature allows you to link files received via email

EASE OF USE
* Completely customize your app and make it your own
* Record your entries with easy to use screens that show your frequently used items
* Customize categories and sub-categories
* Custom keyboard entry with calculator functions
* Smart functions to make data entry FAST ( For each category, the last payment type is remembered)

REPORTING
* The most flexible and powerful reporting available
* Choose the attractive PDF format or CSV for importing into Excel
* Email your reports and photo receipts
* Export your reports to Dropbox, Box or directly to your Mac or PC via a wi-fi connection
* Include photo receipt images in the same file as the PDF report
* Accountants love our templates because they provide all the key information needed

PHOTO RECEIPTS
* Capture multiple images per entry
* Easily Crop images
* Zoom and scroll
* Geotag photos

PREFERENCES
* The MOST extensive set of preferences available
* Show those fields you wish to use and hide those you do not need

ON-SCREEN FILTERING
* Sort entries by "Date," "Category," "Payment Type" or "Client"
* Extensive on-screen filtering to find out exactly what you need to know
* Filter by Date, Client, Merchant, Reimbursable and more

MILEAGE
* Track mileage the way you want
1. LIVE mileage tracking - the app will track your every move
2. Enter Start/Stop odometer reading
3. Enter the start address and end address and the app will determine the travel distance
* If using odometer, remembers last stop mileage and pre-fills start.
* Mark an entry as round trip
* Remembers Frequent trips which can be quickly selected from the QUICK menu
* Supports Multiple Vehicles
* Miles or Kilometers

TIME
* Create custom rates using one of three different rate types
1. Hourly
2. Per Visit
3. Per Day

ADD-ONS
* App offers unique and powerful add-ons if you wish to further expand the power of the app
* Create your own templates for creating PDF reports to match your company's requirements
* Keep all of your iOS devices in sync via iCloud or Dropbox
* App offers two optional subscriptions. AutoTrack and Human Scan.
* AutoTrack is a feature that will automatically track your drives. No need to start or stop tracking. Subscriptions are available monthly or yearly. Each subscription includes a free one-month trial period. he monthly subscription is $3.99 a month and the yearly subscription is $39.99 a year. Each subscription will auto-renew until cancelled.
* Human Scan will allow you to take a picture of a photo and have a human extract the key information and enter it in your expense entry. Subscriptions are low, moderate or high usage. Each subscription is monthly and will auto-renew until cancelled. Subscription cost are monthly and are $4.99 for low, $6.99 for medium and $9.99 for high.


Continued use of GPS running in the background can dramatically decrease battery life.

Questions/comments? For a fast reply, email us at: support@silverwaresoftware.com

BizXpenseTracker App Details & Overview
BizXpenseTracker - Expense, Mileage & Time Tracking is an application developed by Silverware Software, LLC and released on iOS. The app is compatible with iOS 9.1 or later on the following devices: iPhone 7, iPhone 6, iPad 3, iPad Mini and iPod Touch 5G or newer.
Download the BizXpenseTracker app and use on your iPhone or iPad. Click here to download the app for Android or Windows devices.
Developer site: Support
What's new in version 10.04
* bug fix when "Open Camera for New Expense" preference is enabled.
Rank in top paid apps
Ranking - Apps (iPhone) - United States
BizXpenseTracker is currently ranked #56 on the iOS store in united states.
BizXpenseTracker is a highly rated app with 4.5 stars.
The app is currently $6.99, instead of its regular price of $7.99.
$7.99 -> $6.99

Sep 23, 2014

Release v8.03

Feb 3, 2010

Release v7.02

Feb 3, 2010
---
App Data
Current Version: 10.04
File Size: 63Mb
Publisher:
Silverware Software, LLC
Users Rating: 4.50 (5 reviews)
App Images
iPhone
iPhone
iPhone
iPhone
iPhone
iPad
iPad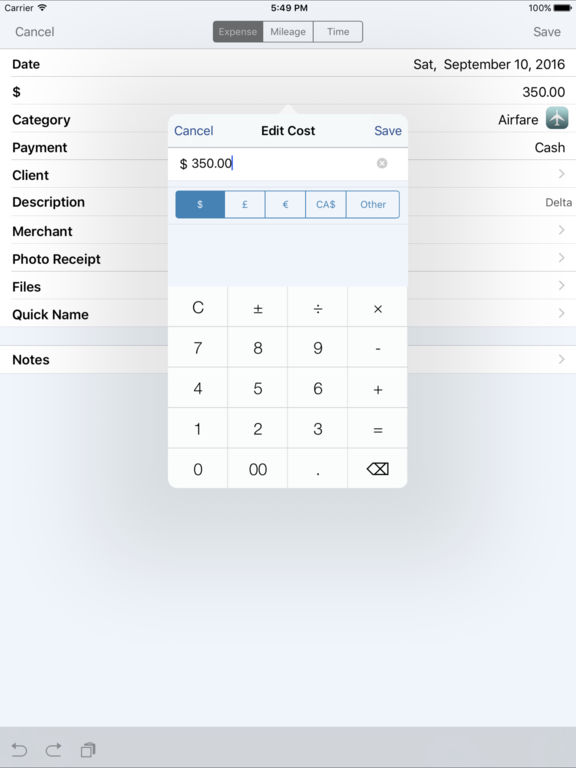 iPad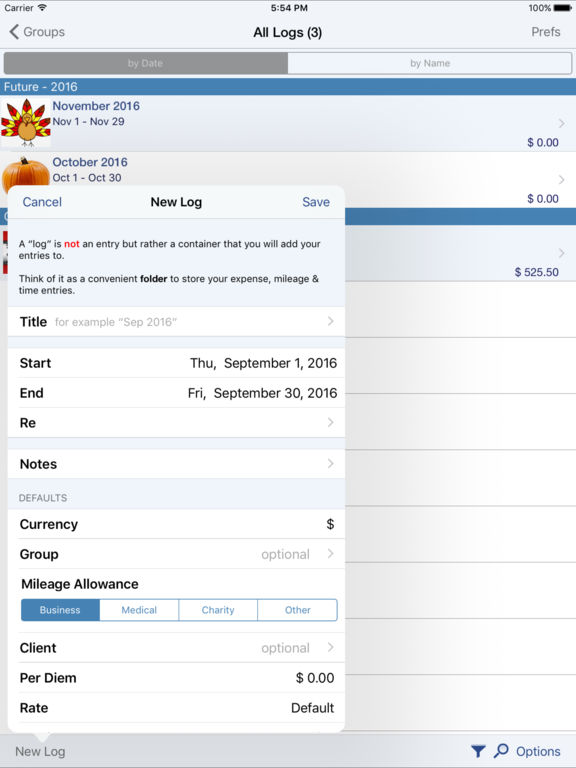 iPad
iPad
BizXpenseTracker - Expense, Mileage & Time Tracking App Add-Ons
Mileage Location Awareness
Note: Add-ons available as in-app purchases
BizXpenseTracker Reviews
Easy business $ accounting!
Versatile business tool
Every thing on one place
Works perfectly for my business use!
Best app for mileage tracking so far
Satisfied
Expense is good