Facebook Messenger
Universal App – Optimized for iPhone and iPad.
Published by: Facebook, Inc.
Price: Free

Current Version

56.0

Size

86.21 MB

Released

Aug 9, 2011

Age

4+

Category

User Ratings

3.00 (5 votes)
App Description
Instantly reach the people in your life—for free. Messenger is just like texting, but you don't have to pay for every message (it works with your data plan).

Not just for Facebook friends: Message people in your phone book and just enter a phone number to add a new contact.

Group chats: Create groups for the people you message most. Name them, set group photos and keep them all in one place.

Photos and videos: Shoot videos and snap selfies or other photos right from the app and send them with one tap.

Free calls: Talk as long as you want, even with people in other countries. (Calls are free over Wi-Fi. Otherwise, standard data charges apply.)

Even more ways to message:
Bring your conversations to life with stickers.
Preview your camera roll photos and videos without leaving the conversation--then choose the perfect ones to send.
Record voice messages when you have more to say.

Extra features:
Know when people have seen your messages.
Forward messages or photos to people who weren't in the conversation.
Search for people and groups to quickly get back to them.
Turn on location to let people know when you're nearby.
See who's available on Messenger and who's active on Facebook.
Turn off notifications when you're working, sleeping or just need a break.
Stay logged in so you never miss a message.
What's new in version 56.0
With 3D Touch on the iPhone 6s and 6s Plus, you can send messages right from your home screen. Reach anyone on Messenger by sending them a message request. You don't need their phone number or to be their Facebook friend to contact them. See snowflakes fall across the screen when you send or receive winter related emojis and stickers.
Latest App Activity
Facebook Messenger
Version 56.0

2 days ago

Version 55.0

2 weeks ago

Version 54.0

3 weeks ago

Version 53.0

4 weeks ago

Version 52.0

Dec 17, 2015
All App Activity and Price Drops »
Facebook Messenger is a universal app, and is available on the iTunes App Store for free with in-app purchases. The app is compatible with all devices running iOS 7.0 or later, including the new iPhone 6 and iPad Mini. To download the Facebook Messenger app, just scan the QR code with your device or click the button below to go to the app's download page.
Customer Reviews
I can download the messenger. I deleted the messenger and i couldn't download it again
... Can you all put the log out feature back in the messager? I like to switch accounts when I need to. Thanks.
Me gusta muy buena aplicación 😀👍🏻. Me gusta muy buena aplicación 😀👍🏻
Bug/glitch. When I try to reply to a message from my lock screen with a passcode, the keyboard will freeze on my lock screen & the message
will disappear. I can type on the keyboard but it is frozen on my lock screen and I can't use my finger print to unlock my phone.
This is a major glitch that needs to be pat
Bubble head. I hate how the bubble head doesn't apply to iPhone. That would be so convenient
If you've enjoyed this app, rate and review it on the App store and in the comments section below.
iPhone/iPad Screenshots
Screenshot #1 (iPhone)
Screenshot #2 (iPhone)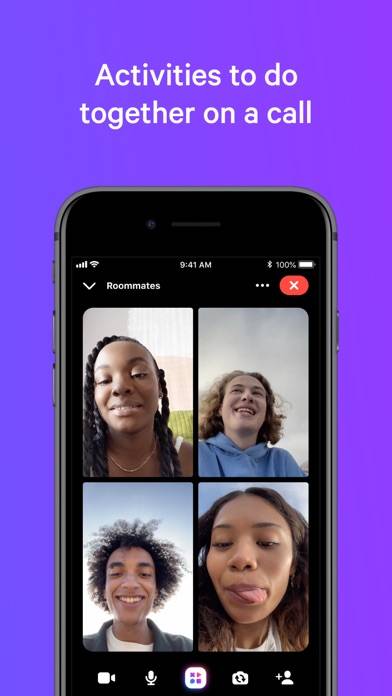 Screenshot #3 (iPhone)
Screenshot #4 (iPhone)
Screenshot #5 (iPhone)
The Verdict: Great!
---
Share this Review
This review of Facebook Messenger was written by Carol Swift
To find and download the latest version of Facebook Messenger, click on the Download button. You can get it directly to your device, or you can download it to your computer (PC or Mac) and then transfer it to your device.