Mountain Timber Cargo Simulator
by Rafique Ahmed
Mountain Timber Cargo Sim 2016 is the best truck driving cargo simulation hill climbing game. In this game you will enjoy real cargo truck driving simulation on mountains and hilly area. You are working in a logistic, cargo transport company. You are given the task to transport timber woods in different Hilly areas of work in driving games. Areas are very beautiful and dangerous to drive. It is Best cargo tractor gamesYour carelessness in sudden sharp turns can kill you. Drive truck through mountains in one of the most realistic truck driving games. Climb the mountain roads and transport cargo timber woods to the destination. Are you looking for truck driving games 2016? Mountain Timber Cargo Sim 2016 is here. Mountain Timber Cargo Sim 2016 is the best cargo truck games.
Drive very carefully on this dangerous areas. Land sliding, foggy weather rain, snow and wind storm are the big problems you have to face while driving. Remember speed thrills but kills. Deliver the cargo safely on receiving end and show your skills of cargo truck driving in dangerous mountains. While playing this awesome Euro Truck Driving game, it's your duty to deliver all the cargo material at right destination safely while keeping others cargo & goods safe. For destroying others property & goods you can be caught by the Police, so you need to make sure to protect others property and assets. Steer on the hilly roads with your long cargo truck and enjoy the thrill of snow driving, snowy terrain to discover over mountains, safe cargo transport and exciting ride over the mountains and hill top. Severe climate surroundings with snow on top of hills and driving in land sliding area will expose your truck to even more challenges. Mountain Timber Cargo Sim 2016 is the best cargo truck games.
Game Play:
• Accelerator button is on the right bottom side of the screen.
• Brake button is also on the right side of the screen.
• Steering is on the left bottom side of the screen.
• Use Horn to overtake the traffic in driving games
Your transport truck might be carrying precious cargo so drive carefully. Paths are difficult to drive on; you can handle this job with your best truck driver skills. An objective based transport truck game where you handle your big truck with trailer. Attach the trailer with your heavy truck and drive through hills. Hill climb driving with cargo transport is an awesome concept for truck driving games. re you looking for truck driving games 2016? Mountain Timber Cargo Sim 2016 is here.
Feel the most adventurous and craziest truck driving simulator is here with hill climb driving in the nature of hill side environment filled with mountains, water and rocks. Enjoy realistic truck physics form different camera view, smooth handling and fast driving on beautiful mountain in cargo truck driver 2016.
Being a Truck Driving Mountain Timber Cargo Sim 2016 is very challenging and difficult to drive a cargo transport trailer. We have choose this cargo truck for your driving course after learning you can drive different cargo trucks. Are you ready for the most daring and challenging tasks even if you are a monster truck driver. Do you have what it takes to become an ultimate euro truck driver of long trailer, long cargo truck, and grand cargo truck to transport heavy loads like Timber, woods, logs, barrels, empty oil cans, cargo boxes, sports cars, expensive cars and many more cargo material to deliver at hill station and other parts. This game contains beautiful 3d environments which includes snow, offroad and hilly areas travel destinations where there are no proper roads. Your truck driving expertise will be tested on offroad and hill, mountain steep paths, hill climb roads while exposing to severe weather conditions. Don't forget that it's not a 4x4 pickup truck so you have to be professional cargo truck driver to complete the missions successfully. Best cargo tractor games.

Need help? Use our walkthrough or sign up and make your contribution today.
Mountain Timber Cargo Simulator App Details & Overview
Mountain Timber Cargo Simulator is a simulation video game for iOS, developed by Rafique Ahmed. The app is compatible with iOS 7.0 or later on the following devices: iPhone 7, iPhone 6, iPad 3, iPad Mini and iPod Touch 5G or newer.
Download the Mountain Timber Cargo Simulator app and play on your iPhone or iPad. Click here to download the app for Android or Windows devices.
Rank in top paid apps
Ranking - Games (iPhone) - United States
Initial release v1.0

Jun 8, 2016
---
App Data
Current Version: 1.0
File Size: 186Mb
Users Rating: 0.00 (0 reviews)
App Images
iPhone
iPhone
iPhone
iPhone
iPhone
iPad
iPad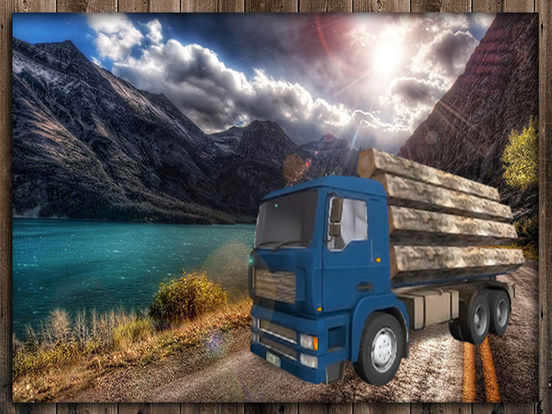 iPad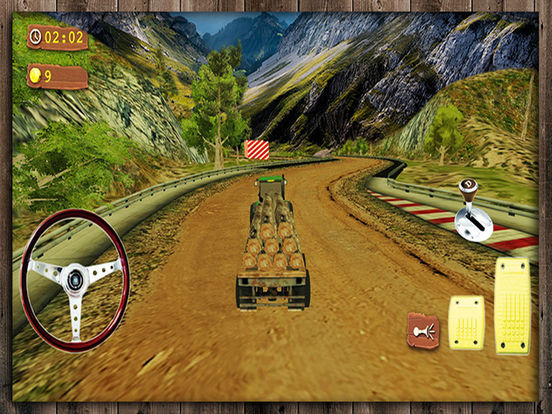 iPad
iPad
Mountain Timber Cargo Simulator App Add-Ons
No add-ons has been found...
Mountain Timber Cargo Simulator Reviews (See all reviews)
This game has 0 reviews across all regional iTunes Stores.