Goo Saga
by TokaLoka
Goo Saga is a platform adventure game where the player guides an elastic creature named Goo in a perilous journey to find his creator – and with him, the mysterious purpose of his own creation.

Will Goo succeed? Puzzles, deadly traps and an army of foes in a labyrinthine underwater lab block his way. Goo's destiny is in the player's hands.

****

GAME FEATURES


3 different states of Goo's elasticity controlled by the player: Deflated, Normal, and Inflated.
20 levels, each to be completed in 3 different modes: Normal, Survival, and Time Trial, plus 4 epic boss battles; each mode requires a different gameplay strategy.
Captivating atmosphere with HD graphics and gameplay.
18 atmospheric soundtracks.
Sophisticated level design with meticulously planned alterations between puzzle solving and platform based gaming sections.
12 types of robot enemies.
Crystals collected through successful completion of the levels and used to enhance Goo's abilities.
8 upgradable character abilities that help Goo in his adventure.
Colourful blobs which are found and collected by the player to complete the Normal mode of each level.
Enticing storyline delivered through ingame cut scenes.
2 different endings.
Powerful level editor to create your own levels.
Online server where you can upload your levels or download, play and rate other players' levels.
Cloud sync integration to share progress when changing device.
Full Controller support for an enhanced gaming experience.
English, German and French language support.
Achievements and Leaderboards make for an even more fun and competitive gameplay.
8 amazing character skins hidden through the levels.

****

WHY PLAYERS ARE THRILLED WITH OUR PLATFORM ADVENTURE GAME


Goo Saga is developed by a small team of passionate game designers and developers with the ambition to create high quality atmospheric games that entertain and offer a memorable gaming experience.
It encompasses all the values of legendary platformers from another time into a game that offers touchscreen play fun on smartphone devices.
It combines engrossing adventure platforming and intriguing puzzles with epic boss fights that will challenge you.
It's a premium mix of action, exploration, mystery and fun, followed by platform adventures aficionados and casual gamers alike.
Goo Saga is for fans of awardwinning and topchart platformers like Leo's Fortune, Red Ball, Rayman, Limbo, Badland, Nihilumbra, Typoman, Castle of Illusion and more.

****

REVIEWS

"Featured under the "Best mobile games of 2016" -- CNET

"This gorgeous platformer is worth your time." -- PocketGamer

"I don't need psychic powers to see that Goo Saga is going to be a hit. It has impressive, absolutely charming visuals and solid platforming mechanics." -- TouchArcade

"Oui, les jeux de plateforme sont légions en ce moment... Mais, celui-ci est véritablement impressionnant que ce soit au niveau de sa réalisation, au niveau de son intelligence de jeu, ou au niveau de sa jouabilité, et vous risquez de ne pas le lâcher de si tôt!" -- KickMyGeek

****

CHECK OUT GOO SAGA LAUNCH TRAILER ON:
https://www.youtube.com/watch?v=fmCDmZxXvbk

JOIN OUR COMMUNITY AT:
https://www.facebook.com/tokaloka.games
https://twitter.com/tokalokagames

FEEL FREE TO TOUCH BASE AND SHARE FEEDBACK OR ASK FOR HELP:
contact@tokaloka.com

****

THANKS FOR THE SUPPORT AND ENJOY PLAYING GOO SAGA!

Need help? Use our walkthrough or sign up and make your contribution today.
Goo Saga App Details & Overview
Goo Saga is an adventure video game for iOS, developed by TokaLoka. The app is compatible with iOS 9.1 or later on the following devices: iPhone 7, iPhone 6, iPad 3, iPad Mini and iPod Touch 5G or newer.
Download the Goo Saga app and play on your iPhone or iPad. Click here to download the app for Android or Windows devices.
Developer site: Support
What's new in version 1.4
- Added on demand resources support to reduce storage space requirements. - Improved responsiveness to player's control over Goo's movement. - Improved controller support for an enhanced gaming experience. - Added Russian,Chinese, Polish, Japanese and Korean language support. - Enriched first level tutorial. - Included general bug fixes and optimizations.
Rank in top paid apps
Ranking - Games (iPhone) - United States
Goo Saga is currently ranked #141 on the iOS store in united states.
Goo Saga is a good rated app with 3.5 stars.
$0.99 -> $1.99

Apr 21, 2017

$1.99 -> $0.99

Apr 20, 2017

$0.99 -> $1.99

Apr 19, 2017

$1.99 -> $0.99

Apr 6, 2017

$1.99 -> $4.99

Oct 5, 2016
---
App Images
iPhone
iPhone
iPhone
iPhone
iPhone
iPad
iPad
iPad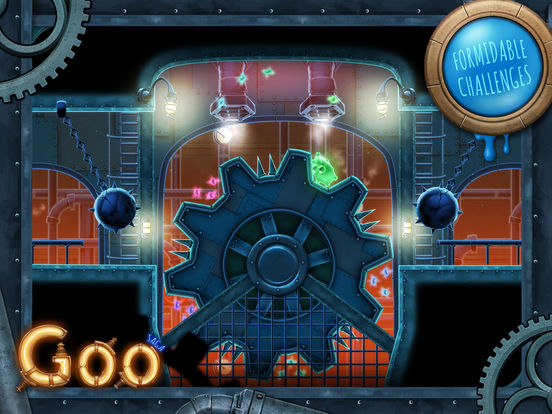 iPad
iPad
Goo Saga App Add-Ons
No add-ons has been found...
BEST GAME EVER!!!!!!!
Best game ever
Love it!
Could be great
Wonderful Full-Fledged Platformer
The music...
Add co-op