Carrier Landings
by RORTOS SRL
The most advanced Flight Simulator and Aircraft Carrier Landing System ever created.

Landing on an aircraft carrier is one of the most difficult tasks a pilot has to execute. The flight deck is only 150 meters long, just enough to stop the aircraft.
Accept the challenge, take on over thirty missions in the world's most dangerous and spectacular scenarios and join the best Top-Gun pilots.
Take control, climb into the realistic 3D cockpits and fly the most famous military aircrafts, faithfully reproduced.
Exceed your limits and get the excellence in all 90 engaging challenges!

Discover the REAL WORLD TECHNOLOGY and begin now to plan your flight!
WORLDWIDE NAVIGATION and FLIGHT PLAN with 500+ accurate AIRPORTS, DAY&NIGHT CYCLE, REALTIME METAR weather conditions, AIR SPACES CARTOGRAPHY with over 8,000 WAYPOINTS.

Try out the latest evolution of the RORTOS flight system, already appreciated by millions of users around the world: unprecedented graphics, realistic weather conditions and a REPLAY function that lets you review your flight moves and record video to immediately share with your friends.

For an even more thrilling experience, connect two devices online and activate the multi-screen mode.


Featuring:
* Game campaign with 6 training missions and 30 missions in 5 different scenarios (4 availables for purchase)
* WORLDWIDE TERRAIN AND NAVIGATION SYSTEM (availables for purchase)
* 90 engaging challenges (72 available to buy)
* Free flight with choice of weather conditions and time
* Landing competitions with worldwide ranking
* Multi-camera Replay with dynamic CINEMA view and option to save your videos
* Aircraft carrier landings, airbase landings and emergency landings
* Take-off, practice, transfers, recon and flights in formation with a flight guide
* Vertical take-off and landing (F35B Lightning II, AV-8B Harrier II)
* In-flight refuel
* More realistic extreme conditions with wind, rain, snow and lightning
* 3D virtual cockpit with integrated instrumentation, rain/snow effects and 6 different camera angles
visual perspectives
* Radar with runway and aircraft carrier orientation
* Realistic fuel consumption
* Approach system I.F.L.O.L.S.
* Radio communication
* REMOTE CONTROL: you can connect two devices and use one of them like a remote control with a complete instrumentation view

Aircraft:
* F/A-18 Super Hornet
* F-14 Super Tomcat [available with Canyon]
* C-2A Greyhound [available with Arctic]
* F-16 Fighting Falcon [available with Canyon]
* AV-8B Harrier II (vertical) [available with Arctic]
* F35B Lightning II (vertical) [available with Arcs]
* MiG-29K Fulcrum [available with Volcano]
* F4E Phantom II [available with Volcano]
* A-6 Intruder [available with Arctic]
* A-7 Corsair II [available with Arcs]
* F-22 Raptor [available with Flight Simulator]
* SU-47 Berkut [available with Flight Simulator]

Scenarios:
* Islands
* Canyon [available for purchase]
* Arctic [available for purchase]
* Arcs [available for purchase]
* Volcano [available for purchase]
* Flight Simulator [available for purchase]

Need help? Use our walkthrough or sign up and make your contribution today.
Carrier Landings App Details & Overview
Carrier Landings is a free-to-play simulation video game for iOS, developed by RORTOS SRL. The app is compatible with iOS 8.0 or later on the following devices: iPhone 7, iPhone 6, iPad 3, iPad Mini and iPod Touch 5G or newer.
Download the Carrier Landings app and play on your iPhone or iPad. Click here to download the app for Android or Windows devices.
What's new in version 4.2.0
New Aircraft: Dassault Rafale
Rank in top paid apps
Ranking - Games (iPhone) - United States
Carrier Landings is currently ranked #191 on the iOS store in united states.
Carrier Landings is a good rated app with 4 stars.
Release v3.0

Jul 13, 2014
---
App Data
Current Version: 4.2.0
File Size: 441Mb
Users Rating: 4.00 (28 reviews)
App Images
iPhone
iPhone
iPhone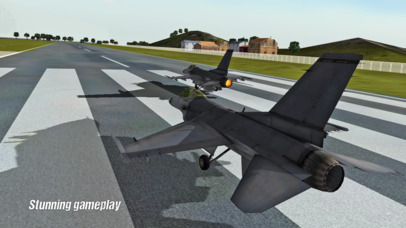 iPhone
iPhone
iPad
iPad
iPad
iPad
iPad
Carrier Landings App Add-Ons
Note: Add-ons available as in-app purchases
Excelente app!
Excellent Flight Sim
Weapons and Targets please!
Great flight simulator!!
Best flight game !!!!!!!
Great app!
Good graphics