Relook
by Sumoing
"Relook enhances natural beauty better than any other app on mobile!"

It provides the tools used by professional fashion photographers in simple to use interface. Now you can easily turn photos or selfies into magazine quality portraits. Relook's Bright-3™ skin layering and multi-phase frequency separation techniques ensure exceptional natural looking results.

THE MOST NATURAL RETOUCHING TECHNOLOGY

Diminish the appearance of pores, wrinkles, grease and highlights. Relook guarantees an even looking, natural skin.

UNIQUE SKIN HEALING TOOLS

Relook's Healing tool fixes spots and pimples instantly by replacing the spot intelligently with the best possible match. It's much faster and easier than other traditional touchup apps.
The Soft Clone tool lets you easily replace upper layers of skin whilst maintaining the original base layers. It's a perfect tool to remove wrinkles ensuring exceptionally natural looking results.

SHOW THE FACE IN THE BEST POSSIBLE LIGHT

Lighten skin tones, remove redness, brighten eye color, add intensity and adjust lighting and shadows. Relook's advanced SoftColor tone adjustment tools let you show your face in the best possible light
Use Clarity to accentuate the best areas and Defocus to highlight the face from the background

DAZZLINGLY BEAUTIFUL EYES

Highlight and brighten eyes or change eye colour
Add volume to your lashes and shape your brows

ENHANCE FACIAL SHAPES FOR THE PERFECT LOOK

Correct any lens distortion and enhance facial and body shapes
Refine nose, cheekbones and brows
Enlarge or shrink a specific area of the image

TAILOR-MADE PRESETS FOR PORTRAITS

Finalise your editing using the amazing set of tailormade presets.
The presets are designed for portraits providing tones that fit for every skin type.

LOSS-LESS EDITING AND PHOTOSHOP EXPORT

Using Relook, the keen amateur or professional photographer alike can export their results with layer data to Lightroom or Photoshop for extended editing. Creative Cloud, iCloud Drive and Dropbox supported for .psd export.
What's new in version 1.5.3
Performance improvements
Rank in top paid apps
Ranking - Apps (iPhone) - United States
Relook is a highly rated app with 4.5 stars.
Free -> $3.99

Jun 10, 2016

$3.99 -> Free

Jun 4, 2016

Free -> $3.99

Feb 10, 2016

$3.99 -> Free

Feb 2, 2016

$4.99 -> $3.99

Aug 27, 2015

Release v1.01

Jun 7, 2015

Release v1.0

Jun 3, 2015
---
Relook App Details
Relook is an application developed by Sumoing and released on iOS. The app is compatible with iOS 8.0 or later on the following devices: iPhone 7, iPhone 6, iPad 3, iPad Mini and iPod Touch 5G or newer.
Below are the links to download the app on iOS. To download the app for Android, click here.
Developer site: Support
App Images
iPhone
iPhone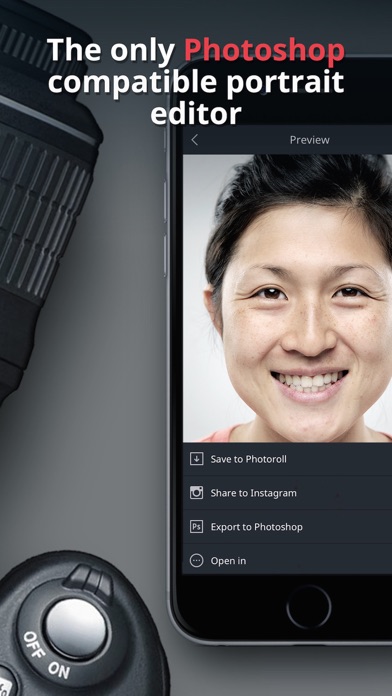 iPhone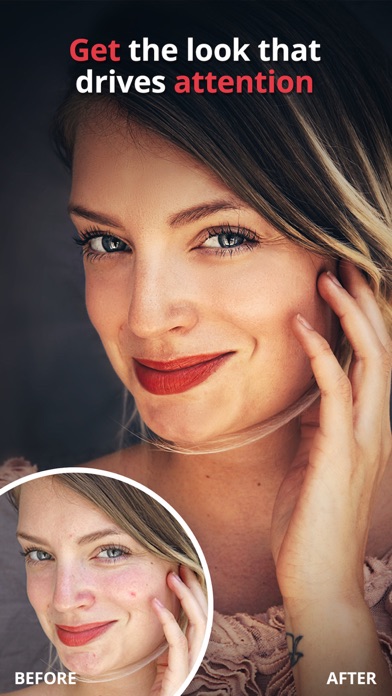 iPhone
iPad
iPad
iPad
iPad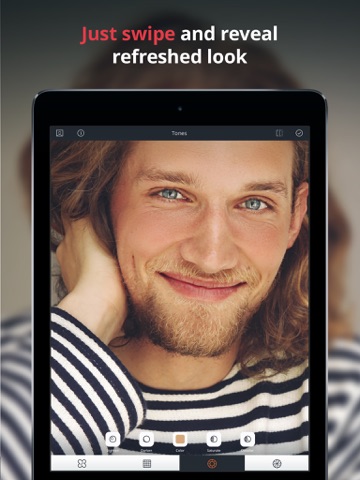 iPad
Relook App Add-Ons
Note: Add-ons available as in-app purchases
Relook Reviews
Great app very useful and easy to use
Perfect for touching up all kinds of photos