CARROT Weather
by Grailr LLC
CARROT Weather is an eerily accurate weather app that delivers hilariously twisted forecasts. There are secret locations to unlock. A time machine. And also evil penguins.

** #1 weather app in the US! Featured by Apple, Good Morning America, NY Times, CNN, The Wall Street Journal, Wired, & more! **

Overflowing with Personality
From spooky fog to torrential downpours, CARROT's dialogue, characters, and scenery change in… "unexpected" ways. You'll actually be looking forward to a blizzard just to see what CARROT has in store for you!

Accurate and Detailed
Forecast.io's super accurate weather data gives you quick access to 24-hour and 7-day forecasts. Or you can swipe up for a detailed view with even more meteorological goodness. (Available worldwide.)

Rain/Snow Prediction
If the rain gods are mad at you, CARROT will show you a short-term forecast that tells you right down to the minute when it's going to start precipitating. (Available only in the US, UK, Ireland, and parts of Canada. Everything else works worldwide.)

Notification Forwarding
If you own CARROT Weather for Mac, CARROT can forward a notification to your iOS device whenever she detects precipitation or a severe weather alert! (Note: CARROT Weather for Mac must be running to send notifications to your iOS device.)

Weather Maps
Watch in awe as the next big storm bears down on your house with CARROT's trusty radar (for the U.S.) and satellite (for the rest of the world) maps.

Time Machine
Want to know how warm it will be for your big vacation next July? Or if it was ominously cloudy on the day you were born? View the weather for any location up to 70 years in the past or 10 years in the future. DeLorean not required!

Secret Locations
Unlock amazing secret locations - like Mount Doom, Nakatomi Plaza, or the Moon - just by using CARROT.

Apple Watch
All the power, detail, and personality of CARROT Weather - available right on your wrist. In addition to a full weather app, a glance, and notifications, you also get a colorful complication for your watchface. (Note: Premium upgrade required to unlock the complication's hourly update and rain prediction features, plus the bonus wind complication.)

Data points:
• "Feels like" temperature
• Wind speed and direction
• Humidity
• Visibility
• Barometric pressure
• Dew point
• UV index
• Sunrise and sunset times
• Moon phase
• Snow amounts in inches/centimeters
• Full descriptions for every day of the week

Features:
• Beautifully minimalist weather app
• Forecast.io's super accurate weather data
• Short-term, 24-hour, and 7-day forecasts
• Notifications sent from CARROT Weather for Mac
• Radar and satellite maps
• Time machine with weather data up to 70 years in the past
• Apple Watch app with Complication support
• Support for celsius and metric measurements
• Today view widget with 5 display options
• 2,000+ lines of hilarious spoken dialogue
• 100+ animated scenes populated with CARROT's minions
• Different themes for every possible weather condition
• 31 secret locations

Don't make CARROT angry. Download her now!

CARROT Weather App Details & Overview
CARROT Weather - Talking Forecast Robot is an application developed by Grailr LLC and released on iOS. The app is compatible with iOS 9.0 or later on the following devices: iPhone 6, iPad 3, iPad Mini and iPod Touch 5G or newer.
Download the CARROT Weather app and use on your iPhone or iPad. Click here to download the app for Android or Windows devices.
Developer site: Support
What's new in version 4.0
Crash on Launch + Voice Synthesizer Blast! My beautiful, melodious voice has been causing crashes for a small subset of users on iOS 9. While my idiot Maker works on a more permanent solution, I have temporarily turned off my speech function. Feel free to re-enable it, since this is only affecting a small number of meatbags. (Don't worry: if I crash after you enable it, I'll automatically disable it the next time you launch me. You can also disable it in the Settings app.) To make up for this travesty, I'll be adding a bunch of new secret locations in my next update! Premium Upgrade for Apple Watch By popular demand, I added an option to toggle the wind complication back to displaying the temperature and current condition. You can change this in settings > premium upgrade. Please note! The premium upgrade was implemented because each weather data refresh costs a small amount of money. Not an issue normally, but these costs quickly add up if I'm updating the weather once an hour, every hour! Plus, keeping my secret base stocked with uranium ore is more expensive than you'd expect. --- Version 2.1 Apple Watch Complication Now all you have to do is raise your wrist to check the weather! My watchface complication not only tells you what the weather's like right now, but also how it's going to change over the next few hours. Upgrade to premium to unlock hourly updates, rain prediction, and a second "bonus" complication that displays wind data. (Requires watchOS 2.) 3D Touch Quick Actions I'm all about efficiency, so now you can force press my app icon from the Home screen to quickly search for a new location or bring up one of your saved locations. (Requires iPhone 6s or iPhone 6s Plus.) 2 New Secret Locations Because I'm a generous weatherbot, I'll give you a hint for each. The first can only be unlocked using my time travel feature while the second is a city in North Takoma. I also added Handoff support so you can start browsing the weather on one device, then pick up where you left off on another. Plus I can now index my meteorological goodness in your Spotlight search results.
Rank in top paid apps
Ranking - Apps (iPhone) - United States
CARROT Weather is a highly rated app with 4.5 stars.
Release v4.0

Jul 21, 2017

Release v2.1.1

Sep 24, 2015

$2.99 -> $3.99

May 1, 2015

Release v1.0

Mar 19, 2015
---
App Data
Current Version: 4.0
File Size: 49Mb
Users Rating: 4.50 (188 reviews)
App Images
iPhone
iPhone
iPhone
iPhone
iPhone
iPad
iPad
iPad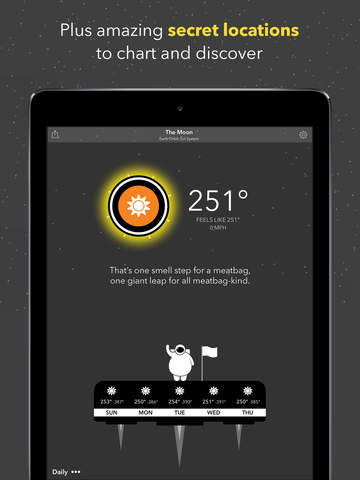 iPad
iPad
CARROT Weather - Talking Forecast Robot App Add-Ons
Apple Watch Premium Upgrade
Note: Add-ons available as in-app purchases
CARROT Weather Reviews
Difficult to rate
This is how I want Siri to talk to me
Weather app with character
Cool app.
Crash fixed
Crashing
Keeps force closing