LookFor - Find Friends. Instantly.
Universal app (iPhone/iPod Touch & iPad)
Category: Navigation | Release Date: January 6, 2015
Rate this App!
$0.99 > free
Description
Find friends in a crowd instantly with LookFor, the World's Dumbest App!

LookFor is the best way to find friends (and be found) in large crowds, concerts, movie theaters and more! No internet connection or GPS needed!

To be found, simply select a color, hold your phone over your head and let the blinking light direct your friends to your exact location. That's it! You will be amazed by how fast your friends find you! You can even instantly tell a friend or a group of friends to LookFor the color you chose with the in-app SMS messaging feature.

Sound dumb? Well…honestly it is dumb. In a world of smart apps, LookFor is easily The World's Dumbest App.

However, LookFor has proven to work EVERY TIME in situations like:

• Finding friends in packed concerts and music festivals (Beta tested at Coachella!)
• Instantly locating saved seats in a movie theater
• Being found in large outdoor crowds
• Flagging down a delivery vehicle
• Hailing a taxi

Because LookFor relies on a blinking light for location, LookFor works best in low light or dark settings.

LookFor was made possible by Chupamobile, Planet 1107 and the amazing backers of our Kickstarter campaign.

Not convinced? Try the web version of LookFor free at www.lookfor.cl.
What's new in version 1.2
Everything is still awesome!
Rank in top paid apps
Rankings - Navigation (iPhone)
App Changes
$0.99 -> Free

Apr 30, 2016

Free -> $0.99

Apr 28, 2016

$0.99 -> Free

Apr 16, 2016

Version 1.2

Jan 6, 2015
View price changes »
---
iOS Compatibility
LookFor - Find Friends. Instantly. requires iOS version 7.1 or later on the following device models: iPhone 6 ,iPhone 5 ,iPad 3 ,iPad Mini and iPod Touch 5G or newer.

Click the button below to download it from the iTunes store using your iPhone or visit the app's download page for android and other platforms.
Developer site: LookFor - Find Friends. Instantly. support
Screenshots
iPhone
iPhone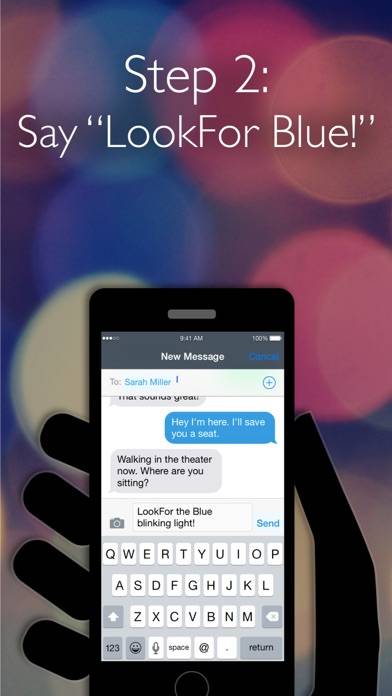 iPhone
iPhone
iPhone
Our Verdict: Average!
6/10
LookFor - Find Friends. Instantly. is a highly rated app with 4.5 stars.
The app is currently Free, instead of its regular price of $0.99.
Recent Reviews
Practical. Easy to use. Nice layout. No clutter. No name/words to type just pure color. I like the simplicity. Just...
very useful. i could give it 5 star rating if it locates exactly, i tried to locate my girlfriend phone which is in...
Genius. Family tracing Works amazingly well...
its brilliant...get it?. Great for family We all live apart and worry about each other. Being able to see that mom is home...
Simple and stable. So simple and it works.