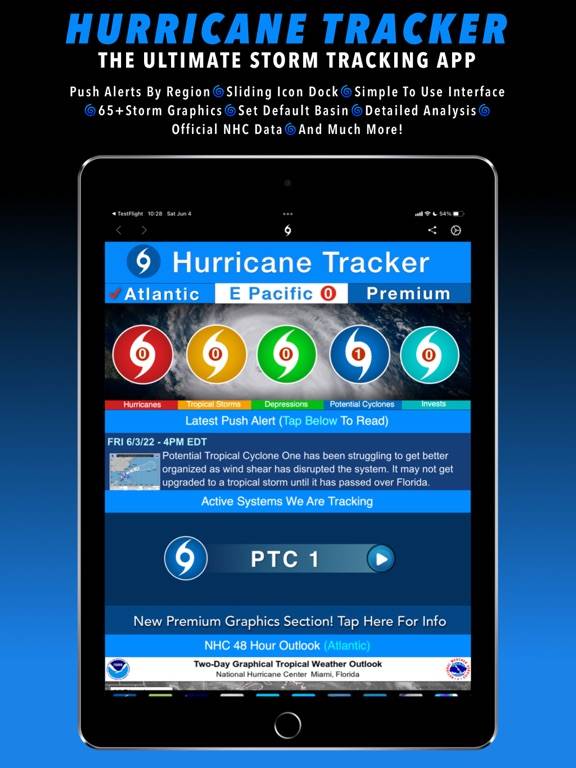 Hurricane Tracker For iPad
by EZ Apps, Inc.
7 years of tracking storms on iOS! Debuted Aug 2009!

Reviewed by CNN as the best Hurricane Tracking app available for iPhone GOOGLE: "cnn top hurricane app" to read the article!

Hurricane Tracker for iPad is the most used & most comprehensive tracking app available on any platform. What makes Hurricane Tracker for iPad different from the others in the App Store:

• Receive push alerts (by region) when a new storm forms or threatens landfall
• 65+ maps/images
• In-depth written discussions and analysis from our team
• Real time National Hurricane Center Updates (All NHC advisories & maps)
• Audio tropical updates
• Storm video updates
• Exclusive "Model Watch" section - check often to see what might develop next. Stay ahead of the storm!
• Custom graphics from our team of experts. Exclusive "Alert Level" & "Impact Potential" maps. Not just basic NHC info.
• Share information with friends/family via email, SMS, Facebook & Twitter
• Super detailed tropical wave/invest information
• Dozens of satellites
• Much, much more!

There is no other Hurricane tracking app out there that can match the amount of information you get-we guarantee it. Get the information you need to make informed decisions. Just look at our ratings for all versions over 6 years. 4.5 star average! We charge for our app because it's not just an automated product, our team is constantly creating graphics & writing detailed discussions. This is our full time job - keeping you informed.

Hurricane Tracker for iPad covers The Gulf of Mexico, Caribbean, Atlantic Ocean & Eastern Pacific. Our app also covers any storms that may affect Hawaii.

WHAT ARE THEY SAYING:

*Houston Press: "Finally, there is Hurricane Tracker. This app may have the best interface of the bunch, with a sliding set of navigation buttons at the bottom of the screen. This one, unlike either of the others, has audio and video updates"

*Email from Customer Scott DeLacy: "With the new maps under Outlook, you have SURPASSED everyone else out there...Hurricane Tracker is now British Virgin Islands Airways' primary tropical data source, No one comes close."

*Valued Customer Ray 007: "As good a review as you can give a service!"

*Valued Customer Dale Gattis: "I've been using this and Hurricane for the last two years and I have really come to rely on this app exclusively. Excellent!"

CONTACT US WITH ANY QUESTIONS:

Web: www.hurrtracker.com

Email: support@ezappsinc.com

Twitter: @hurrtrackerapp (live, real time updates)

*Hurricane Tracker is an extremely data intensive application. A WiFi or strong cellular signal is recommended for the best experience.

What's new in version 5.0.2
Version 5.0.1 Changes: > Added In-App purchases for users that would like to give a little extra to support our app & service. You can find these options in settings. Version 5.0 Changes: > To celebrate our 7th full season of tracking tropical storms and hurricanes, we are back this season with our biggest update ever! Due to the changes we wanted to make, our app now supports iOS 8+. Here's what's new in Version 5.0: PUSH ALERTS: • New push notification service (Launch the app at least once to configure push alerts so you will receive them going forward) • Receive push alerts based on region (you can choose up to 3 regions in the new settings panel • Added push alert section in app to view current and all recent alerts (app will open to this view when you tap on a push alert) • Rich push notifications with images are supported on devices running iOS 10+ • New push notification sound (wind). MULTITASKING: • Use Hurricane Tracker for iPad side by side along with another app on supported iPad •Slide over support on all iPads CHANGE DEFAULT BASIN: • The Atlantic basin is default, but you can change it to Eastern Pacific in the settings app • If you change the default basin to Eastern Pacific, the app will launch to the Eastern Pacific overview page when the app is opened and will also direct the overview, current storms, and outlook sections to Eastern Pacific • You can change back to Atlantic at anytime if you wish. CURRENT STORM DATA: • The app will now stay open in the background instead of fully closing • Each time the app is opened, the section you were viewing will auto-refresh to ensure you're getting the latest information • The new white animated hurricane symbol at the top is the new refresh button! Tap on it to refresh content • Pull down anywhere in the app to also refresh data • A new white progress bar will display while a section is loading. NEW SETTINGS PANEL: • Select Default Basin • Select up to three regions to receive push alerts for • In-App purchases for users that would like to give a little extra to support our app & service • Review & rate the app • Share app with a friend • App support • App tips • Team contact information. UI CHANGES: • New app tips alert will display when the app is first launched • New sections • Support for all iPad resolutions • New navigation bar with better placed controls • Replaced activity spinner with a white progress bar • White animated hurricane symbol at the top is the new refresh button - it spins when the section is loading! • Enabled swipe gestures on sides of pages to go back and forth • New pull to refresh animation which now shows a blue wave. > We have also made several fixes to many bugs that were reported and improved the overall stability and speed of the app. We hope you enjoy this new version, we have worked hard to continue to bring you the latest updates on the tropics! Please leave a new review and let us know what you think of the new update. Thanks for using Hurricane Tracker for iPad! ~ EZ Apps, Inc.
Rank in top paid apps
Ranking - Apps (iPhone) - United States
Hurricane Tracker For iPad is a highly rated app with 4.5 stars.
$2.99 -> $3.99

Aug 4, 2017

$1.99 -> $2.99

May 23, 2017

$2.99 -> $1.99

Apr 21, 2017

$3.99 -> $2.99

Oct 7, 2016

$2.99 -> $3.99

Oct 3, 2016

Release v4.2

Apr 26, 2010
---
Hurricane Tracker For iPad App Details
Hurricane Tracker For iPad is an application developed by EZ Apps, Inc. and released on iOS. The app is compatible with iOS 8.0 or later on the following devices: iPad 3 and iPad Mini or newer.
Below are the links to download the app on iOS. To download the app for Android, click here.
Developer site: Support
Quick Details
Current Version: 5.0.2
File Size: 24Mb
Users Rating: 4.50 (672 reviews)
App Images
iPhone
iPhone
iPhone
iPhone
iPhone
iPad
iPad
iPad
iPad
iPad
Hurricane Tracker For iPad App Add-Ons
Note: Add-ons available as in-app purchases
Hurricane Tracker For iPad Reviews
Extensive information-clearly displayed
SIMPLY THE BEST IN ITS CLASS!!!
Hands down, best tracking and update app