Embark on a perilous adventure to find and claim the Crown of Command. The Magical Quest Game for 1-6 players.

4.5/5 TouchArcade - "...sky high production quality with a full compliment of features."

4/5 BoardGameGeek - "A great game with a ton of content."

"Talisman: Digital Edition is one of the best board game ports available for iPad period." – Pocket Tactics

NOTE - Requires iOS 7.0 or later.

Talisman: Digital Edition is a classic fantasy adventure board game, where you embark on a dangerous quest, fighting dragons, battling serpents, and avoiding the deadly curse of the Hag. These are some of the many obstacles you will face. So choose your character wisely, Warrior, Assassin, Thief or Wizard? There are 14 available, unique in their strengths, weaknesses and special powers. To win the game race your opponents through a perilous realm, journeying to the heart of the land to find the crown of Command.

Features list:

Officially licensed Games Workshop game, using the Revised 4th Edition rules with official artwork.
Fully expandable game with more cards and characters available as inapp purchases. The Reaper, Frostmarch, Dungeon, Highland, Sacred Pool, City, Nether Realm, Blood Moon and Firelands expansions are available now with more added regularly.
Local multiplayer Pass to Play mode.
Realtime online multiplayer mode for 26 players. Play against anyone in the world! Game Center account required for online play.
Play against AI characters in offline games.
Optional House Rules included allowing you to tailor games to your liking.
Interactive tutorial.
Online rulebook.
AI speed settings so you can play the game at your own pace.
Turn log view all game actions in a detailed log.
Earn XP as you play! Levelup and unlock special Runestone cards, exclusive to this digital edition.
Languages English, French, Italian, Spanish, German and Polish.
Game Center Achievements
Leaderboard How do you compare to the World's best players?

NOTE - Compatibility: iPad2 or newer, iOS7.x
This app offers in-app purchases. You may disable in-app purchasing using your device settings. See http://support.apple.com/kb/HT4213 for more info.

For all the latest updates follow us on twitter: @Nomadgames and facebook: @Nomadgamesltd

FAQ -
Will you be making more expansions?
Yes! We'll be releasing more characters and all of the official expansion packs for the board game.

Can I play with my friends by passing the device around?
Yes! Get your family and friends together and race each other to the Crown!

Does the game offer cross-platform multiplayer?
It certainly does! Play against players on other platforms in online games.

Do I need to buy expansions to join an online game with expansions?
No! You do not need to buy expansion packs in order to join a game that is using them, but you cannot choose the characters from it until you purchase it.

Does the game have asynchronous play?
No. Talisman doesn't really suit asynchronous play due to players having to react to spell casting.

Need help? Use our walkthrough or sign up and make your contribution today.
Talisman App Details & Overview
Talisman is a board video game for iOS, developed by Nomad Games. The app is compatible with iOS 6.0 or later on the following devices: iPhone 7, iPhone 6, iPad 3, iPad Mini and iPod Touch 5G or newer.
Download the Talisman app and play on your iPhone or iPad. Click here to download the app for Android or Windows devices.
Developer site: Support
What's new in version 10.5
This update fixes several bugs, including these: Warlord no longer loses alignment based conscripted followers when changing alignment. Apprentice Mage no longer sees the top card of the Spell deck. Displacement can now be cast by someone in the Inner Region. Old Man of the Sea no longer affects you when you miss a turn. Placing a terrain card on the Mountain Pass will no longer cause a block. Fixed some slow down issues. Spaces will now glow red when there is a fire token them.
Rank in top paid apps
Ranking - Games (iPhone) - United States
Talisman is currently ranked #36 on the iOS store in united states.
Talisman is a good rated app with 4 stars.
The app is currently $1.99, instead of its regular price of $3.99.
$3.99 -> $1.99

May 25, 2017

$2.99 -> $3.99

May 21, 2017

$3.99 -> $2.99

May 17, 2017

$0.99 -> $3.99

May 1, 2017

$3.99 -> $0.99

Apr 28, 2017

Release v3.2

May 1, 2014
---
App Data
Current Version: 10.5
File Size: 70Mb
Users Rating: 4.00 (9 reviews)
App Images
iPhone
iPhone
iPhone
iPhone
iPhone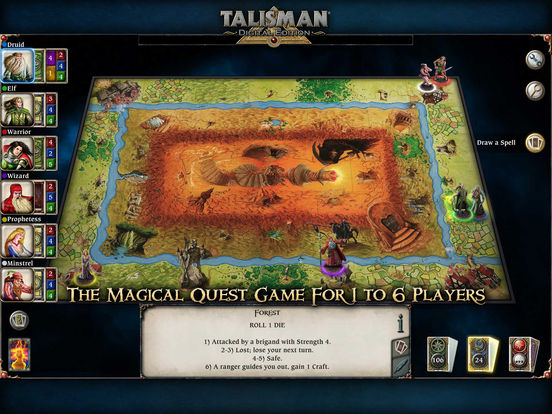 iPad
iPad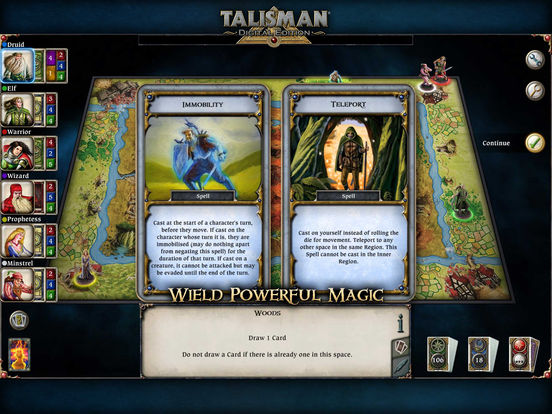 iPad
iPad
iPad
Talisman App Add-Ons
Character Pack #4 - Genie

The Dungeon Expansion Pack

The Highland Expansion Pack

The Reaper Expansion Pack
Note: Add-ons available as in-app purchases
Talisman Reviews
Great game...but..
update brings one more reason to love the game.
Download this!
Virtually Flawless Port
Classic
Great game, OK app
Fun for a minute