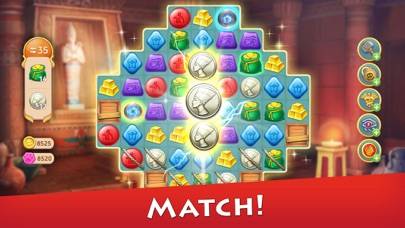 Cradle of Empires
by AWEM GAMES LTD
When boring, uninventive match-3 puzzles prevail and all hope is lost, it all comes down to one single game … Cradle of Empires! Become the Chosen One and help the ancient empire rise from the ruins in this adventurous match-3 game with a rich storyline, thrilling quests and captivating characters!

Cradle of Empires is an exciting — yet cool, calm and collected — family-friendly adventure. It takes you on a breathtaking odyssey that challenges your matching, building and collecting skills. With the help from Nimiru and Egyptian settlers, you can break the Amrun's curse and restore the ancient civilization to its former glory. Step up and become the secret weapon in the triumph of good over evil!

WHAT MAKES THE GAME SPECIAL?

● Unique gameplay mix: You make matches, build a grand city and go on an adventure all in one … How awesome is that?
● Mega-sized adventure: You'll be immersed in this engaging adventurous story with unexpected twists, gripping quests and memorable characters.
● Ancient cities and civilizations: You collect resources by playing match-3 levels, which help you rebuild the cities that evil had destroyed.
● Different game modes: You play 6 different match-3 modes, a variety you won't find anywhere else.
● Many power-ups: You can earn a diversity of bonuses, power-ups and amulets — you'll develop your own strategy for using them.
● Regular updates: You'll never run out of new adventures as you'll get new buildings, quests, bonuses, levels and whole civilizations in future updates.

All this and much, much more for FREE!

PLAYER REVIEWS
5/5 "Lots of different goals to achieve so I never get bored. Not the same match-3 as usual."
5/5 "Very addictive game!! Can't stop playing it !!"
5/5 "Great way to pass time. Puzzles are just hard enough to be challenging without being frustrating."
5/5 "Can't wait for the next version to come out"

STAY TUNED
Join us on: https://www.facebook.com/cradleofempires
Find us on: https://www.facebook.com/awemgames
Have more fun: http://www.awem.com/
Follow us on: http://twitter.com/#!/awem
Watch us on: http://www.youtube.com/user/awemgames
Enjoy our art on: http://pinterest.com/awemgames/

Need help? Use our Cradle of Empires Walkthrough page or sign up and make your contribution today.
What's new in version 4.3.0
Hurry to download newest update to Cradle of Empires with lots of amazing surprises! - Upgrade the Port to level 5 – Grow your building to get more experience and supplies - Upgrade the Hut, Field, Pottery, Sepat, Bakery and Factory to level 6 – Your city will impress you with its beauty and productivity - Challenge yourself with new pack of match-3 levels and all-new set of tiles - 16 original collections and unique items to find – Enjoy a diversity of useful artifacts as you gather them all - 160 new quests to complete while revealing more and more details of the story - New achievement Master of the Seas will bring rewards for all your anchors - Game polishing and bug fixes to make your favorite game even more addictive We hope you will enjoy these new features! Stay tuned for more to come! Thank you for playing Cradle of Empires! Join us on Facebook and be the first to know about last news: www.fb.com/cradleofempires
Rank in top paid apps
Ranking - Games (iPhone) - United States
Cradle of Empires is currently ranked #200 on the iOS store in united states.
Cradle of Empires is a good rated app with 4 stars.
Release v1.1.0

Jun 5, 2014
---
Cradle of Empires App Details
Cradle of Empires is a free-to-play adventure game app for iOS, developed by AWEM GAMES LTD. The app is compatible with iOS 7.0 or later on the following devices: iPhone 6, iPad 3, iPad Mini and iPod Touch 5G or newer.
Below are the links to download the app on iOS. To download the app for Android, click here.
Developer site: Support
Quick Details
Current Version: 4.3.0
File Size: 139Mb
Publisher:
AWEM GAMES LTD
Users Rating: 4.00 (357 reviews)
App Images
iPhone
iPhone
iPhone
iPhone
iPhone
iPad
iPad
iPad
iPad
iPad
Cradle of Empires App Add-Ons
Note: Add-ons available as in-app purchases
Cradle of Empires Reviews
Pretty cool game, great way to pass time!!
Good game, not a fan of pay to play