Weather Live Reloaded
by Apalon Apps
Meet Weather Live. The most beautiful weather app. Ever.

Don't let bad weather take you by surprise! Whether it is cloudy, raining, snowing or even stormy outside, Weather Live will provide you with current weather conditions and forecast in your city and multiple locations all around the world.

Cold or warm weather, it will magically come alive on the crisp screen of your iOS device. You won't even have to look out the window as Weather Live will make you feel like you are already outside! With an innovative technology Weather Live implemented into the app, we made it possible!

FEATURES:


Weather forecast and local time for your location and multiple cities all around the world
Extended forecast for any coming day of the week or hour: just tap it to get weather details
Forecast temperatures over the next 24 hours and 7 days in easytoread graphs. Just tap again on the day or the hour you are interested in and get the detailed temperature graph!
Weather widget for the Notification Center. Check current temperature, get an accurate forecast for the coming hours and days! All with a single swipe!
Search for a specific location by postcode, zipcode, IP, Airport Code, city/town name
Beautiful scenes reflecting realtime weather conditions
Cloud/Satellite/Rain maps
Animated weather radar to quickly see what weather is coming your way
Hurricane Tracker that displays past and current positions of tropical storms along with their forecasted path
Bad weather warnings and alerts to warn you about severe weather in your area. Data provided by National Weather Service
Daily report containing the latest weather data. Stay updated on the recent weather changes
Adjustable weather layout, check the basic information or go advanced. Choose weather parameters you want to be displayed in the layout settings
Current temperature as an icon badge right on your Home Screen
Alert notifications when temperature passes zero
Freeze Alert, notifies you when liquid freezing point is reached
An arrowshaped indicator reflecting pressure changes: a handy tool for pressuresensitive people
Sharing options: share the weather with friends across your favorite social networks

DEEP WEATHER DETAILS:


7day and 24hour weather forecast
"Feels Like" temperature
Dew Point temperature
Today's Max and Min
Wind direction
Wind speed in mph, km/h, m/s, knots or Beaufort
Wind Chill
Humidity and precipitation information
Visibility details
Sunrise/Sunset and Moonrise/Moonset time
Moon phases
Pressure in inches, mm, kPa or mbar
Fahrenheit/Celsius and Miles/Kilometers
12 or 24hour time format
Day time and Night time modes
UV index

APPLE WATCH:


On Apple Watch, it provides you with timely & relevant weather conditions illustrated with catchy icons. Get more details with just a swipe eight adjustable weather parameters and accurate forecasts for coming hours.

SOCIAL WEATHER:


Weather Live allows anyone to be a weather reporter. Confirm the weather or report your weather conditions to us and we'll use the information to improve the forecast for your location.

MORE FEATURES:


Easy navigation between cities: swipe either to the left or to the right to switch between locations

CUSTOMIZABLE LAYOUT:


All weather details
Hybrid
Text only
Circle View

Get Weather Live and be prepared for any weather!

AdChoices: http://www.apalon.com/privacy_policy.html#4

What's new in version 5.5
This update includes: - Visibility is now displayed as a separate section for you to glean the important info at a glance. Drive safe! - Ready, set, PRO! The app now supports an all-new 10.5-inch iPad Pro - Performance improvements you won't necessarily notice but definitely enhancing your experience with the app. Thank you for your continued support and comments submitted by email! Don't hesitate to share your impressions and feedback with us via support@apalon.com
Rank in top paid apps
Ranking - Apps (iPhone) - United States
Weather Live Reloaded is a highly rated app with 4.5 stars.
Release v5.5

Jul 28, 2017

$3.99 -> $4.99

Jun 3, 2017

Release v5.4

May 20, 2017

Release v5.3

Jan 16, 2017

$2.99 -> $3.99

Nov 30, 2016

Release v5.2

Sep 15, 2016

$3.99 -> $2.99

Sep 5, 2016

$2.99 -> $3.99

Aug 23, 2016

Release v5.1

Aug 9, 2016

$1.99 -> $2.99

Oct 22, 2015
---
Weather Live Reloaded App Details
Weather Live Reloaded is an application developed by Apalon Apps and released on iOS. The app is compatible with iOS 7.0 or later on the following devices: iPhone 7, iPhone 6, iPad 3, iPad Mini and iPod Touch 5G or newer.
Below are the links to download the app on iOS. To download the app for Android, click here.
Developer site: Support
Quick Details
Current Version: 5.5
File Size: 55Mb
Users Rating: 4.50 (13227 reviews)
App Images
iPhone
iPhone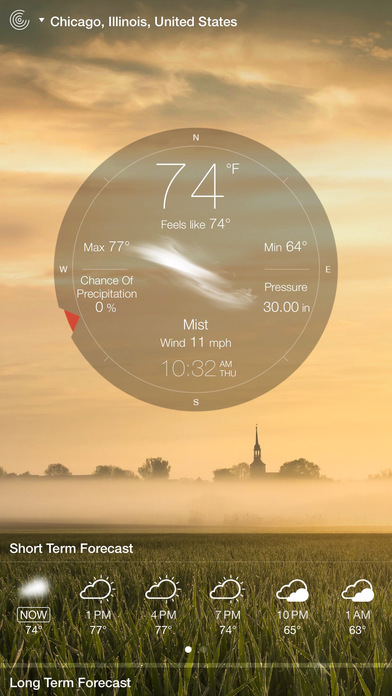 iPhone
iPhone
iPhone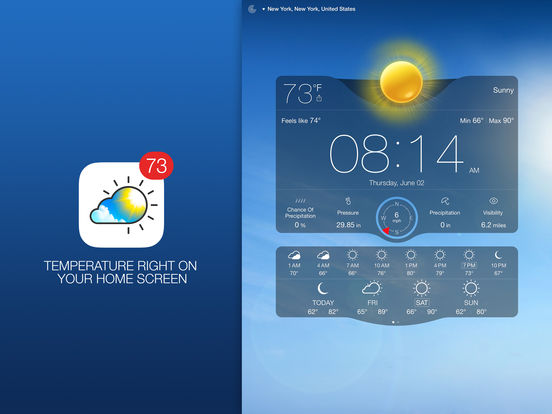 iPad
iPad
iPad
iPad
iPad
Weather Live Reloaded App Add-Ons
No add-ons has been found...
Weather Live Reloaded Reviews
Good but temp is often inaccurate