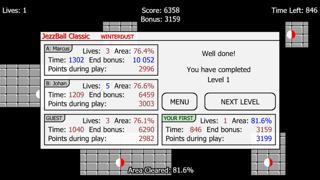 JezzBall Classic
by Marcus Bjuhr
JezzBall Classic was created to be just like how the original JezzBall was 25 years ago! The graphics, the sound, the scoring, the physics, the tempo... they are all the same as they were in the original. Of course there are improvements as well; for example there's a much higher frame rate and fixed glitches. Plus a lot of bonus stuff, such as new game modes!


Gameplay:

In JezzBall there are a number of Jezz atoms that bounces around. Your task is to build walls that contain them in as small space as possible. When over 75% of the playarea is built upon the current level is completed and you move on to the next where another Jezz atom is added into play.

Press down to place the origin of the wall, move to determine the orientation of the wall and release to actually start building it. The wall is constructed in two directions from the center, if a wall-half is hit by a Jezz atom before it has reached an already existing wall it is destroyed and you lose a life.


Features:

+ The original JezzBall experience! Into the very last detail; if you came looking for the JezzBall you remember you will not be disappointed!

+ Four profiles (one reserved for guests) with their configurations stored separately.

+ 700 beautiful background images (real life photos). Go to the "Graphics" config screen to enable it. Will place a random image into the black walls each level.

+ 8 music tracks of classic MIDI tunes you'll probably remember! All recorded using SoundBlaster 16. You can set up to 24 music audio events if you want to.

+ 60 fully customizable SFX audio events - change which sample(s) to play or change individual volumes. A pool of 300 sounds are available from various old games.

+ Automatic saving of all games in progress. Stop and continue whenever you want to!

+ Local high score lists. In the Hall of Fame your name will last forever and on the three other lists you will see the daily, weekly and monthly high scores.

+ Level records. All your best statistics are saved on each and every level you complete. Profile records are comparable.

+ Smart and very customizable controls. If you have a touchscreen you can play using your fingers.

+ 83 mods that once activated changes how the game is played! Use none or pick one/several at the same time in any order. High scores and level records are stored separately for each combination. Some mods will just change the amount of time/lives you have while other will drastically change gameplay (allow you to use two wallbuilders at the same time for example).

+ 22 preset mod-combinations are provided in addition to the original JezzBall experience to give you variation.

+ 100 rooms that will stimulate your intellect as well as your ability to time your deployments! Can you solve them?

+ There are also missions available to inspire you to break your personal bests. Completing them all is an achievement!


If you enjoyed similar games like Qix, Xonix, Barrack or KBounce you will love JezzBall Classic! It may not be near as well-known as the biggest arcade puzzle games but JezzBall stands its ground as one of the most addicting ones and I promise you will find JezzBall Classic both challenging and enjoyable.


+ Do you wish to try the game before you buy it? There is a lite version available!

+ The game is also available for PC on winterdust.com if you'd like to play with a mouse.


Good luck containing those Jezz atoms!

Need help? Use our JezzBall Classic Walkthrough page or sign up and make your contribution today.
What's new in version 2.0.1
+ Sound! 8 music tracks and 300 noises available for 24+60 audio events + Can turn on better looking scrolling lists in graphics + Added dotted border around the main menu Mod Map button to make presets less hidden + 9 new mods (2 are new atoms) + 3 new presets: The appender, The bear cave and The caretakers + The middle cover from the Cover mod now becomes transparent when finishing a level + Improved descriptions for the preset game modes + Can now set the deployment flag to always show + Changed default of "Show level record of other profiles" to OFF + Now using higher anti-alias settings + Will now see the background image slightly better upon the end-of-level fill + Can now render the game in up to 8 times the original resolution + Quicker loading at the start of the game + Added 200 new background images + Doubled the resolution of all background images + Better at reflecting changes on the first page of the graphics configuration + Quality setting for fade effects + More efficient reuse of existing bitmaps in memory + Doubled max framerate to 120 + More accurate internal time measurement + Now showing the current level number on the main menu + Now able to temporary boost the game speed (less waiting for bounces to finish) + Can select what the second finger does: Reposition Flag, Toggle Direction, Boost Speed or Abort Deployment + Can select what any physical button on your device does: Toggle Menu, Toggle Direction or Boost Speed + The destruction of wallbuilders moving into a Jezz Atom is now delayed to give visual feedback of what's happening + Score gained from the Bonus Atom is now reduced if the level speed has not been Fast the whole time + The Drawing Walls mod now grants bonus points for more complex wall constructions + Can select one of three visual effects for wallbuilder destruction (or keep it as none) + Enhanced randomization and loading of background images + Removed random chance from the Freeze Atom, it now appears at set amounts of created wall cells + Changed (simplified) preset "The arcade" to differentiate it more from "The arcadium" + Changed preset "The shepherd" to differentiate it more from "The divisor" + Changed preset "The adventure", now have normal number of lives and each life is worth twice as much end bonus + The Missile Atom now only launches missiles if a wallbuilder is in the same area as itself + A third atom should no longer be able to break free two other atoms that are stuck next to each other + Fade effect possible on built wall lines and on failed (destroyed) pending walls + The Wallcrawler (WAL mod) now starts at a random location instead of always in the bottom right corner + The Wallcrawler (WAL mod) now does a visual "landing" animation at the start of each level + The Wallcrawler (WAL mod) now disappears when level is lost due to 0 lives (instead of returning to transparent) + Added a "Use Recommended?" button to allow new players to quickly change graphics from the default classic theme + Will now highlight the config, mod-map (presets) and HQ buttons until the first time they are pressed + Grouping mod: The line-of-sight for red-white and blue-white atoms will be shown as dashed lines when the level ends + Exiting a room in the headquarters now returns you to the main menu at once + The "Speed is key" mod can now award a much more satisfying maximum end bonus + A whole bunch of minor tweaks here and there
Rank in top paid apps
Ranking - Games (iPhone) - United States
JezzBall Classic is currently ranked #199 on the iOS store in united states.
$2.99 -> $4.99

Apr 26, 2016

Release v1.9.0

Sep 12, 2011

Release v1.9.0

Sep 12, 2011
---
JezzBall Classic App Details
JezzBall Classic is a puzzle game app for iOS, developed by Marcus Bjuhr. The app is compatible with iOS 5.1.1 or later on the following devices: iPhone 7, iPhone 6, iPad 3, iPad Mini and iPod Touch 5G or newer.
Below are the links to download the app on iOS. To download the app for Android, click here.
Developer site: Support
App Images
iPhone
iPhone
iPhone
iPhone
iPhone
iPad
iPad
iPad
iPad
iPad
JezzBall Classic App Add-Ons
No add-ons has been found...
JezzBall Classic Reviews
Bugs fixed! Game officially works again! (iOS 10.2
Does not work with iOS 8.1.2.please fix this