iConnectHue
by Crossfire Designs
Universal App - Designed for both iPhone and iPad.
$4.99 > $3.99
App Description
Get the best out of your Hue system!
iConnectHue lets you play with your lights, drag & drop colors, animate them and store your favorite colors. It gives your Dimmer, Tap and Motion sensor much more flexibity than any other available app:
Colors, Presets (scenes), sleep timers, brightness, blinking, on/off and (with animation editor purchase) even color animations! The motion sensor can either turn off or return to the last state on inactivity.
Set up your lights in groups and use the same lights in multiple groups - just as you need them. Normal, daylight, sleep and conditional timers - all available on your groups.
iConnectHue is also available for the iPad! Look for iConnectHue HD!
iConnectHue was made to be powerful, but still to solves complex tasks with relative ease to use. This all comes in a nice clean package! It's possibly the only app you will need for your Philips Hue Lights!
More information on
http://iconnecthue.com
PLEASE NOTE: If you have any issues, consider contacting support instead of giving a negative rating - most times your issues can be solved or answered. A rating will not get your app back to work, but the support can help - simply use the integrated contact function.
Why iConnectHue?
• Full feature set - control almost every aspect of your hues - and constant updates
• Family focus: Preset sharing, family geofencing (first one turns on the light, last one off - in app purchase), light & group order, group hiding (animation only shared on devices w/ same iCloud account)
• Upload color animations to your bridge. No more empty iPhone batteries, and everybody with iConnectHue can stop them!
• Group your lights - for example by room, share lights between groups
• Drag & drop colors from one light to another
• Everything happens on your bridge - your iPhone can stay off!
• Multiply the possibilities of your Hue Tap, Dimmer and Motion Sensor! More flexibility than any other app one the market (details:
http://iconnecthue.com/features
)
• Access your lights and timers when not at home
• Powerful timers: Start them by time and day, by condition (group on/off), by presence (Automation in app purchase), use colors & presets, use random offsets, at sunrise or sunset time
• Slowly fade down the lights when you go to bed or slowly fade over to another preset
• Include your Living Colors / Living whites and 3rd party lights into your Hue system - iConnectHue can find them via Touchlink!
• Find new lights & devices, add lights from other bridges, update your firmware
• Integrated tutorials and FAQ make it easy to understand the usage and to solve problems (if not, just send a feedback)
• Connect faster to the bridge on app start than the original Hue app - no more useless waiting!
• Supports every Philips Hue hardware and most if not all 3rd party lights
You need more? Additional modules are available via in app purchase:
• Automation turns off lights when the first arrives and the last left
• Create the animations you want, upload them to switches, have them on your Apple Watch, widget and for timers
• REAL multi bridge support - control multiple bridges with just one app, without switching between them
• With Watch Plus you can give voice commands (also old bridge), control your groups, adjust their brightness and load their presets, start sleep timers
• Create the iOS widget you want! Add presets, switches, a shortcut to the sleep timer, light states and dimmers
• Save energy: Turn off devices with Living Whites & Osram Lightify plugs when not at home (included in Automation)
• Additional animation packages
• All in app purchases shared with iPad version, if same iTunes and iCloud account used
It's less than a single Hue light. If you think it's expensive, have a look what app development means:
http://iconnecthue.com/?page_id=109
What it does more compared to Philips' app:
http://iconnecthue.com/?page_id=19#comparison
Terms of use:
http://iconnecthue.com/terms/eula_en.pdf
What's new in version 2.9.1
2.9.1: This release solves problems some users were experiencing in the motion sensor- and widget editor as well as the widget. Thank you for your patience to withstand the problems for a few days and enjoy iConnectHue! 2.9.0: There's nothing that can't be improved - iConnectHue brings you new innovative functions and an overall improved app: • A brand new watchOS 3 app • Temperature display in the widget • Interrupt your motion sensor with switches, combine two of them • Improved animations, new animation packages • New light fixture suggestions • An optimized app and widget • Improvements in the switch editor You will see a detailed list upon opening the updated app. Additionally, you can find the information again under "Help & More" within the app. Please note: The new watch app requires watchOS 3! Older watchOS versions are not supported any longer! Please update your watchOS in case you haven't already! Your feedback is welcome! Never forget, this app wouldn't be here without you! Please leave a positive rating in the App Store, if you like these changes or want to support iConnectHue. If you run into any issues, don't hesitate and use the contact function in the app. You will surely get support!
Rank in top paid apps
Ranking - Apps (iPhone) - United States
iConnectHue is currently ranked #199 on the iOS store in united states.
iConnectHue is a highly rated app with 4.5 stars.
The app is currently $3.99, instead of its regular price of $4.99.
Updates
$4.99 -> $3.99

May 18, 2017

$3.99 -> $4.99

Jan 12, 2016

$4.99 -> $3.99

Jan 9, 2016

$3.99 -> $4.99

Apr 24, 2015

Release v1.6.0

Apr 29, 2013
View All Activity »
---
App Details
Current Version: 2.9.1
File Size: 27Mb
Publisher:
Crossfire Designs
Users Rating: 4.50 (3 reviews)
App Overview
The iConnectHue app game is now available for $3.99 on iOS. The app is compatible with iOS 9.0 or later on the following devices: iPhone 7, iPhone 6, iPad 3, iPad Mini and iPod Touch 5G or newer.
Download iConnectHue and use it on your iPhone or iPad (See button below). You can find links to download the app here.
Developer site: Support
Screenshots
iPhone
iPhone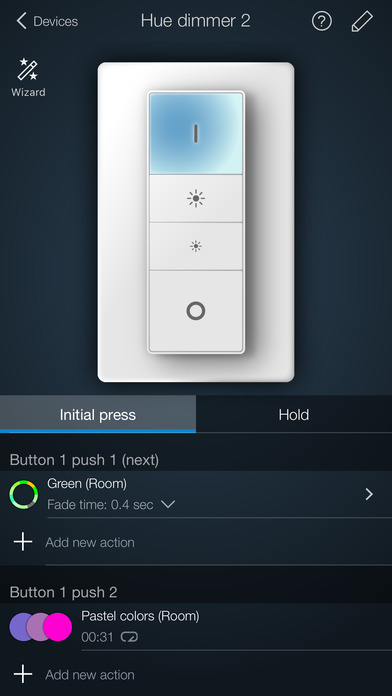 iPhone
iPhone
iPhone
IConnectHue Has Add-Ons
Christmas animation package
Note: Add-ons available as in-app purchases
Reviews
App

Best app out there, Works with Osram Lightify Plug

Amazing App!

Great app for Hue

Widget Background Still Wonky

Philips Hue essential

Must-have for Hue users