Videoshop
by Appsolute Inc.
Universal App - Designed for both iPhone and iPad.
App Description
Videoshop is an easy video editor with fast editing tools, filters and many other effects for personalizing your videos.
FEATURES
1. Trim: Cut out any unwanted moments. You can also split your videos into multiple clips.
2. Music: Add from your iPod library or Buy Clips from the Videomall.
3. Sound effects: Choose from animals noises, farts, Vine quotes, explosions, laughter, etc.
4. Slow motion (or fast motion): Adjust video or audio speed to slow or fast.
5. Adjust Display: Change Brightness, Contrast, Saturation, etc.
6. Merger: Combine multiple clips into one.
7. Text: Type your own text with color and various fonts.
8. Voice overs: Record your own voice over the video.
9. Animated titles: Introduce your videos with animated titles.
10. Filters: Select from several filters to enhance your videos.
11. Transitions: Choose from 10 transitions to animate between video clips.
12. Photos: Create slideshows easily.
13. Stop Motion: Create claymation videos with stop motion recording.
14. Resize: Rescale your video within the video frame.
15. Reverse: Playback videos in reverse.
16. Copy: Create duplicate video clips.
17. Tilt Shift: Add depth to your videos.
18. Rotate: Rotate your videos in 90 degree angles.
19. Undo: Undo any slippery editing mistakes.
20. Share on Vine, Snapchat, Instagram, Facebook, YouTube, Vimeo, Dropbox, Whatsapp or by E-mail.
Note: Videoshop is compatible with iPhone and iPad videos only. Using videos from other platforms may cause instability or crashes.
Also, adding just an enormous amount of content and effects may overwork your phone's processing power so be modest!
Publishers and Business Development can reach us at joe@videoshop.net
Marketing and Advertising can reach us at marketing@videoshop.net
TERMS OF USE
http://videoshop.net/terms
What's new in version 6.0.1
Major Upgrades: 1) IMPOSE tool - Add video/photo over your current video project! 2) BACKGROUND tool - Insert animated or solid backgrounds to your videos. Unlock in SETTINGS. 3) KEN BURNS tool - Add Animated panning and zooming to your videos. Unlock in SETTINGS. 4) 8 New Filters: TOON, PASTY, BRILL, DREAM, HOLLYWOOD, SUMMER, BLUE LEAK, YELLOW LEAK 5) Now available in Spanish, German, French, Russian, Japanese, Chinese, and Korean! Minor Upgrades: 1) Fixed the "Split" button 2) Fixed the "Ghost" mode 3) Fixed a number of aesthetics 4) Bug fixes and performance improvements. Tips & Tricks: While trimming or modifying speed, if you swipe across the video screen you can move the trim handles more precisely. This helps you pinpoint the timing down to the millisecond! You don't need to click and drag the handles. Just swipe across the video screen! Found a bug? E-mail me at bugs@videoshop.net and tell me the following: 1) iPhone version (5S, 6, 6+, 6S, 6S+, 7, 7+) 2) iOS version (8.0/9.0/10.0/10.1) 3) Steps to make the crash happen. Publishers and Business Development can reach me at joe@videoshop.net Marketing and Advertising can reach us at marketing@videoshop.net
Rank in top paid apps
Ranking - Apps (iPhone) - United States
Videoshop is currently ranked #7 on the iOS store in united states.
Videoshop is a highly rated app with 4.5 stars.
Updates
Release v6.0.1

Dec 20, 2016

Free -> $1.99

Dec 18, 2016

$1.99 -> Free

Dec 16, 2016

Release v5.5

Oct 5, 2016

Release v5.4.3

Sep 19, 2016

Release v5.4.2

Aug 23, 2016

Release v5.4.1

Aug 4, 2016

$0.99 -> $1.99

Dec 5, 2015

$1.99 -> $0.99

Nov 26, 2015

Free -> $1.99

Oct 4, 2015
View All Activity »
---
App Overview
The Videoshop app game is now available for $1.99 on iOS. The app is compatible with iOS 8.0 or later on the following devices: iPhone 7, iPhone 6, iPad 3, iPad Mini and iPod Touch 5G or newer.
Download Videoshop and use it on your iPhone or iPad (See button below). You can find links to download the app here.
Developer site: Support
Screenshots
iPhone
iPhone
iPhone
iPhone
iPhone
iPad
iPad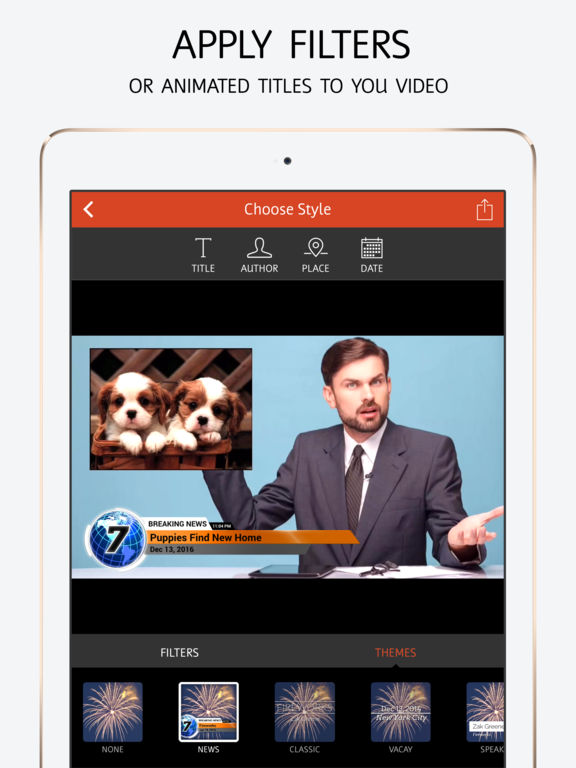 iPad
iPad
iPad
Videoshop - Video Editor (FREE) Has Add-Ons
Note: Add-ons available as in-app purchases
Reviews
Amazing video editing app

Huge fan

This works great!

Huallaga esparigus hump

YES ITS AWESOME

Complete solution for quick social vids

Pretty good and easy to use