* Universal App - iPhone & iPad at the same purchase
* Cult of Mac - "EveryThink an amazing get-it-all-done-and-in-one-place app..."
* LAPTOP Magazine Blog - "EveryThink iPhone App Redefines Organization"

EveryThink integrates best-in-class calendar and task management, using breakthrough UI capabilities to provide powerful organizational tools while maintaining an intuitive, beautiful and elegant interface.
Drag-hover-Drop (DhD) – EveryThink's patent-pending UI breakthrough – is an App-to-App drag and drop, enabling an intuitive activation of all EveryThink functions.
Events and tasks are integrated in all EveryThink views, allowing for optimized time management planing, as tasks are managed within the context of calendar constraints. For example, you can DhD a task to spawn one or several Calendar time slots for performing the task.
Adding any type and number of data objects to events or tasks, translates into a simple DhD from the data source into the planner. Events and tasks can hold: spreadsheets, presentations, documents, maps, contacts, websites, voice notes, images, etc. Either from within the phone or off the cloud (e.g. Google Drive).
Organic synchronization with both iOS calendar and Reminders is combined with two-way sync with Outlook, Google, Yahoo and other popular calendars.


Apple, iPhone, Reminders and AppStore are trademarks of Apple Inc., registered in the U.S. and other countries.
iOS is a trademark or registered trademark of Cisco in the U.S. and other countries.
Microsoft, Microsoft Excel, Microsoft Word, Microsoft Power Point and Microsoft Outlook are trademarks of Microsoft Corporation in the United States and/or other countries.
Google, Google Calendar, Google Drive and Google Maps, are trademarks of Google Inc.
Yahoo and Yahoo Calendar are trademarks of Yahoo Corporation.

EveryThink App Details & Overview
EveryThink is an application developed by EveryThink and released on iOS. The app is compatible with iOS 8.0 or later on the following devices: iPhone 7, iPhone 6, iPad 3, iPad Mini and iPod Touch 5G or newer.
Download the EveryThink app and use on your iPhone or iPad. Click here to download the app for Android or Windows devices.
Developer site: Support
What's new in version 2.5.92
· Fixed crash on view Evernote files · Evernote is working much better now thanks to your feedback :) If you have any feedback or questions, we'd love to hear from you! We offer free tech support; please email support@everythink.us If Everythink helps you be more productive, we would appreciate an App Store review. Your review will help other people find Everythink and make them more productive too :)
Rank in top paid apps
Ranking - Apps (iPhone) - United States
EveryThink is a good rated app with 4 stars.
$2.99 -> $6.99

Mar 11, 2017

$6.99 -> $2.99

Mar 5, 2017

$0.99 -> $6.99

Feb 19, 2017

$6.99 -> $0.99

Feb 14, 2017

$4.99 -> $6.99

Jul 7, 2015

Release v1.3.1

Feb 20, 2013
---
App Images
iPhone
iPhone
iPhone
iPhone
iPhone
iPad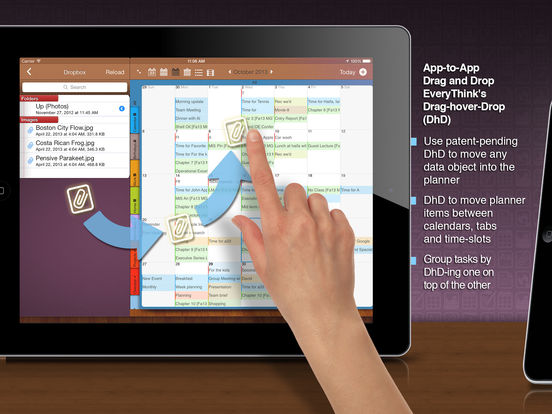 iPad
iPad
iPad
iPad
EveryThink App Add-Ons
Calendars - Football Brazil 2014 edition

Calendars - NCAAF 2014 edition

Calendars - Pro Football USA 2013-2014 edition

Calendars - NCAAF 2013 edition

Calendars - Pro Baseball US 2014 edition
Note: Add-ons available as in-app purchases
EveryThink Reviews
Picky calendar user happy
good app
Look no further!
It is perfect
User friendly and nice features
Exceptional, very useful
Keep everyone organized