Create beautiful websites right on your iPhone and iPad!
"If you don't know or don't want to learn HTML, this is the web page creation software you want..." About.com

KEY FEATURES

Publish to your own web host! True standalone web designer with FTP and SFTP upload support. One time purchase with ZERO monthly subscription fees.
Touch based drag and drop editor
Add images, text, links, beautiful lightbox photo galleries and amazing photo slideshows to your website with simple touch gestures (no need for coding!)


Design on both mobile and desktop
HTML Egg is now also available for Mac! You will be able to sync and work on both your mobile devices and desktop at the same time. (Mac edition sold separately)


Publish to your own web host provider
Upload to your own domain name (with support for regular FTP, SFTP and FTP/SSL). Please note this app is a standalone web design software, web hosting service is not provided, you will require own web hosting service in order to publish online through FTP.


Build unlimited number of web pages and websites
Easy backup and restore options for Dropbox, iTunes File Sharing as well as direct Web Import ensures your website data is always accessible


Professionally designed templates
Start your creative design from a blank canvas or choose from dozens of beautifully crafted templates (including styles for both business and personal home pages)


Share workinprogress designs
If you are working in a team or collaborating with clients, you can quickly share fully editable copies of your work through email


Integrate social web widgets with HTML Snippets
Power up your web page by embedding custom HTML snippet to integrate widgets such as YouTube videos, Twitter and Facebook


Create and update your sites on the go
File edits are automatically saved locally on the device, this allows you to create and edit while offline. Internet connection is only required when you're ready to upload. You may also publish copies of the web page in PDF format.


Check out our amazing website showcase
You are invited to check out video demos as well as a showcase of websites created by users of this App at http://www.htmlegg.com

TECHNICAL SPECS

Style texts with over 70 font styles including the full collection of iOS fonts and a beautiful selection of web fonts
Supports 140 gorgeous colors and shades (nicely arranged by palette colors)
Supports multiple layers with free form arrangement
Supports special CSS effects such as shadow, object opacity and shape transformations
Snap to grid with adjustable grid size and line colors
Resize images right within the App with gestures
Move objects around the page, easily rearrange at anytime
Multi Select: group multiple objects together for resize, move and style
Saves multiple FTP, FTPS and secure FTP accounts
Fully customizable title and file name
Optimize for search engine listings with meta keywords and meta descriptions tags
Image generation supports outputs in both PNG and JPEG format
Automatically supports advanced features for generating retina display compatible HD images
HTML generation engine presents neatly formatted HTML and CSS source code
Preview page designs in web view using the built in browser
Universal App, native designs supported on the iPad, iPhone and iPod touch
Fully supports retina display. Enjoy high definition graphics, crisp text, and brilliant colors

****Featured here is the Classic Edition. Please visit htmlegg.com for Classic vs. Pro feature comparisons.

Are you creating your next website with an iPhone, iPod touch or iPad using HTML Egg? We would love to hear from you, please send your comments and questions to htmlegg@aidaluu.com

Web Page Creator for iOS App Details & Overview
Web Page Creator for iOS - HTML Egg is an application developed by Aidaluu Inc. and released on iOS. The app is compatible with iOS 8.0 or later on the following devices: iPhone 7, iPhone 6, iPad 3, iPad Mini and iPod Touch 5G or newer.
Download the Web Page Creator for iOS app and use on your iPhone or iPad. Click here to download the app for Android or Windows devices.
Developer site: Support
What's new in version 7.43
- improvements for page import - bug fixes and performance improvements
Rank in top paid apps
Ranking - Apps (iPhone) - United States
Web Page Creator for iOS is currently ranked #200 on the iOS store in united states.
Web Page Creator for iOS is a good rated app with 4 stars.
$4.99 -> $15.99

Jun 19, 2017

$15.99 -> $4.99

Jun 7, 2017

$2.99 -> $15.99

May 26, 2017

$15.99 -> $2.99

Apr 12, 2017

$3.99 -> $15.99

Apr 8, 2017

Release v6.0

Jul 14, 2011
---
App Data
Current Version: 7.43
File Size: 49Mb
Users Rating: 4.00 (351 reviews)
App Images
iPhone
iPhone
iPhone
iPhone
iPhone
iPad
iPad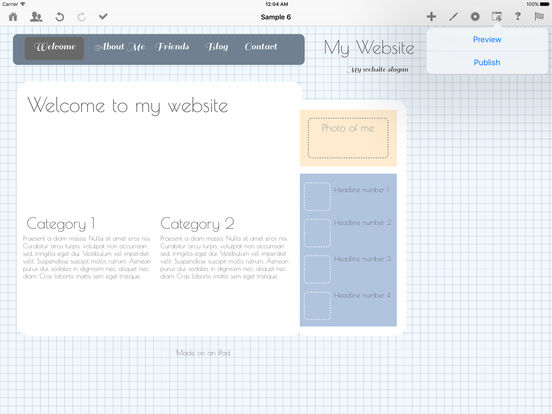 iPad
iPad
iPad
Web Page Creator for iOS - HTML Egg App Add-Ons
No add-ons has been found...
Web Page Creator for iOS Reviews
Just what I have been Waiting for
super slick!!
Like this app!
Good app
Updating my Site is So Easy Now.
The Best!
The Best!!!