KyPass 2
by Miguel Vanhove
Universal App - Designed for both iPhone and iPad.
$6.99 > $4.99
App Description
KyPass 3 is an application for people with extremely high demands on secure personal data management.
It uses the same database format than the open source software KeePass Password Safe.
Your database could be backed up:
with iCloud Drive,
with Dropbox, the best backup service in the world (free accounts come with 2gb of space, enough for your KeePass databases) ,
with google drive,
or with any webdav compliant cloud service.
KyPass 3 saves many different information (user names, passwords, urls, comments, ...) in one single database. The entries are sorted in groups. The integrated search function allows to search in the complete database.
UNIQUES FEATURES
iCloud Drive, Dropbox & Google Drive support (twoway synchronization).
Autofill username/password in internal browser !
Universal application.
Icon are displayed in view.
All orientations support.
Read/Write mode for .kdb and .kdbx file (also v4)
Password generator
Webdav local server.
Download database from URL
Password generator
External keyboard support
Pin Code
More feature are available on our website at http://www.kyuran.be
Dropbox users: by default, the databases have to be in the '/Crypted' folder of your Dropbox. This folder could be change in the settings.
What's new in version 3.8.2
(bug fixes) Google drive upload works again
Rank in top paid apps
Ranking - Apps (iPhone) - United States
KyPass 2 is a good rated app with 3.5 stars.
The app is currently $4.99, instead of its regular price of $6.99.
Updates
$6.99 -> $4.99

May 23, 2017

$4.99 -> $6.99

May 20, 2017

$6.99 -> $4.99

May 17, 2017

$4.99 -> $6.99

May 11, 2017

$6.99 -> $4.99

May 9, 2017

Release v3.1

Sep 18, 2012

Release v2.0

Sep 18, 2012
View All Activity »
---
App Overview
The KyPass 2 app game is now available for $4.99 on iOS. The app is compatible with iOS 9.0 or later on the following devices: iPhone 7, iPhone 6, iPad 3, iPad Mini and iPod Touch 5G or newer.
Download KyPass 2 and use it on your iPhone or iPad (See button below). You can find links to download the app here.
Developer site: Support
Screenshots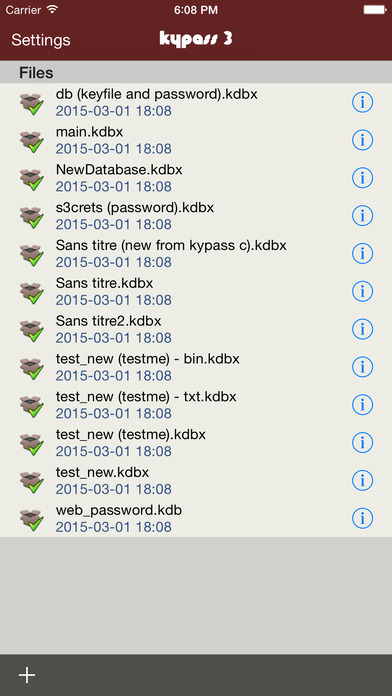 iPhone
iPhone
iPhone
iPhone
iPhone
iPad
iPad
iPad
iPad
KyPass 2 Has Add-Ons
No add-ons has been found...
Reviews
GDrive sync doesn't always work.

Great with Annoyances

Best KeePass implementation on iOS

great with 2 awful stupid annoyances

Rapid response to the search bug... could still us

Back to 5 stars

This App Is Excellent for KeePass Users