Guns, Cars, Zombies!
by DENALI GAMES LLC
Guns, cars and zombies! Who wants more?

Smash through zombies in this action-packed post-apocalyptic racing game. Pimp your ride, mount your gun and drive through various dangerous locations full of deadly enemies. Do you have the skills to survive the attack of zombie hordes on the road?

Guns, Cars, Zombies! is the most epic post-apocalyptic racing game where you have to battle zombies for survival.


▶ CUSTOMIZABLE CARS ◀
Choose your style and build your unique zombie survival car!
Muscle cars, hot-rods, sport cars, pickups and other crazy vehicles to choose from.
Every car is fully customizable with dozens of unique parts.

▶ DEADLY WEAPONS ◀
Mount various weapons to the car to be more deadly.
Shoot zombies to survive.

▶ PLAY THE STORY ◀
Play through four campaigns and complete more than a hundred levels.
Each campaign has its own location to drive through, special enemies to kill and unique missions to complete.

▶ FIRE AT WILL ◀
Get out of the driver's seat, hop in behind the turret and shoot down all of the zombies!

▶ SCAVENGE ◀
Visit abandoned places to find loot

▶ CHALLENGES ◀
Can you survive a road full of zombies and obstacles?
Challenge your driving skills on dozens of special levels.

▶ ONLINE TOURNAMENTS ◀
Compete against other real players and win big prizes in daily tournaments!
Climb up the leaderboard, get promoted to higher league and show the world that you are the best survivor of the apocalypse.


▶ HOW TO PLAY ◀
Hit zombies and avoid obstacles on the road
Shoot zombies for bonuses
Build a zombie-proof car to be unstoppable
Collect resources to purchase, upgrade and customize your vehicles and arsenal

▶ HINTS ◀
PLAY every day for valuable free rewards
Complete QUESTS to get resources
FORGE resources to craft powerful items
Visit the BOUNTY HUNTER for rewards
Buy LOOT BOXES to get tons of resources
KIll a lot of zombies to activate THE BEAST inside you


Make sure you play with your device connected to the internet to gain access to the latest content and features, and link the game to your Facebook account to ensure that your profile is backed up.

PLEASE NOTE, this game is free to play and everything can be unlocked for free with a reasonable amount of effort but it offers items and packages which can be bought using real money. You can toggle these purchases on/off in the ""Restrictions"" menu on your device.

Please rate it to support cool new updates and write an honest feedback to make the game even better!

Need help? Use our Guns, Cars, Zombies! Walkthrough page or sign up and make your contribution today.
What's new in version 1.3.9
- New game mode: PVP Arena! - Updated vehicle evolution system. - More vehicle upgrades. - 6 new weapons to buy and upgrade. - Brand new token icons. - Higher capacity for Fuel & Armor. Thank you for playing Guns, Cars, Zombies. Happy hunting!
Rank in top paid apps
Ranking - Games (iPhone) - United States
Guns, Cars, Zombies! is currently ranked #67 on the iOS store in united states.
Guns, Cars, Zombies! is a highly rated app with 4.50 stars.
Initial release v1.3.9

Sep 7, 2017
---
Guns, Cars, Zombies! App Details
Guns, Cars, Zombies! is a free-to-play racing game app for iOS, developed by DENALI GAMES LLC. The app is compatible with iOS 9.0 or later on the following devices: iPhone 7, iPhone 6, iPad 3, iPad Mini and iPod Touch 5G or newer.
Below are the links to download the app on iOS. To download the app for Android, click here.
App Images
iPhone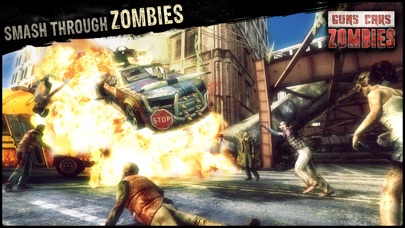 iPhone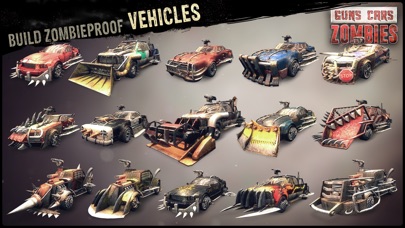 iPhone
iPhone
iPhone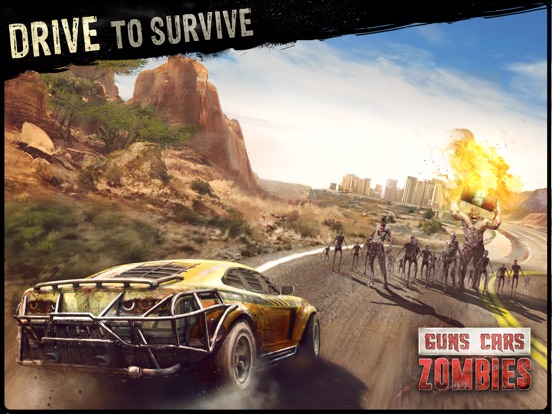 iPad
iPad
iPad
iPad
iPad
Guns, Cars, Zombies! App Add-Ons
Note: Add-ons available as in-app purchases
Guns, Cars, Zombies! Reviews (See all reviews)
Zombie killing to the NEXT level!
Zombies Zombies Zombies....💀💀💀