Warzone: Clash of Generals
by StratosphereGames
When city states fight each other over precious resources, they need war heroes to lead their armies of tanks, mechs and robots to battle.

You are one of those heroes.

Take command of a futuristic military power and wage real time strategy (RTS) battles against other players online in pvp action, and join your clan's struggle to conquer territory and gain power.

Features:
• Play online PvP RTS matches with players from all around the world
• Conquer territories from powerful AI opponents in an exciting single player campaign
• Collect, upgrade and command an army of tanks, mechs, airships, artillery, drones and infantry
• Choose one of seven war heroes and generals, each adding a special power and a unique super unit to your war party
• Form or join a clan with your friends and then command armies in clan wars of conquest against others
• Build up your clan's city with production buildings and robotic defenses
• Use winning combinations and strategies to surprise and overpower your opponents in PvP
• Three different game modes: Conquest, Siege and Domination. Each requires command of different tactics, strategic thinking and creative use of units and heroes
• Conquer your way in the rankings and global player leaderboards
• Explore a scifi post apocalyptic world where battlefields are dominated by futuristic EMP tanks, drop-pod infantry and mechs and robots armed with deadly lasers
• Enjoy cutting-edge 3D graphics and visual effects

Download Warzone: Clash Of Generals now for free to take part in the next generation of mobile RTS and social strategy gaming.

Support:
Do you have issues? Please send an Email to support@stratosphere-games.com.

Privacy Policy:
http://warzone-thegame.com/privacy-policy/

Terms of Service:
http://warzone-thegame.com/terms-of-service/

Need help? Use our Warzone: Clash of Generals Walkthrough page or sign up and make your contribution today.
What's new in version 1.0.2
Version 1.0 - Going Live with Typical Gamer •Introducing a brand new General: Typical Gamer, the master of chaos & mayhem caused by devastating flames, shows his enemies what fear really feels like •New Hero Unit: The Burner. A massive truck fueled by nitro & phosphor, that burns its way through enemy front lines with 2 flamethrowers & his unstoppable plow •New Special Unit: Dragon Truck. The master of the flamethrower is as light as it is deadly & is also the perfect counter for all grouped armies through which he just burns his way without even caring •Introducing new Campaign Sector: Sector 5 has now been activated featuring 9 challenging missions & the new General "Typical Gamer" waiting for you at the end of this Sector •Added Clan level 9 as the new maximum Level for your Clan •Introducing Clan Store: Unlocked in Clan level 9 & gives you the opportunity to support your Clan even further. Buy Shared Boxes, that share a certain amount of cards with all members of your clan. Additionally players have now the chance to purchase Legendary Cards in the Clan Store for the first time ever! •Reworked Colonel John O'Neill's Landcruiser: New overall look & refined animations. •Improved Low Graphics Mode: Give your experience a performance boost or save battery on long play sessions by enabling the brand new Low Graphics Mode in the options that reduces the device's resolution •The "News" popup turned to become the new "Inbox" popup, featuring a 2-column-design for a more organized & cleaner experience •Added new Facebook achievements for liking the Warzone page & inviting your friends to compete with you on the battlefield •Integrated ReplayKit support & iMessage Stickers for iOS 10 & 11 •Improved particle- & special effects •Fixed various UI animation bugs •Overall sound improvement •Added new notification messages to the Clan chat: player has been promoted/demoted; player found a legendary card; player donated to the clan •Enhanced conditional tutorial system for a better new-user-flow •Fixed STC-5 Hercules not dealing damage when attacking enemy units •Various improvements to performance & stability
Rank in top paid apps
Ranking - Games (iPhone) - United States
Warzone: Clash of Generals is currently ranked #143 on the iOS store in united states.
Warzone: Clash of Generals is a highly rated app with 4.50 stars.
Initial release v1.0.2

Sep 7, 2017
---
Warzone: Clash of Generals App Details
Warzone: Clash of Generals is a free-to-play card game app for iOS, developed by StratosphereGames. The app is compatible with iOS 8.1 or later on the following devices: iPhone 7, iPhone 6, iPad Pro, iPad Mini and iPod Touch 6G or newer.
Below are the links to download the app on iOS. To download the app for Android, click here.
Developer site: Support
App Images
iPhone
iPhone
iPhone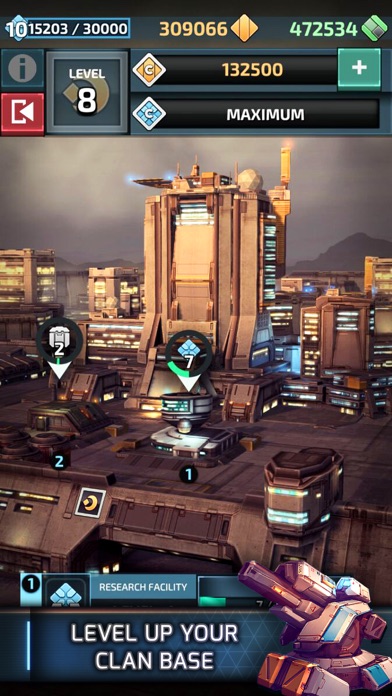 iPhone
iPhone
iPad
iPad
iPad
iPad
iPad
Warzone: Clash of Generals App Add-Ons
Note: Add-ons available as in-app purchases