Underwater Robot Car Transformation
by WAQAS AKRAM
Ever wanted to drive car underwater? Now you can experience the underwater games with this top floating underwater robot car simulator. It's a new game with an underwater automobile and amazing control. The distinct idea of water surfer floating car driving simulator game that relish you with the thrill ride inside the huge sea spaces and oceans. Enjoy futuristic driving in underwater survival game and enjoy the speed of car driving. This game gives you an opportunity to ride your hovering speed car and perform ultimate water stunts. You can enjoy an underwater world mortal, excitement, mystery with this robot transformation game that puts your navigational skills to the test. In underwater car games you can drive in vast sea and lookout for attacking the monster in this virtual world. So get ready for exciting car robot fight with blend of robot fighting games in this marvelous UNDERWATER ROBOT CAR TRANSFORM, that is best and unique idea of transformation games.

Be a ship captain drive your racing car like a boat in the deep ocean and experience the thrilling venture. You can also enjoy the smooth controls with amazing graphics that will make your driving adventures historical. Perform high flight stunt to complete the challenging missions. The underwater ventures keep you guessing all the time, so it might be you never know when a hungry shark or a strange creature will attack you. Save yourself from enemy attack. Enemies are may be robot, shark robot and robot cars. So it's a combination of robot games and robot shark games. You can unlock new levels and face new challenges at each step. You have to show your skill of being a perfect fast car driver to win the battle. Now you can face environment that is probability and mystery due to the low visibility in dark water. You may have played such kind of submarine attack, so this one is for you where you can experience the water car driving game and masterpiece of car battle games. Enjoy the underwater robot transform into car game with unique features.

Features of Underwater Robot Car Transform:

• Ten thrilling game missions
• Realistic robot car transformation
• Fantastic underwater car driving graphics
• Amusing sound effects
• Impressive and detailed underwater world environment
• Furious flight control and smooth driving
• Humorous visual and sound effects
• First-rate underwater shark sniper hunter

So if you are excited to play underwater car driving and underwater robot games then we are giving you a platform where you can enjoy excellent robot car transform game . This is not an ordinary game like simple robot car games or robot car fighting games. Fasten your seat belt because it's time to enjoy the extreme water car fighting with your floating water car in depth of the sea and on the surface of the ocean. This extreme water car simulator that is free from regulations instead of city roads where you have to follow the rules. Explore the sea world and continue to exist in the bottom of sea occasion. Download your favorite UNDERWATER ROBOT CAR TRANSFORM and enjoy the traverse in the water.

Need help? Use our Underwater Robot Car Transformation Walkthrough page or sign up and make your contribution today.
Rank in top paid apps
Ranking - Games (iPhone) - United States
Initial release v1.0

Sep 6, 2017
---
Underwater Robot Car Transformation App Details
Underwater Robot Car Transformation - Pro is an action game app for iOS, developed by WAQAS AKRAM. The app is compatible with iOS 7.0 or later on the following devices: iPhone 7, iPhone 6, iPad 3, iPad Mini and iPod Touch 5G or newer.
Below are the links to download the app on iOS. To download the app for Android, click here.
Quick Details
Current Version: 1.0
File Size: 181Mb
Users Rating: 0.00 (0 reviews)
App Images
iPhone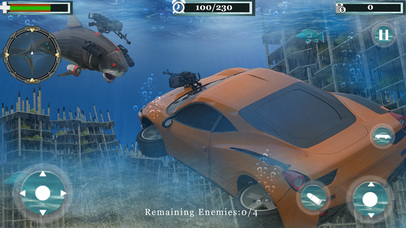 iPhone
iPhone
iPhone
iPhone
iPad
iPad
iPad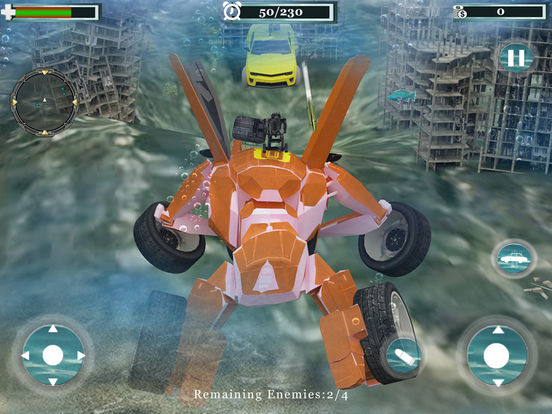 iPad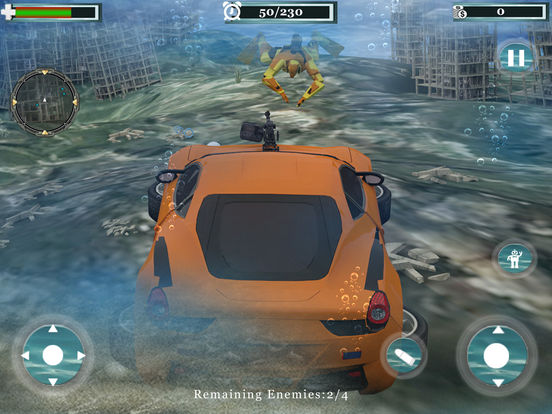 iPad
Underwater Robot Car Transformation - Pro App Add-Ons
No add-ons has been found...
Underwater Robot Car Transformation Reviews (See all reviews)
This game has 0 reviews across all regional iTunes Stores.