天剑苍穹-浪漫情缘修仙手游
by jiahui rao
2017不容错过的浪漫仙侠《天剑苍穹》,巅峰对决傲视群雄叱咤风云!亲密社交体验真正的

逍遥江湖!

侠风人物角色,爆款坐骑时装,仙侠独白剧情,酷炫战斗体验,更有跨服组队,帮会激战,

真人语音等多种亲密玩法,让你畅游仙侠,随心交友。百万好友邀你结缘三界,云游天下,

傲剑无双!

高福利-连续七日登录即可免费获得超值好礼!
多玩法-竞技爬塔应有尽有,万人同屏跨服战!
重社交-一对一男女比例,万千宠爱组队约战!

【无缝大地图 主机般割草快感】

萌萌宠物、酷炫坐骑,华丽仙翼,绝世神兵,稀世珍宝,帅气又拉风。降魔除妖不着急,上

古神兽胯下骑,轻功任翱翔!

争分夺秒的打世界boss等多种有趣玩法等你来体验,与仙派好友一同语音聊天闲话江湖八卦

。既能战斗撩妹又可呼朋唤友打装备,海量福利的游戏,你还在犹豫什么!?

【游戏特色】
跨服战争,无限战场。
帮派攻城,谁是王者。
喜结连理,凄美动人。
百变时装,即时语音。
华丽技能,畅爽快感。

【联系我们】
如果你喜欢我们的游戏,欢迎随时给我们评价与留言!也可以通过游戏内反馈系统与QQ联系

客服。

Need help? Use our 天剑苍穹-浪漫情缘修仙手游 Walkthrough page or sign up and make your contribution today.
Rank in top paid apps
Ranking - Games (iPhone) - United States
Initial release v1.0.0

Aug 21, 2017
---
天剑苍穹-浪漫情缘修仙手游 App Details
天剑苍穹-浪漫情缘修仙手游 is a free-to-play action game app for iOS, developed by jiahui rao. The app is compatible with iOS 8.0 or later on the following devices: iPhone 7, iPhone 6, iPad 3, iPad Mini and iPod Touch 5G or newer.
Below are the links to download the app on iOS. To download the app for Android, click here.
Quick Details
Current Version: 1.0.0
File Size: 138Mb
Users Rating: 0.00 (0 reviews)
App Images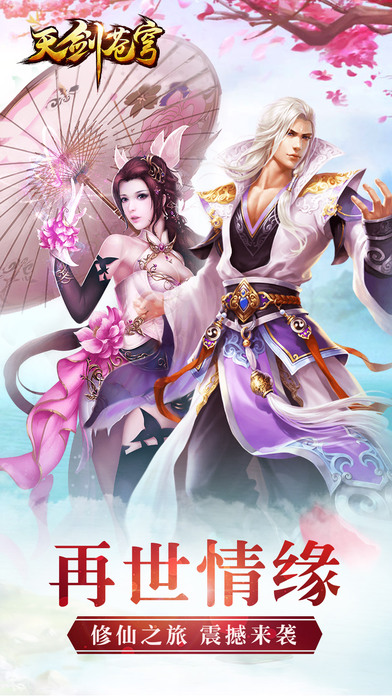 iPhone
iPhone
iPhone
iPhone
iPhone
iPad
iPad
iPad
iPad
iPad
天剑苍穹-浪漫情缘修仙手游 App Add-Ons
No add-ons has been found...
天剑苍穹-浪漫情缘修仙手游 Reviews
This game has 0 reviews across all regional iTunes Stores.