Smithsonian Eclipse 2017
by Simulation Curriculum Corp.
Our local star, like you've never seen it before!

This August 21, the Sun and moon will align, giving Americans a front row seat to a rare celestial event. Don't miss a moment with the Smithsonian Solar Eclipse App.

Watch a live NASA stream of the eclipse as it travels across the continental United States, calculate your view with our interactive eclipse map and get a virtual view in our eclipse simulator. While you wait, check out some of the Smithsonian Astrophysical Observatory's solar research and get even closer to the sun with near-live views from space.

The Smithsonian Astrophysical Observatory (SAO) is one part of the Harvard-Smithsonian Center for Astrophysics, where leading astronomers ask, test, and answer some of humanity's greatest questions.

Since 1890, SAO has conducted solar research, including the study of solar radiation and the solar constant.

Today our telescopes and instruments send back high resolution images of the Sun and other data to study phenomena including how the solar atmosphere is energized, the topology of solar features, and space weather, to name just a few. During the 2017 solar eclipse, SAO's AIR-Spec instrument will ride along a unique aircraft built for scientific research in order to measure plasma emission from the sun.

Our solar research is more than a century in the making, and we can't wait to share it with you.

The Smithsonian Eclipse app was made possible by a grant through the Smithsonian Women's Committee (SWC). SWC supports the Smithsonian through volunteer fundraising, grant awards, and public relations.

Rank in top paid apps
Ranking - Apps (iPhone) - United States
Smithsonian Eclipse 2017 is a highly rated app with 4.5 stars.
Initial release v1.0

Jun 20, 2017
---
Smithsonian Eclipse 2017 App Details
Smithsonian Eclipse 2017 is an application developed by Simulation Curriculum Corp. and released on iOS. The app is compatible with iOS 8.0 or later on the following devices: iPhone 7, iPhone 6, iPad 3, iPad Mini and iPod Touch 5G or newer.
Below are the links to download the app on iOS. To download the app for Android, click here.
Developer site: Support
Quick Details
Current Version: 1.0
File Size: 8Mb
Publisher:
Simulation Curriculum Corp.
Users Rating: 3.50 (18 reviews)
App Images
iPhone
iPhone
iPhone
iPhone
iPhone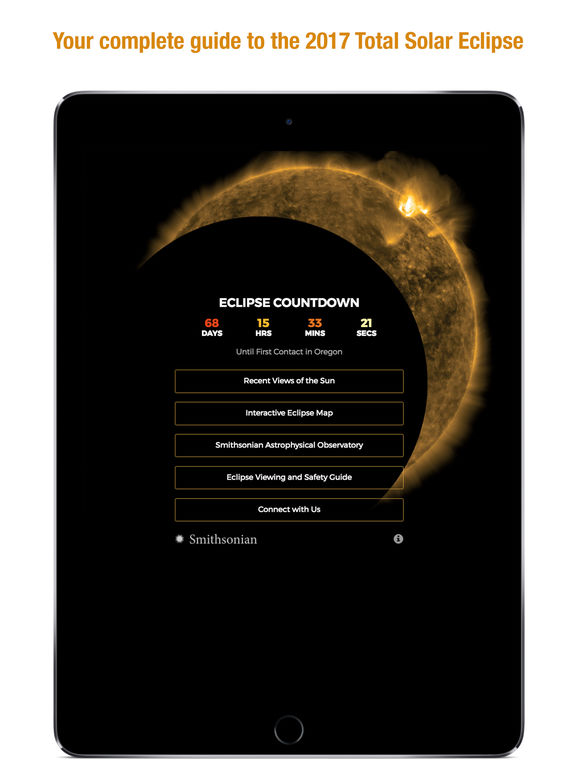 iPad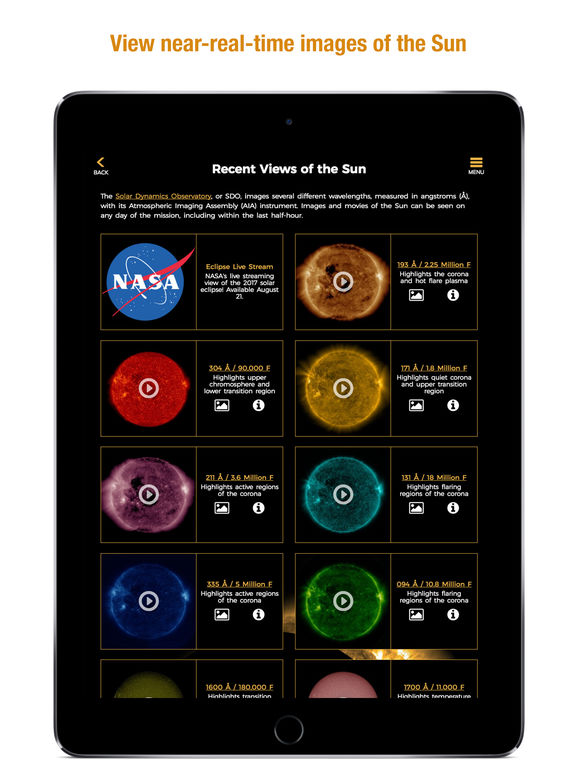 iPad
iPad
iPad
iPad
Smithsonian Eclipse 2017 App Add-Ons
No add-ons has been found...
Smithsonian Eclipse 2017 Reviews (See all reviews)
Sadly the map wasn't working
Not loading times as of 8:10am CT 8/21