Who Knew Game
by John Webster
Who Knew is fast paced and fun word game. It resembles the classic game of 20 questions with a little twist thrown in. It can be played in under 5 minutes and is perfect when waiting in line, sitting at a restaurant or just hanging with friends. Who Knew is a great little time killer and is playable by the whole family.

In Who Knew, one player is the Agent who knows a secret word and the other players will have 3 minutes to ask the Agent a series of yes or no questions in an attempt to discover the secret word. THE TWIST is that one of the other players is a Double Agent and also knows the secret word. it is the Double Agent's job to guide the group to the secret word without being discovered by the Agent. If the Double Agent is successful in guiding his team to the secret word without being discovered by the Agent, his team wins ... if not the Agent wins.

How To Play:
First select the number of players, including the Agent.
Pass the phone to the agent so he/she can start the game.
The Agent will look at the secret word and then pass the phone to the next player.
Each player will see if they are the Double Agent and pass the phone to the next player.
After all players have seen the phone pass the phone back to The Agent.
The Agent will start a 3 minute timer
At the end of the timer the group will be asked to guess the Secret Word
If the group gets the word correct The Agent will have have an opportunity to guess the Double Agent.
If the Agent guesses who the Double Agent is, the Agent wins . . . if not, the Double Agent and the group are the winners!

Need help? Use our Who Knew Game Walkthrough page or sign up and make your contribution today.
Rank in top paid apps
Ranking - Games (iPhone) - United States
Initial release v1.0

Aug 17, 2017
---
Who Knew Game App Details
Who Knew Game is a free-to-play word game app for iOS, developed by John Webster. The app is compatible with iOS 7.0 or later on the following devices: iPhone 7, iPhone 6, iPad 3, iPad Mini and iPod Touch 5G or newer.
Below are the links to download the app on iOS. To download the app for Android, click here.
Developer site: Support
App Images
iPhone
iPhone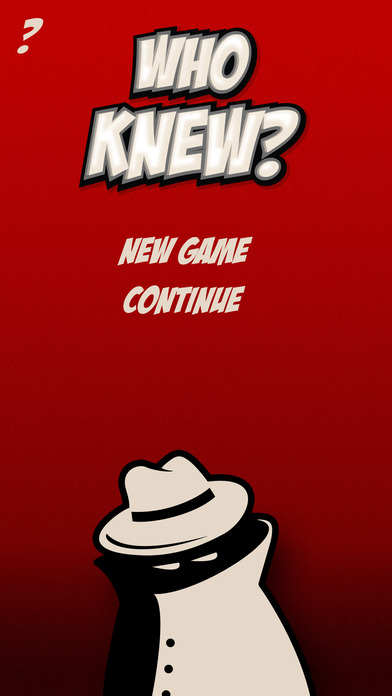 iPhone
iPhone
iPhone
iPad
iPad
iPad
iPad
iPad
Who Knew Game App Add-Ons
No add-ons has been found...