Kitty Cat Rush 3D Game
by Shahid Ahmed
Cat Simulator - Kitty Cat Rush game is the AMAZING endless running game every one is talking about! Designed for children and families who want to enjoy, play and own the cutest Kitty Kittens in Town!

Now be quick! as a swift kitty runner. You'll need to escape the chasing and dash & dart through the course on busy road. During the game, you can collect coins and destroy fast approaching vehicles for additional points in order to become the best Kitty Cat road runner among your friends.

This Freeway Traffic Cat Rush is the newest endless freeway road escape 3D running game where the pet cat has superfluous powers!
Run on the freeway road among fast approaching traffic and begin this thrilling running bonanza and play as a pet cat which can shoot laser out of the laser gun fixed in its eyes and destroy anything that comes in its way.

The quick pastime game for every cat lover!

This game is not suitable for gamers with slow reactions! As the cutest cat, you run on an endless highway road and evade the vehicles at the right moment.
Attention: the vehicles can hit you from both sides and make your life miserable! But as an agile cat, that's no problem for you, ain't I right?

Sprint through the course, bolt around Cars, Buses and Trucks and avoid the clash!

On your way on the endless road, there are lots of coins to be found. Collect them to get more points and to increase your score! Cars, Buses and Trucks can be destroyed by Laser Fire to help you on your way to beating the high score. Hang on in there and soon you'll be the best kitty runner!

Be a fast kitty and master the highway road to escape
Ditch all the vehicles coming towards you
Collect coins and destroy cars, buses and trucks to earn more points
Beat your friends' high scores and become the best runner

Be quick, prove your reflexive skills and RUN!

Game Play:-

1. Your pet cat has unique fire power and laser effects that will help it cover more distance and destroy more and more vehicles coming its way.
2. There are two ways to unlock a new cat, you can either collect enough coins to unlock next level cat or you can simply watch a rewarded video ad which will instantly unlock the next lovely cat.
3. Game has two modes, one way traffic mode in which traffic is going in the same direction as you and two way traffic mode in which traffic is moving in both directions.
4. Difficulty level of two way mode is higher than one way mode but two way mode also has more chances of getting power ups on the highway road and collecting more coins.
5. Initially you will get ten laser bullets to start the game.
6. You can also grab onto Laser bullets while running in the busy fast advancing traffic. Each power up will reward you 10 bullets.
7. You are equipped in order to become the ultimate running explorer!
8. Your aim is to overtake and dodge the vehicles coming from same or opposite directions!
9. Kitty Cat Run Freeway Traffic Rush is the everlasting game for animal lovers!
10. You might have played so many such games but this 3D game will really make you feel the heat in summer.

How to Play:-

1- Select the pet cat of your choice.
2- Select one way mode or two way mode.
3- Tilt to turn the running cat left or right in the Gameplay.
4- Avoid crashing into the vehicles.
5- Press shoot button to shoot laser and destroy vehicles.
6- Collect coins to buy new powerful Super Kitty Cats.

Cool Features:-


Running on freeway road themed environment.
Famous breed of pet kittens with super powers.
Top class 3D beautiful scenes.
Rush and run on the busy freeway.
Smooth run control.
Amazing game rhythm.
HD graphics, cool music, 3D game.
Simple and attractive game play.

Download this Kitty Cat Rush game and get ready to challenge yourself in this latest creation of endless running game!

Need help? Use our walkthrough or sign up and make your contribution today.
Kitty Cat Rush 3D Game App Details & Overview
Kitty Cat Rush 3D Game is a free-to-play simulation video game for iOS, developed by Shahid Ahmed. The app is compatible with iOS 8.0 or later on the following devices: iPhone 7, iPhone 6, iPad 3, iPad Mini and iPod Touch 5G or newer.
Download the Kitty Cat Rush 3D Game app and play on your iPhone or iPad. Click here to download the app for Android or Windows devices.
Rank in top paid apps
Ranking - Games (iPhone) - United States
Initial release v1.0

Jul 27, 2017
---
App Data
Current Version: 1.0
File Size: 155Mb
Users Rating: 0.00 (0 reviews)
App Images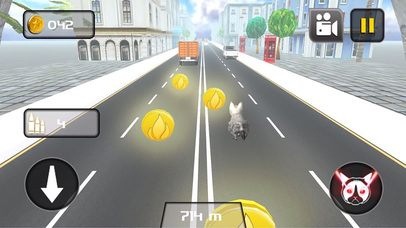 iPhone
iPhone
iPhone
iPhone
iPhone
iPad
iPad
iPad
iPad
iPad
Kitty Cat Rush 3D Game App Add-Ons
No add-ons has been found...
Kitty Cat Rush 3D Game Reviews (See all reviews)
This game has 0 reviews across all regional iTunes Stores.