Super Helicopter Robot Hero
by Saeed Iqbal
Amazing grand robot superhero, which can transform to helicopter & rescue people

Let's get started the heavy rescue operation in the war city against the gangsters and criminals in the latest robot hero super rescue game. Have you ever experienced the real-time adventure in any other helicopter flying games and super robot games? If not, then don't waste time and start playing the combination of thrill and venture in this rescue flight simulator. Rescue of needy and injured people is a good deed. Be a lenient person and safe the people from intricate situations. It's about time to take flight with some of the astounding transform helicopter robots in a huge city skyline to this new super robot battle simulator. If you like robot or transformer game, then this game will make you simply addicted to it in few seconds. What do you think? Do you have the guts to stand against evil futuristic robots or people? So get a hold of the most advanced robot transform game with the added touch of the gunship and flying robots. So, download this exiting SUPER HELICOPTER ROBOT HERO, the best of robot helicopter games.

Experience this robot helicopter simulator with flying robot gameplay. Enjoy the rampage and the transformation of robots into helicopter that you have never seen in any other helicopter robot games and helicopter fighting games. Your target is to fly a robot rescue helicopter to the difficult location in tight timelines. Rescue helicopter knows all approximate locations. You as a helicopter robot can run, walk, swim and provide first aid to the victims. Multiple hurdles make this rescue helicopter simulator is one of the best top chopper games and robot rescue games. When you are performing rescue mission, hold up to a futuristic flying robot. Fly to the allocated location and transform your helicopter into a robot and safe the injured people. You can also drop robot from your helicopter to pick the injured people and take them off to the hospital. Enemies in the form of the car will also attack on you while you're doing your rescue duty. Show off your shooting skills and kill them. As gigantic flying robot, you need to shoot down enemy's vehicle with the latest features of this flying super game.

Features:

Realistic conversion of helicopter into robot
Ten most thrilling and exciting levels
Eye catching HD graphics and animations
Stunning flying helicopter physics
Smooth onscreen shooting controls
Fascinating environment and realistic sound effects
Outstanding helicopter rescue experience
Astonishing flying robot grand city rescue

Are you ready to fly the robot helicopter in the air and reach at the victimized place to rescue the people? So, you need to be smart and take the rapid decision to safe precious lives in this helicopter rescue simulator. You don't need for any other game just enjoy the amazing transformation with this single hero fighter game. It is an electrifying blend of rescue helicopter games and rescue robot games.

Enjoy the real time experience of transformation and become a pro player of super robot fighting games and helicopter fighting games. Relish your mood with the superb transformation of the robot into a robot helicopter and robot airplane. Download now SUPER HELICOPTER ROBOT HERO, king of all robot hero games.

Need help? Use our Super Helicopter Robot Hero Walkthrough page or sign up and make your contribution today.
Rank in top paid apps
Ranking - Games (iPhone) - United States
Initial release v1.0

May 25, 2017
---
Super Helicopter Robot Hero App Details
Super Helicopter Robot Hero is a free-to-play simulation game app for iOS, developed by Saeed Iqbal. The app is compatible with iOS 7.0 or later on the following devices: iPhone 7, iPhone 6, iPad 3, iPad Mini and iPod Touch 5G or newer.
Below are the links to download the app on iOS. To download the app for Android, click here.
Quick Details
Current Version: 1.0
File Size: 172Mb
Users Rating: 0.00 (0 reviews)
App Images
iPhone
iPhone
iPhone
iPhone
iPhone
iPad
iPad
iPad
iPad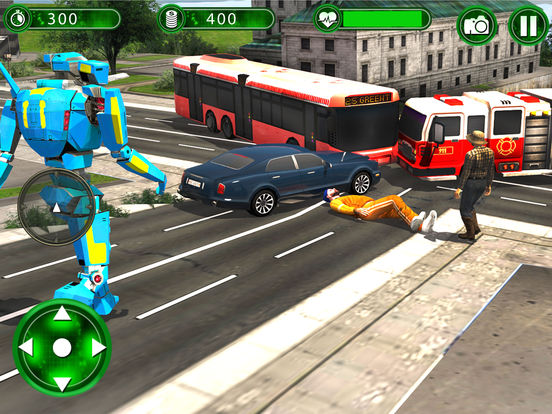 iPad
Super Helicopter Robot Hero App Add-Ons
No add-ons has been found...
Super Helicopter Robot Hero Reviews (See all reviews)
This game has 0 reviews across all regional iTunes Stores.