Day R Premium
by TLT GEIMS OOO
Universal App - Designed for both iPhone and iPad.
App Description
Can you survive in the world destroyed after a nuclear war? With radiation, hunger and diseases around you. You have to cross the whole country and save your family. Who knows if they are alive, or maybe radiation and deadly virus have already reached them? Reveal a secret of the apocalypse and get your memories back during a journey across the huge territory of the USSR in the 80th.
It is not easy to survive after apocalypse. You'll face the real hungry games! Monsters, zombie, thirst, uncountable diseases and injuries, blood-thirsty enemies – you have to fight it all. Craft all your resources: weapons, clothes, means of transport.
Hunger, radiation, thirst, traumas and diseases won't give you a chance to relax.
The turn of the seasons, monsters, a huge map of USSR and more than 2500 different towns and cities.
Hundreds of crafting schemes, dozens of quests; a lot of weapons, armour and allies.
Mechanics, medicine, chemistry, driving, cooking, fighting with firearm and explosives, survival and others.
The Online mode with a chat room, exchange of items and united fightings.
Benefits of Premium version:
2500 caps every new game
button "Disable ad"
save in any place
chat without any limitations
sending parcels without any limitations
access to all kinds and colours of map markers.
Not sure? Try free version!
War never changes. In 1985 USSR went down before an unbeknown enemy. In a few days the entire country became a radioactive wasteland - violence, hunger and diseases reign here now. The terrible monsters roam the ruins of the soviet cities searching for their prey. The cruelty of the survivors knows no limits: the bandits attack civilians robbing, raping and killing them.
The cause of the war is unknown and does not matter any more. Hunger and hate are the only feelings of the zombie-like survivors.
When you no longer loose in the fight with the death, the other survivors wait for you in the cooperative - the Online mode let you survive together dealing with difficulties, talking in the chat room and sending gifts to each other.
What's new in version 1.462
New items: Animal carcasses (Lynx, wolf, wild boar, bear); Raw fatback, Smoked bacon, Lard, Tin can candle, Stewed meat; Diluted alcohol; Aqua Vitae; UAZ-452; Changes in mechanics: Added recipe for cooking soap; Added a recipe for obtaining alcohol from moonshine or vodka; The radioactive wasteland around Ufa is now radioactive; Added the base of bandits generated in cities; Limit the length of the nickname in online mode is up to 15 characters.
Need help? Use our walkthrough or sign up and make your contribution today.
Rank in top paid apps
Ranking - Games (iPhone) - United States
Day R Premium is currently ranked #197 on the iOS store in united states.
Day R Premium is a top rated app with 5 stars.
Updates
---
App Details
Current Version: 1.462
File Size: 104Mb
Users Rating: 5.00 (2 reviews)
Game Overview
The Day R Premium app game is now available for $1.99 on iOS. The application is compatible with iOS 6.0 or later on the following devices: iPhone 7, iPhone 6, iPad 3, iPad Mini and iPod Touch 5G or newer.
Download Day R Premium and play on your iPhone or iPad (See button below). If you have an Android or Windows device, you can find links to download this app here.
Developer site: Support
Screenshots
iPhone
iPhone
iPhone
iPhone
iPhone
iPad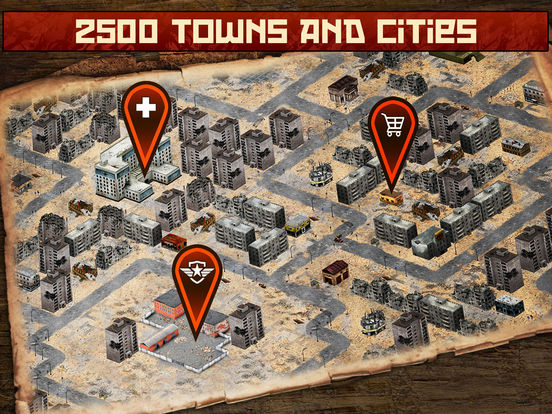 iPad
iPad
iPad
iPad
Day R Premium Has Add-Ons
Note: Add-ons available as in-app purchases