Short Summary:
≈≈≈≈≈≈≈≈≈≈≈≈≈
In a world of fantasy, called Terra Mystica, 14 races are fighting together or individually against their opponents to gain power and territory. Using their resources smartly and terraforming wisely to gain supremacy and lead their own settlers to victory. The original digital conversion of the highly decorated Terra Mystica board game of Helge Ostertag and Jens Drögemüller. Play against other players world wide or challenge the computer opponent.

Overview:
≈≈≈≈≈≈≈≈≈
Terra Mystica is a strategy game with a simple game principle and very little luck involved: You govern one of 14 factions trying to transform the Landscape on the game board in your favor in order to build your Structures. On the one hand, proximity to other players limits your options for further expansion, on the other hand though, it provides some benefits during the game. This conflict is the source of Terra Mystica's appeal.
Structures may be upgraded to provide even more resources, like Workers, Pries
The 14 artfully designed factions, each having unique special abilities, as well as the exchangeable bonus cards allow for a large number of possible game plays that constantly keep this game entertaining!


Features of Terra Mystica:
≈≈≈≈≈≈≈≈≈≈≈≈≈≈≈≈≈≈≈≈≈≈≈≈≈


easy to learn: the interactive Tutorial helps to get a start in this deep strategy game
hard to master: Enormous depth and interesting decisions without being too complex to understand. The best strategy always wins!
replayability: always changing and challenging game experience with new combinations. You want to try all fantasy races! An ideal game for hardcore gamers!
challenging developments: only strategy and tactics count not luck!
game replays: Analyse your best games or learn tricks from the pro settlers
multiplayer: Challenge the best players across all platforms world wide or play against your family and friends
three computer difficulties: Try to beat the computer opponent
newest update: This game uses the newest rules edition of the board game

Awards:
≈≈≈≈≈≈
Terra Mystica has won many awards as a board game, such as:


Deutscher Spielepreis (German Games Award)
Spiel des Jahres (Empfehlung) (Game of the Year Recommended)
Golden Geek Game Award
Nederlandse Spellenpreijs
International Gamers Awards

Upcoming FREE feature:
≈≈≈≈≈≈≈≈≈≈≈≈≈≈≈≈≈≈≈

Hard difficulty computer opponent with Deep Learning
Need help? Use our walkthrough or sign up and make your contribution today.
Terra Mystica App Details & Overview
Terra Mystica is a board video game for iOS, developed by DIGIDICED. The app is compatible with iOS 6.0 or later on the following devices: iPhone 7, iPhone 6, iPad 3, iPad Mini and iPod Touch 5G or newer.
Download the Terra Mystica app and play on your iPhone or iPad. Click here to download the app for Android or Windows devices.
Developer site: Support
What's new in version 1.24
Version changes in 1.24: - smaller bug fixes - special ability fix (tunneling, carpet flight)
Rank in top paid apps
Ranking - Games (iPhone) - United States
Terra Mystica is currently ranked #105 on the iOS store in united states.
Terra Mystica is a good rated app with 4 stars.
Release v1.04

Apr 20, 2017
---
App Images
iPhone
iPhone
iPhone
iPhone
iPhone
iPad
iPad
iPad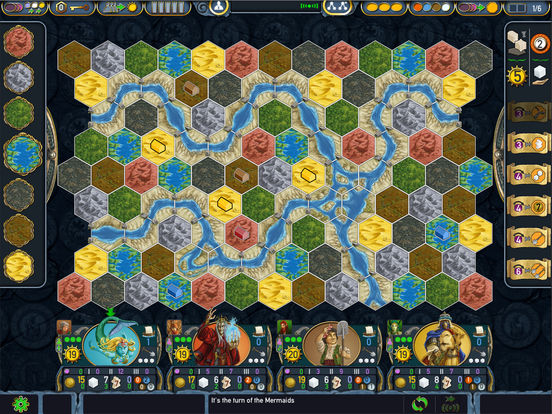 iPad
iPad
Terra Mystica App Add-Ons
No add-ons has been found...
Fantastic for strategy game lovers
Pretty good
Some Game Breaking Bugs, but Great
Giants broken in latest update
Awesome port!
Awesome App - for one of my favorite Boardgamers
Can't access online play