Toca Life: Hospital
by Toca Boca AB
Experience the excitement of a busy medical center with Toca Life: Hospital! Welcome newborn babies into the world, treat sick patients and even say goodbye to loved ones. Toca Life: Hospital is a place where you can play out the joy and pain of life in your own way.

LIVE THE CIRCLE OF LIFE

THE BEGINNING
Welcoming a new baby into the world can be a little scary and very exciting! Share in that excitement as we welcome newborn babies to Toca Life! Family members and medical staff can love and care for these tiny, swaddled cuties.

THE END
Sometimes sad moments happen in hospitals, too. The farewell room in Toca Life: Hospital gives loved ones a chance to say goodbye in a peaceful setting.

AND EVERYTHING IN BETWEEN
Toca Life: Hospital lets you tell make-believe stories or real-life stories about checkups, X-rays and all the everyday things that happen in a hospital.

EXPLORE UNITS ON FIVE FLOORS
In the basement, sound the siren on the ambulance in the garage or crack the code on a mysterious machine to open the doors to a secret lab! On the entrance floor, check in at the reception desk and have a seat in the waiting area, or grab a snack from the cafe. The treatment floor has tools to diagnose patients, a lab to check specimens and an operating room. The family care floor has a unit just for kids and a maternity unit with an ultrasound machine, nursery cribs and newborn babies! Patients on the general care floor can visit a peaceful garden to reflect on life. And when a loved one dies, say your final goodbyes in the farewell room.

FEATURES

Explore five floors: basement, main entrance, lab and treatment, family care and general care.
Move characters from floor to floor in the big elevator.
Baby on the way? Use the ultrasound machine on the expectant patient!
Aww, newborns: Welcome babies to the world!
Use the CAT scan machine (ours has cat ears!) and Xray machine to diagnose patients!
Check surgery patients' vitals on the medical monitor.
Use all the tools you'd find in a reallife hospital: gurneys, bandages, crutches, hospital beds, wheelchairs and more!
Crack the code on the mysterious machine to explore the secret lab!
Find peace and say goodbye to loved ones in the farewell room.
Set the tone for your story with just the right music, from a dramatic hospital theme to a relaxing, mellow tune.

CREATE VIDEOS OF YOUR OWN HOSPITAL DRAMA
Use the in-app recording feature to create an original video! This feature records your voice and your characters' movements as you're telling the story. Create videos up to two minutes long and save them to your camera roll to share later!

GET INSIDER INFO EACH WEEK
Don't miss Life Weekly! This is your source for hilarious videos, insider tips and awesome fan art. Tap the lightbulb in the top right corner of the start screen to get updates every week. This free feature gives you fun insights into the whole world of Toca Life!



ABOUT TOCA BOCA
At Toca Boca, we believe in the power of play to spark kids' imaginations and help them learn about the world. We design our products from the kids' perspective to empower kids to be playful, to be creative and to be who they want to be. Our products include award-winning apps that have been downloaded more than 150 million times in 215 countries and offer fun, safe, open-ended play experiences. Learn more about Toca Boca and our products at tocaboca.com.

PRIVACY POLICY
Privacy is an issue that we take very seriously. To learn more about how we work with these matters, please read our privacy policy: http://tocaboca.com/privacy

Toca Life: Hospital App Details & Overview
Toca Life: Hospital is an application developed by Toca Boca AB and released on iOS. The app is compatible with iOS 8.0 or later on the following devices: iPhone 7, iPhone 6, iPad 3, iPad Mini and iPod Touch 5G or newer.
Download the Toca Life: Hospital app and use on your iPhone or iPad. Click here to download the app for Android or Windows devices.
Developer site: Support
What's new in version 1.0.1
We made some small but important tweaks to the app! • Did the app crash when you pushed the cleaning cart? Good news, we fixed that. Time to let the hospital shine again! • Did you also spot the two spider webs on top of each other, on your way to the secret lab? They will never bother you again! One is enough. The graphic bug is defeated. • And last but not least, the computers on the entrance floor now have sound again! Play and type away as much as you want. Do you like playing with Toca Life: Hospital? Leave us a review — we read everyone of them! Are you having issues or simply want to tell us about something cool you've discovered? Visit tocaboca.com/help or talk to us on Instagram, Facebook, Twitter and YouTube. We're @tocaboca!
Rank in top paid apps
Ranking - Apps (iPhone) - United States
Toca Life: Hospital is currently ranked #94 on the iOS store in united states.
Toca Life: Hospital is a highly rated app with 4.5 stars.
Release v1.0.1

May 15, 2017
---
App Data
Current Version: 1.0.1
File Size: 210Mb
Users Rating: 4.50 (345 reviews)
App Images
iPhone
iPhone
iPhone
iPhone
iPhone
iPad
iPad
iPad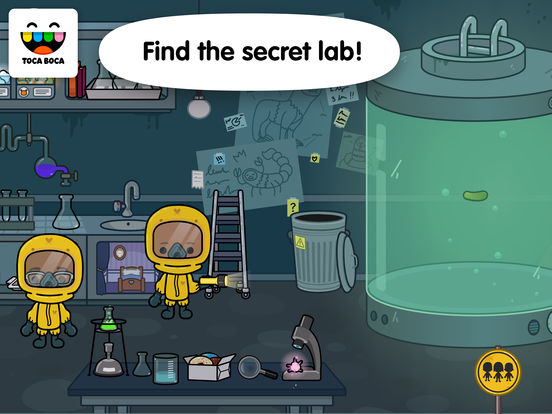 iPad
iPad
Toca Life: Hospital App Add-Ons
No add-ons has been found...
⭐️Please Read⭐️
Good but...
Toca life:hospital
I'm not sure I liked this
I need help with this problem
Ur #1 Fan
It needs more