Tokaido™
by FUNFORGE
$5.99 > $2.99
Discover the digital adaptation of Tokaido, the boardgame phenomenon that has already sold more than 250,000 copies worldwide, and has been translated into 14 languages!

// A magnificent voyage --------------------------------------------

You are a traveler, in the heart of ancient Japan, walking the legendary East Sea road from Kyoto to Edo, trying to make the trek as fulfilling as possible. Discover the most magnificent landscapes, taste numerous culinary specialties, acquire rare and precious souvenirs, bathe in hot springs, visit the temples, and meet other travelers…. Tokaido is a rite of passage for the heart, walking in serenity and contemplation.
But do not be fooled by the peaceful appearance of the voyage, because you will have to demonstrate stronger strategy than your opponents if you want to win!
Whether you sneak along as a messenger, a geisha, or even a ronin, you must discover as many hidden marvels as you can along the road, so your journey is the most satisfying of all!

// Unique ambience --------------------------------------------

Discover characters and scenery in a new light!
Developed by Funforge, original publisher of the boardgame, the video game offers an entirely new graphical experience! Whether you are a first-time fan, in love with Japan, or merely a curious newbie, the digital version allows each player to discover the celebrated Tokaido road in a new form.
While Tokaido retains the famous clean graphic design of the boardgame, it offers unprecedented immersive 3D, realtime graphics, all accompanied by a superb and unprecedented soundtrack, composed specifically for the game.

// Play anywhere, solo, with two, or with the whole world --------------------------------------------

Available for smartphones and tablets, Tokaido offers several play modes for infinite replayability:

Solo against the AI
Pass & play
Online multijoueur
Languages supported: French, English, German, Spanish, Italian, Portuguese, Russian, Ukrainian, Japanese.

// A worldwide success --------------------------------------------

** Tokaido, nominated for the Hra roku, in 2014
** Tokaido, nominated for the Golden Geek Best Board Game Artwork, in 2013
** Tokaido, nominated for the Golden Geek Best Family Board Game Nominee, in 2013
** Tokaido, nominated for the Gioco dell'Anno, in 2013

// In the press --------------------------------------------

** The Dice Tower: "That's a gorgeous looking game."
** Gameosity: "The animations aregorgeous, the gameplay is smooth."
** Dageeks: "…the app looks like it's going to break the tradition of just bringing the digital experience of playing a board game."
** Gameblog: "Everything has been polished: the UI has been completely redesigned for a video game experience."
** TechArtGeek: "It's beautiful, it flows, it's poetic. To make it short this digital version perfectly completes and honors the board game."
** Ludovox: "Graphically speaking, you have to admit that it's gorgeous, giving credit and honor to the original board game edition."
** Tric Trac: "To me Tokaido is therefore a game that invites to travel, and that is perfectly adapted to be played quietly in family."
** Kiss My Geek: "Everything has been carefully modeled in 3D, the UI is flawless and each feedback goes through well designed ergonomics."

// Find us on social networks and the web--------------------------------------------

https://www.facebook.com/Funforge/
https://twitter.com/Funforge
https://www.instagram.com/funforge/
http://www.funforge.fr/

Need help? Use our walkthrough or sign up and make your contribution today.
Tokaido™ App Details & Overview
Tokaido™ is a board video game for iOS, developed by FUNFORGE. The app is compatible with iOS 10.0 or later on the following devices: iPhone 7, iPhone 6, iPad 3, iPad Mini and iPod Touch 5G or newer.
Download the Tokaido™ app and play on your iPhone or iPad. Click here to download the app for Android or Windows devices.
What's new in version 1.07
New features: -Friendlist: add any player in your friendlist. Available with the "Friends" button at the top-right of your player profil. -See and join your friend's games with the new "Play with Friends" menu, in Online mode. -New "Public game" menu in Online mode. It allows you to join and create a game, to see players who recently connected to the game. You can add these players to your friendlist by clicking on it. -Push notifications added. You can receive Push messages from Funforge on your devices. Bugs fixed: -A.I. opponents are no more stucked at Shop at the end of the game. -Some texts are visible again. -Satsuki receives now correctly the first meal of the meal deck. -A lot of minor bugs have been corrected too.
Rank in top paid apps
Ranking - Games (iPhone) - United States
Tokaido™ is currently ranked #69 on the iOS store in united states.
Tokaido™ is a good rated app with 4 stars.
The app is currently $2.99, instead of its regular price of $5.99.
$5.99 -> $2.99

Jun 28, 2017

$2.99 -> $5.99

Jun 5, 2017

$5.99 -> $2.99

Jun 1, 2017

$3.99 -> $5.99

May 2, 2017

$3.99 -> $6.99

May 1, 2017
---
App Data
Current Version: 1.07
File Size: 426Mb
Users Rating: 4.00 (16 reviews)
App Images
iPhone
iPhone
iPhone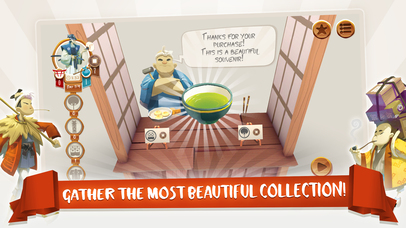 iPhone
iPhone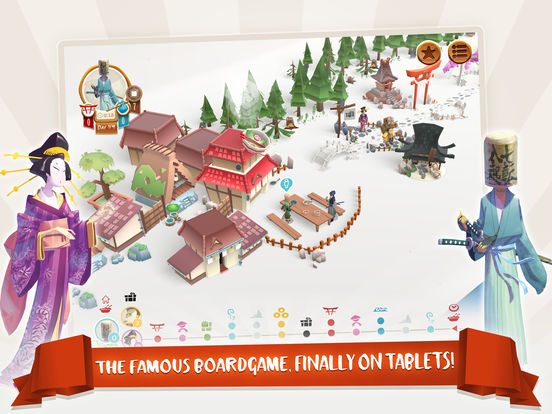 iPad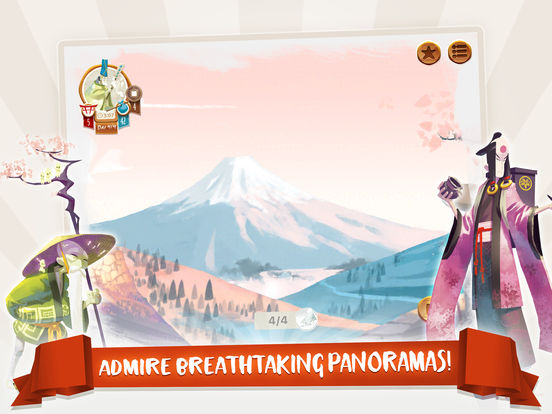 iPad
iPad
iPad
iPad
Tokaido™ App Add-Ons
No add-ons has been found...
Fun but Glitches
Good overall but has some glitches
Great game, online doesn't work.
Beautiful game, great support
Getting Better, but Missing Major Features
Gorgeous Reproduction
Great port of a great board game- some bugs but de