RotoWire Fantasy Baseball Draft Kit 2017
by Roto Sports, Inc.
Imagine you could get access to a cheat sheet that automatically adjusts to fit your league settings AND allows you to mark off players during your draft. That's exactly what the 2017 RotoWire Fantasy Baseball Draft Kit can do for you. It's a one-stop shop for everything you need to dominate during your draft.

► THOUSANDS OF PEOPLE TRUST ROTOWIRE'S FANTASY BASEBALL COVERAGE

RotoWire.com has been the leading source of premium fantasy sports information on the internet for over 15 years. Over the past few years, our writers have won three times as many awards as the next closest competitor. We talk fantasy sports daily on our Sirius-XM radio show and also provide fantasy news to many of the leading online sports sites.

► ABOUT THE 2017 FANTASY BASEBALL DRAFT KIT

Simply enter your league's scoring and roster settings and the app creates rankings from a value-based calculation that uses RotoWire's 2017 stat projections. Here are some of the features:


A cheat sheet that ranks players based on projected stats for 2017 using your league's settings.
Ability to import league settings from the 2016 version of this Fantasy Baseball Draft Kit app.
For auctions: Projected dollar values.
The cheat sheet is a Value Based Drafting method that accounts for your league's categories, roster, etc.
Ability to manually rank players to your preference.
RotoWire.com outlooks for the 2017 season for hundreds of players. You can't get that in ANY other app.
Recent news and analysis for players.
Projected Standings for your league.
Roster composition breakdown so you can quickly see which fantasy teams need to fill certain roster spots.
Easily remove players from the list and put them on your team. Keep an updated list of available players!
Team depth charts.
Player stats from the last three seasons.
The ability to download updated news and stat projections until the start of the 2017 season.
A player search that allows you to quickly find players.
The cheat sheet isn't ordered just by projected point totals, we calculate player value based on your league's settings.
A detailed closers report indicating who currently closes and which pitchers are next in line.
A list of the top prospects along with their estimated arrival to the big leagues.
Current fantasy baseball articles from RotoWire.com experts.
Position eligibility indicators that can be customized to your league's games played by position requirements.
Email or print cheatsheets and draft results directly from the app.

All the data for the app is stored on your device, so internet access at your draft isn't required. The first time you use the app, we highly recommend connecting to the internet to allow the app to update the player info. Don't settle for an app that is just a list of ranked players.

This RotoWire app is designed to keep you informed during the preseason and take you through your draft. There isn't an app available that is as complete as this.

► DON'T WAIT. GET THE 2017 DRAFT KIT NOW.

We stand behind the quality of our apps with email support (support@rotowire.com). Buy the app now and you'll have your draft preparation squared away for the 2017 season.

RotoWire Fantasy Baseball Draft Kit 2017 App Details & Overview
RotoWire Fantasy Baseball Draft Kit 2017 is an application developed by Roto Sports, Inc. and released on iOS. The app is compatible with iOS 8.0 or later on the following devices: iPhone 7, iPhone 6, iPad 3, iPad Mini and iPod Touch 5G or newer.
Download the RotoWire Fantasy Baseball Draft Kit 2017 app and use on your iPhone or iPad. Click here to download the app for Android or Windows devices.
What's new in version 1.2
-Fixed an issue with certain images not being displayed in articles -Fixed an issue with one of the "Clear Player Markings" options
Rank in top paid apps
Ranking - Apps (iPhone) - United States
RotoWire Fantasy Baseball Draft Kit 2017 is a top rated app with 5 stars.
Initial release v1.2

Dec 29, 2016
---
App Data
Current Version: 1.2
File Size: 37Mb
Publisher:
Roto Sports, Inc.
Users Rating: 5.00 (37 reviews)
App Images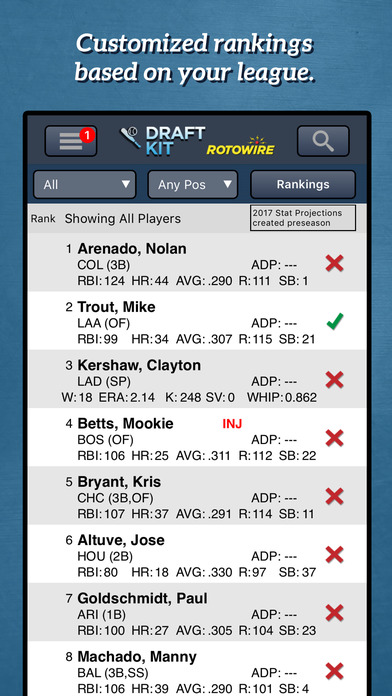 iPhone
iPhone
iPhone
iPhone
iPhone
iPad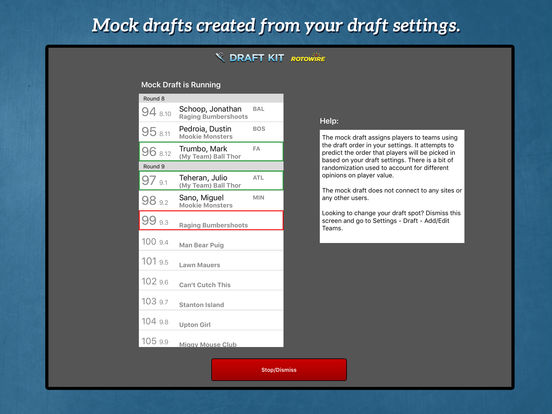 iPad
iPad
iPad
iPad
RotoWire Fantasy Baseball Draft Kit 2017 App Add-Ons
No add-ons has been found...
RotoWire Fantasy Baseball Draft Kit 2017 Reviews (See all reviews)
Daily news
I'm always refreshing the App Store......
Would Be Better If They Updated
Essential draft day tool
Love this app!!
Love, but glitchy
Ready to Go